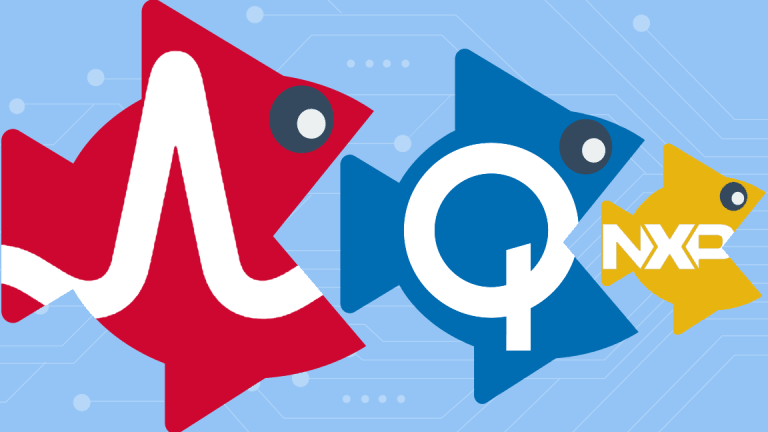 EU's $1.2-Billion Fine Against Qualcomm Might Complicate Broadcom's Bid
EU regulators allege that the discounts Qualcomm gave Apple as part of a modem exclusivity deal violated antitrust law. That could make it tougher for Broadcom to pursue similar deals, should its offer for Qualcomm succeed.
From the very start, complaints about the alleged links between Qualcomm's (QCOM) - Get Report very profitable chip business and its even more profitable licensing business have been a common thread among the company's various legal and regulatory disputes. And they certainly have much to do with the €997 million ($1.24 billion) fine that EU regulators just imposed on Qualcomm.
Aside from its size, what makes the EU fine noteworthy is that it touches on an alleged business practice -- discounts provided in exchange for chip purchase commitments -- that some think Broadcom (AVGO) - Get Report would pursue in the event that its ambitious hostile bid for Qualcomm succeeds. And while this issue is unlikely to deter Broadcom from continuing to pursue its bid, which brings with it plenty of other benefits, it could affect just how valuable Qualcomm is to the company.
The European Commission (EC), which has been fairly aggressive in pursuing cases against U.S. tech giants (just ask Alphabet/Google (GOOGL) - Get Report , claims that an iPhone/iPad modem exclusivity deal between Qualcomm and Apple (AAPL) - Get Report that lasted from 2011 to the end of 2016 amounted to anti-competitive behavior. Its reasoning: Qualcomm controlled the lion's share of the 4G modem market over this time, and the deal called for Qualcomm to make "significant" payments to Apple in return for modem exclusivity.
Qualcomm quickly responded by saying it "strongly disagrees with the decision and will immediately appeal it to the General Court of the European Union." The company also insisted the decision "does not relate to Qualcomm's licensing business and has no impact on ongoing operations."
The EU's ruling comes 13 months after Korean regulators fined Qualcomm $853 million for alleged antitrust violations. That fine, which Qualcomm has also appealed, stemmed from allegations that Qualcomm charged excessive royalties in return for access to its modems, and that the company's refusal to license standards-essential patents (SEPs) to rivals (who could then pass on the licensing rights to their clients) was anti-competitive.
The EU decision also comes about a year after the FTC made the Apple modem deal one of the talking points for the antitrust suit it filed against Qualcomm (it's still awaiting trial). At the time, the FTC said the deal featured "billions of dollars in conditional rebates" to Apple that amounted to partial royalty relief. The EU, for its part, doesn't mention royalty payments in its announcement, and instead focuses on an allegation that Qualcomm was intent on "preventing rivals from competing" in the 4G modem market.
Shortly after the FTC filed its suit, Apple sued Qualcomm. Tim Cook's company alleged (among other things) that Qualcomm withheld $1 billion in rebate payments as retaliation for Apple's cooperation with regulatory probes against Qualcomm -- in response, Apple withheld $1 billion in royalty payments to Qualcomm -- and that Qualcomm demanded phone makers pay excessive royalties in order to gain access to its chips and SEPs.
A few months later, Apple would instruct its contract manufacturers to stop paying royalties to Qualcomm altogether. That, along with a licensing dispute with an unnamed Android licensee, has taken a heavy toll on Qualcomm's licensing revenue in recent months.
Qualcomm, which has countersued Apple and has sought U.S. import bans for certain iPhone models, differs with Apple's take on the withheld rebate payments, and of course much else. Here, it's worth noting that Apple stopped relying exclusively on Qualcomm modems in Sep. 2016, when it launched the iPhone 7 and 7-Plus. Those phones partly rely on Intel (INTC) - Get Report modems, as do the iPhone 8/8-Plus and X.
Ironically, a successful appeal by Intel of its own $1.3 billion EU antitrust fine arguably gives Qualcomm some reason to be optimistic that the fine levied against it will also be thrown out. Last September, the EU's top court reversed a 2009 fine levied against Intel by the EC over rebates the company gave to PC makers in return for CPU purchase commitments. At the time, the court stated regulators have to prove such rebates cause economic harm to justify an adverse ruling on them.
The EC, presumably mindful of this standard, alleges Qualcomm's deal with Apple "denied consumers and other companies more choice and innovation." But that's very much debatable, given that Qualcomm's 4G modems have long been seen as best-in-class and Qualcomm-powered iPhones generally outperform similar Intel-powered iPhones in network tests.
Still, between the EU and FTC's complaints, any future deal in which Qualcomm agrees to cut the royalty rates it charges to Apple or another big licensee in exchange for chip purchase commitments is likely to attract fresh scrutiny, as well as lead modem rivals such as Intel and Taiwan's MediaTek to cry foul. And that's precisely the kind of deal that many think Broadcom would try to pursue should it succeed in acquiring Qualcomm.
During a conference call held in November, Broadcom CEO Hock Tan said he saw opportunities to "rationalize and restructure" a Qualcomm licensing business seen as upsetting customers. With Broadcom already a supplier of RF, Wi-Fi/Bluetooth, touch controller and wireless charging chips to Apple, such remarks have fueled speculation that Broadcom would seek "grand bargains" with Apple and other phone makers in which it cuts royalty rates in exchange for promises to buy a variety of Broadcom and Qualcomm chips.
Until the EC and FTC's complaints are dismissed or otherwise resolved, the pursuit of such deals risks inviting fresh antitrust complaints for a Broadcom bid that -- if successful -- is already expected to see a lot of regulatory scrutiny. That by itself doesn't mean it's no longer worth it for Broadcom to pursue Qualcomm, since even without such grand bargains, Broadcom could make a Qualcomm deal pay off via major cost and product line synergies, as well as greater pricing power.
But the complaints about Qualcomm's discounts do create one additional complication for a deal, and could impact just how much Broadcom is willing to raise its bid from its current $70-per-share level.
Broadcom, Alphabet and Appleare holdings in Jim Cramer'sAction Alerts PLUS Charitable Trust Portfolio. Want to be alerted before Cramer buys or sells AVGO,GOOGL or AAPL? Learn more now.
Editor's note: This article was originally published by The Deal, a sister publication of TheStreet that offers sophisticated insight and analysis on all types of deals, from inception to integration. Click here for a free trial.
More of What's Trending on TheStreet: