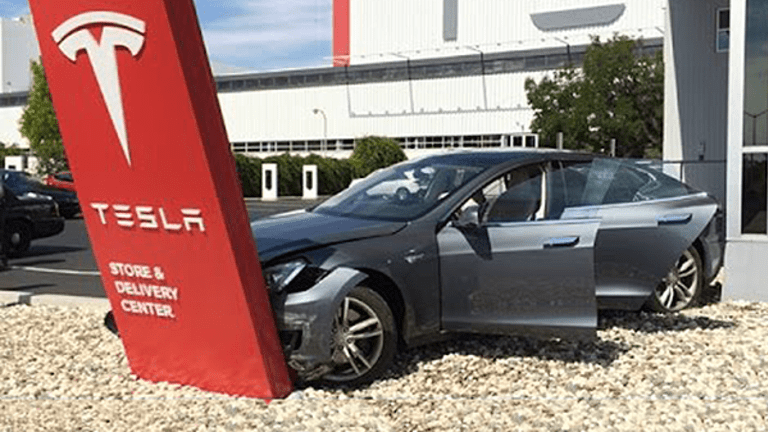 Publish date:
Tesla Sales May Have Really Been Awful in January
The company is estimated to have sold only 1,650 units in January.
The company is estimated to have sold only 1,650 units in January.
On the day when most automakers were releasing their monthly sales numbers, an outside estimate on how Tesla (TSLA) - Get Tesla Inc Report performed in January would imply the company's operations are not running on a full charge.
Well-regarded website Inside EVs on Wednesday estimated that Tesla sold 900 Model S sedans and 750 Model X SUVs in January in the U.S. for total sales of 1,650 units. That estimate, if accurate, would leave the company well off pace even to match last year's target of 80,000 deliveries and down considerably from the company's 9,725 unit December total.
The estimate, even if correct, should come with some caveats. Unlike traditional automakers who book a sale as soon as a vehicle is headed to the dealer, Tesla only records a delivery when the vehicle is in a customer.'s hands. January is typically the slowest month for all automakers, and Tesla, in particular, tends to underperform early in the quarter and outperform towards the end.
But the number is fodder for bears who question the company's ability to ramp up production and wonder whether demand for the S and X is as high as the company's claims.
The January figures are of particular interest because Tesla said on January 3 that about 6,450 vehicles were in transit to customers at the end of the quarter that will be counted as deliveries in the first quarter of 2017. It is unclear how many of those deliveries were headed outside of the U.S.
Shares of Tesla, which also on Wednesday dropped the "Motors" from its name to reflect its broadening focus on batteries and solar panels in addition to automobiles, fell less than 1% midday Wednesday.
The more important figure for both Tesla bulls and bears would be an update on Tesla's more affordable Model 3. The company has a massive reservation list for the vehicle and hopes to begin deliveries before year's end, but skeptics have questioned whether Tesla will be able to meet that goal.
With General Motors (GM) - Get General Motors Company (GM) Report selling 1,162 of its lower-cost Bolt electric vehicles in January despite availability in only two states, Tesla has sufficient motivation to get its competitor to market as soon as possible.