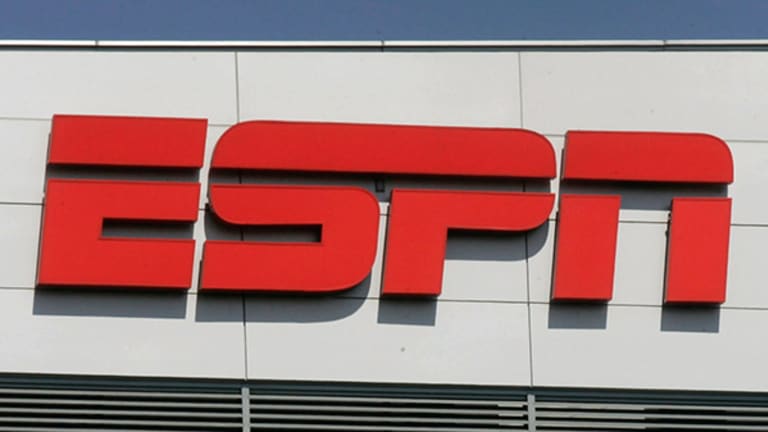 ESPN Makes Disney Very Happy One Lebron James Story At a Time
As longtime executive George Bodenheimer leaves ESPN next week after a 33-year career at the network, we ponder how Disney's sports juggernaut forever changed the way sports is broadcast.
As longtime executive George Bodenheimer leaves ESPN next week after a 33-year career at the network, we ponder how Disney's sports juggernaut forever changed the way sports is broadcast.
NEWARK, NEW JERSEY (TheStreet) -- Before 1979, sports media was still in its dark ages. The world's sporting games had their heroes and various and sundry sportswriters who depicted their exploits for newspring, television and radio.
Joe Namath's prediction that the upstart New York Jets would win Super Bowl III in 1969 and Reggie Jackson's three-home run game in the 1977 World Series were examples of the modern athlete transcending daily life to create the mass market moment that stretched well beyond the playing field. And that was just in New York. 
On TV, baseball and basketball had their game of the week while Sundays and Monday night belonged to football. Local newspapers recounted games and Sports Illustrated gave them all a glossy sheen on the national level. It all used to be so quaint.
Read: Mark Zuckerberg, Jailbird in Iran? Facebook Better Call Its Lawyers
Then in 1979, someone in Bristol, Conn got the crazy idea of packaging every sport and every region's favorite ballteams into one made-for-Pay-TV package. And nothing in the business of sports, which really is sports, has been the same ever since. 
In the last thirty years, ESPN has risen above the pack in the 24/7 sports news world. Owned by Disney (DIS) - Get Report, ESPN is in TV, radio, print, on a national scale as well as its internet presence.
Disney took over a controlling interest in ESPN as part of the ABC takeover in 1996 when the ABC network and stations were worth just $11 billion. While Disney is now valued at $84 billion, ESPN alone accounts for $40 billion through affiliate fees and ad revenues. ESPN and sister channel ESPN2 have both eclipsed the 100 million viewer mark. Multi-billion-dollar broadcast deals with Major League Baseball, the National Basketball Association, and the National Football League have forever changed viewer habits. Monday Night Football, once a pop culture phenomenon, is now a staple of Pay-TV.
What would Howard Cosell think of all of this? (How many readers don't even know what the name Howard Cosell once meant to sports viewing?)
Read: Moynihan Mum on Dividend Makes Bank of America Shareholders Angry
When George Bodenheimer leaves ESPN next week, he will be ending a 33-year career that saw with the sports broadcaster grow from a cable-TV outlier to the preeminent sports destination on every media platform available in north America. Back when ESPN was started, cable-TV was still very much a niche product. Not everyone had it.
A Forbes article entitled "Why ESPN is the World?s Most Valuable Media Property" explains ESPN?s growth within the context of the current media. The reality is that the value of sports on television is only increasing as much of the viewing public moves to watching programs on delay, limiting the effectiveness of advertising.
Is it a problem that ESPN doesn't have to worry about that 99.4% of sports events are now watched live? Bodenheimer's departure marks a moment for the many questions to be asked. Among them, can ESPN's success be repeated by another network?
The landscape today is far more crowded than it was in 1979. Not only are networks like CBS (CBS) - Get Report and Comcast's (CMCSA) - Get Report NBC filling the airwaves with as much sporting content as they can, teams themselves are in on the action as well.
Read: Sony's Xperia Z2 Phone Rivals Apple's iPhone: Why Isn't It Popular?
While they soon divested themselves of ownership shortly after it was launched, the New York Yankees created the YES Network in 2002 in an effort to get themselves the best possible TV deal in 1999. Eventually the property ended up in the hands of21st Century Fox (FOXA) - Get Report and Fox Sports. Behind the strength of its NFL broadcast relationship, Fox Sports launched Fox Sports 1 a year ago to highlight its own stable of live game coverage, sports news and original programming. Of course, FoxSports1 is largely based on the format ESPN developed over the last 30 plus years.
Instead of a gradual climb to prominence, corporate machinations and acquisitions cleared the path for Fox Sports 1 to enter the game with a reach into 90 million homes.
Organically speaking, it's unlikely another ESPN is going to happen. But in the follow-the-leader, dollar sign world of sporting entertainment, ESPN created the template that Fox Sports 1 and other challengers that are looking to get rich or die trying are going to follow.
The question for ESPN's would-be rivals is whether Bodenheimer has left them any room to grow. Call it a monopoly, or merely the dominant player, but ESPN looks unshakable. Disney shares have gained 9.2% in 2014.
--James Fernandez is a freelance writer based in Newark, New Jersey.