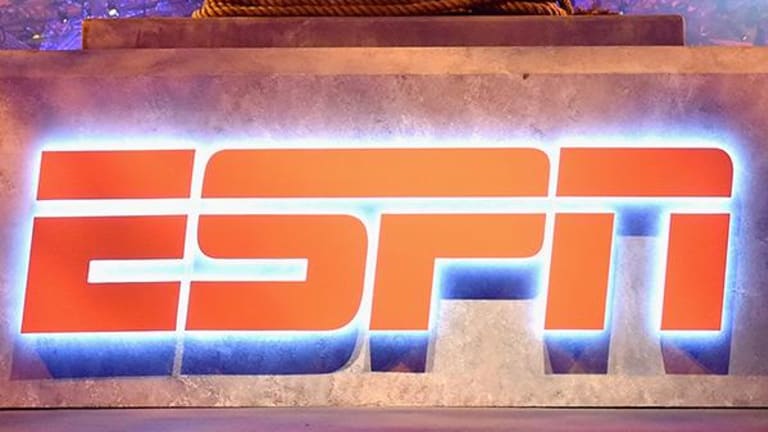 ESPN Cable Subscribers Dip Again in May
Disney's sports giant sees subscribers shrink 3.8% year-over-year amid an industrywide decline in growth rates, although total subscribers inch up month-over-month.
As football season inches ever closer -- the first official NFL game is less than 100 days away -- ESPN continues to field adverse subscriber figures.
In the past six years, Disney's (DIS) sports titan has lost more than 12 million subscribers, putting its current number around 88 million. And a recent report from Pivotal Research analyst Brian Wieser based on Nielsen data shows that ESPN lost 3.8% of subscribers on traditional platforms year over year in May, another blow for Disney's beleaguered sports channel. With a median cable network growth rate of -2.9%, ESPN's reach is shrinking even faster than cable.
Perhaps this shouldn't be surprising, given the number of ESPN alternatives that have sprung up recently. Last month, Amazon (AMZN) secured a deal to stream 10 Thursday Night Football games through its Prime Video service, strengthening a partnership between Amazon and the NFL that began with the inside-football TV series All or Nothing. And Twitter (TWTR) recently announced an agreement with the NFL that will entail year-round football coverage, including a live digital show that will air five days a week during the NFL season. These developments provide further alternatives to households thinking about cord-shaving.
As viewers continue to make the shift to watching content online, ESPN has attempted to roll with the punches. Disney has stated its intention to boost SportsCenter's digital footprint and double down on personalities. In addition, the company has been making ESPN available for skinny bundles in an attempt to appeal to young viewers who are gravitating increasingly toward cable alternatives.
When taking into account the skinny bundles, ESPN actually has seen modest month-over-month subscriber increases in May and June, according to Nielsen data.
The skinny bundle is still a relatively niche platform, though, and ESPN will have to make other efforts toward course correction. The fact that around 80% of remaining subscribers watch ESPN on their mobile devices speaks to the changing landscape. In an increasingly digital world, the nearly 40-year-old sports channel is clearly going through a midlife crisis.
Disney shares on Wednesday afternoon were down 0.5% to $107.83.