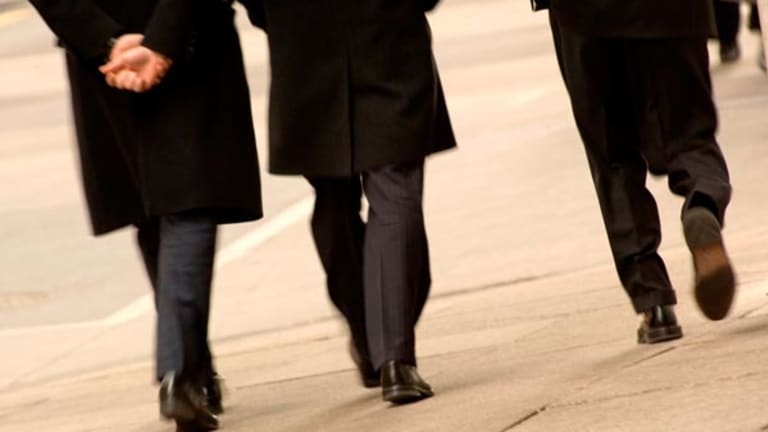 Ericsson, Groupon: Hot Trends
Profit at Ericsson, the wireless equipment maker, fell 66% in the quarter.
NEW YORK (
) -- Popular searches on the Internet Wednesday include
Ericsson
(ERIC) - Get Report
after the wireless equipment maker posted a profit decline of 66% in the fourth quarter.
The company said its joint ventures had a very bad fourth quarter. It had to absorb a large loss from problems at both handset-maker
Sony Ericsson
and
ST-Ericsson
, while sales also slowed in the United States.
Ericsson reached an agreement in October to sell its stake in Sony Ericsson to
Sony
for $1.47 billion. The company said its fourth-quarter loss won't affect the price of the sale, though Ericsson will most likely report less capital gains from it.
Groupon
(GRPN) - Get Report
is trending as the coupon Web site has partnered with
SmartDigital
, a maker of interactive touchscreen kiosks.
Groupon plans to offer its deals and coupons through SmartDigital kiosks in various locations. The deals will begin appearing Wednesday in over 100 kiosks in heavily-trafficked Chicago areas, including Navy Pier and Water Tower Place, over the next 90 days. Groupon plans to follow the Chicago kiosks with similar deals in New York and Miami.
Apple
(AAPL) - Get Report
is another popular search as the company has officially become the largest computer maker, surpassing
Hewlett-Packard
(HPQ) - Get Report
in both computer sales and revenue.
Apple, selling more iPads alone than HP sold PCs, reported a record quarterly sale of 15.4 million iPads and 5.2 million Macs. HP reportedly sold 14.7 million PCs over the same time period. Apple also beat Lenovo and
Dell
(DELL) - Get Report
, which sold 12.9 million and 11.6 million units, respectively.
Instead of lowering iPad prices to compete with lower-priced tablets on the market like Amazon's Kindle Fire, the company said it plans to continue to innovate the iPad. Apple CEO Tim Cook reiterated his belief that iPads will one day take over PCs.
The chatter on Main Street (a.k.a. Google, Yahoo! and other search sites) is always of interest to investors on Wall Street. Thus, each day, TheStreet compiles the stories that are trending on the Web, and highlights the news that could make stocks move.
-- Written by Brittany Umar
.
Brittany joined TheStreet.com TV in November 2006 after completing a degree in Journalism and Media Studies at Rutgers College. Previously, Brittany interned at the local ABC affiliate in New York City WABC-TV 7 where she helped research and produce On Your Side, a popular consumer advocacy segment.