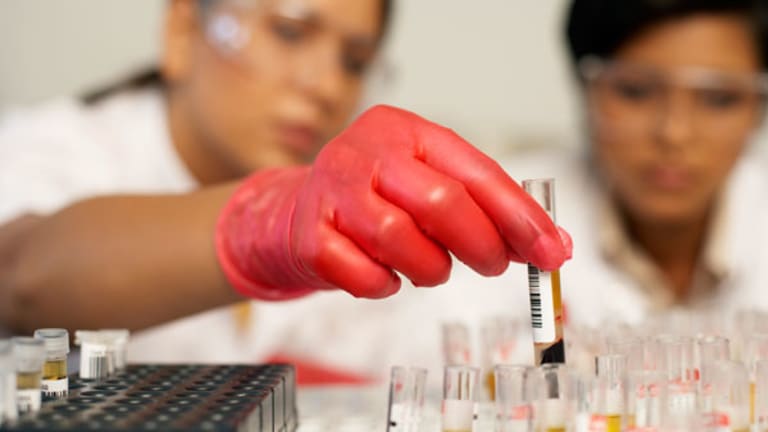 Erbitux Closer to Expanded Use in EU
A European advisory committee recommends the drug be approved for use as a first-line treatment for colorectal cancer.
German drugmaker
Merck KGaA
said Friday that its cancer drug Erbitux received a positive opinion as a first-line treatment for colorectal cancer from the committee that advises European drug regulators.
The Committee for Medicinal Products for Human Use (CHMP) advised the European Medicines Agency to approve an expanded label for Erbitux (in combination with chemotherapy or in certain cases as a single agent) to include metastatic colorectal cancer (mCRC) in previously untreated patients with KRAS wild-type tumors.
Roughly 65% of colon cancer patients have KRAS wild-type tumors according to the company. The committee also recommended its approval as a single agent in patients who are intolerant of chemotherapy regimens.
Merck KGaA said the submission to European regulators was partially supported by data collected from the so-called Crystal and OPUS trials. Data from these trials will be presented at the American Society of Clinical Oncology (ASCO) annual meeting, which gets underway today in Chicago:
May 31 -- Abstract #4000: K-Ras mutational status effect on progression-free survival and response rate outcomes for patients in phase III OPUS trial
June 1 -- Abstract #2: K-Ras mutational status effect on progression-free survival and response rate outcomes for patients from phase III CRYSTAL study
Erbitux targets and binds to a protein called epidermal growth factor (EGFR), which affects cell growth and differentiation associated with cancer risk. The binding keeps the receptor from being activated, ultimately reducing the invasion of tumors cells into normal tissues and spread of tumors to new sites.
It's also believed to suppress tumor growth by keeping tumor cells from repairing the damage caused by chemotherapy and radiotherapy and inhibiting the formation of new blood vessels inside tumors, according to the company.
KRAS is a gene that codes for a protein involved in the EGFR pathway. In normal, or wild-type KRAS tumors, the KRAS protein is only activated in response to certain stimuli. In mutant KRAS tumors, however, it's permanently activated and thus it's thought that the drug is less effective and tumors will continue to grow and spread.
Erbitux, which competes with
Genentech
( DNA) and
Roche's
Avastin, is licensed in Europe for previously-treated patients with mCRC and locally advanced squamous cell carcinoma of the head and neck (SCCHN).
In the U.S. Erbitux is approved for colorectal and head and neck cancers in the U.S., where it is co-marketed by
Bristol-Myers Squibb
(BMY) - Get Bristol-Myers Squibb Company Report
and
ImClone
(IMCL)
.
Full data from the FLEX trial on Erbitux in advanced non-small cell lung cancer will also be presented at ASCO over the weekend.
Bristol and ImClone were trading and up 1.2% and 0.9%, respectively. Competitor Genentech edged down 0.6%, to $70.50.