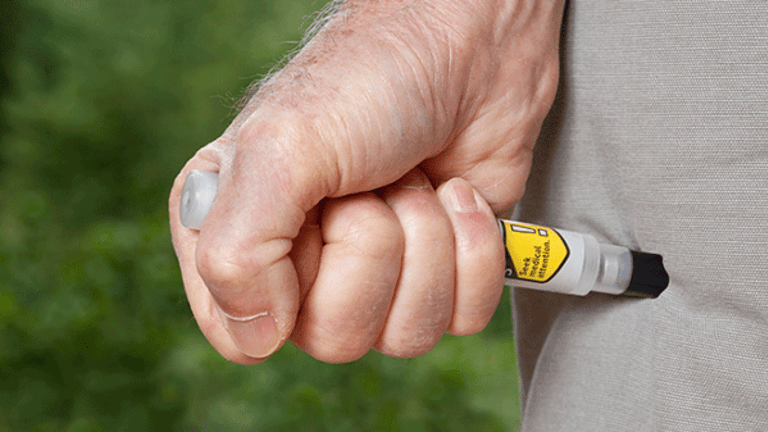 Publish date:
EpiPen Competitor Auvi-Q Will Return in February, but It'll Cost Insurance Companies Big Bucks
The autoinjector will be free for insured patients and those whose annual income is less than $100,000.
The autoinjector will be free for insured patients and those whose annual income is less than $100,000.
A competitor to Mylan's (MYL) - Get Report EpiPen, Auvi-Q, will be back on the market on Feb. 14, its parent company Kaleo Pharma announced Thursday. 
The autoinjector used for severe food allergies and anaphylaxis will be available to insured patients for no cost out of pocket. Auvi-Q carries a $360 cash price tag, but will be free for patients with household income of less than $100,000 yearly. 
The low out-of-pocket price tag, however, depends on a complex price structure that forces insurers to bear most of the product's costs. Company officials have not said how receptive insurers will be.
"We met with patients and physicians and listened to the very real challenges in the current health care environment with obtaining access to affordable medicines," said Spencer Williamson, CEO of Kaleo, in a statement. 
During a call with investors and press, Williamson noted that the company will start a program called Auvi-Q Affordability, which will keep the prices patients pay for the autoinjector low. 
"Auvi-Q Affordability helps remove the insurance barriers and restrictions and delays for commercially insured patients, even those with high-deductible plans," Williamson said during the call. 
As a part of the program, the company has set up a special direct-to-patient pharmacy that will ensure that expiration dates are the furthest back they can be. This was previously a problem for the company, as patients were receiving autoinjectors that expired less than six months after they got them. 
Kaleo, which is based in Richmond, Va., announced back in October that it will bring Auvi-Q back to market in the first half of 2017. Auvi-Q was previously an option for those with life-threatening allergic reactions, but was pulled in late 2015 due to problems with the injection mechanism. At the time, Sanofi (SFY) - Get Report was marketing the drug. In February 2016, Kaleo regained the rights to Auvi-Q.
The FDA has already approved Auvi-Q for sale. As the recall was voluntary, Kaleo does not need new approval for the device before entering the market.
While the out-of-pocket cost will be low, the list price, which Kaleo officials say will be covered by insurance companies, is $4,500. This is compared to what Mylan says is its price for insurance companies and pharmacy benefit managers -- $274 apiece. Mylan says it is insurance companies and PBMS that boost the price of the EpiPen to between $600 and $700 apiece. 
"Many plans, we believe, will cover Auvi-Q for their patients," Williamson said during the call.
Despite repeated requests from participants on the call, however, he did not identify any insurers that have agreed to offer Auvi-Q. If an insurer doesn't offer the autoinjector, Kaleo officials said they will ensure that the patient gets Auvi-Q for free. In short, Kaleo is relying on insurers to buy in to the program to keep Auvi-Q prices low. 
"The drug pricing and payer system is broken," Williamson said, as an explanation of the complex pricing structure set up by the Auvi-Q Affordability program. 
It is unclear how much the announcement will impact Mylan's EpiPen sales, though it's worth noting that when Auvi-Q hit the market back in 2012, it took about a 10% market share. Patients appreciated the Auvi-Q's smaller, more compact design.
Mylan saw share prices dip slightly midday Thursday, hitting $37.01 apiece at noon. 
Mylan was hit with widespread criticism for raising drug prices in 2016, thanks to the huge price hikes it applied to EpiPen, its its lead medical device. 
Mylan started raising EpiPen prices by 25% yearly in 2007, and continued to do so through 2016. The drug industry standard is a 10% price increase yearly. 
As a result of public outcry, Mylan began offering a generic version of EpiPen, and offers patient assistance programs as well as coupons to keep the prices lower. Still, though, cash prices for EpiPens, with a coupon, are $300, and prices for the generic with a coupon are $275. 
Mylan is already facing competition from Impax (IPXL) , which makes an autoinjector Adrenaclick, as well as a generic version of the device. In January, CVS Health (CVS) - Get Report announced that it would offer Impax's autoinjectors at all pharmacy locations instead of EpiPens. Kaleo's price for most patients, though will be the lowest on the market, at $0 per two-pack.