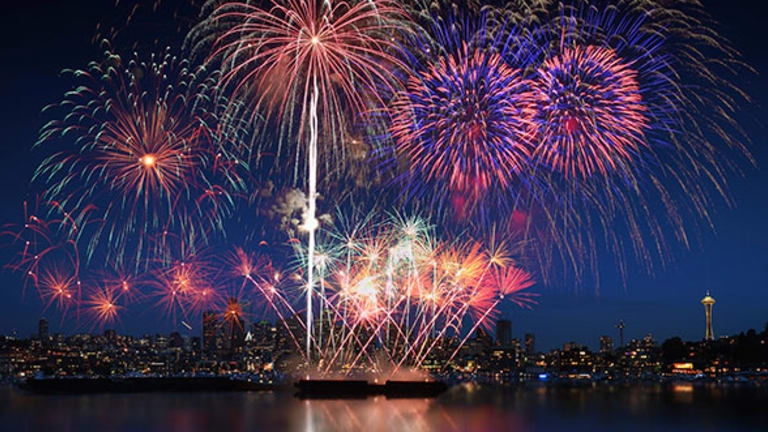 Two Epic Retail Predictions for the New Year That Could Make You Gobs of Money
Some big deals could be on the horizon in retail in 2017.
Editors' pick: Originally published Dec. 30.
'Tis the season on Wall Street for pontificating on what may lie ahead for stocks and business in the upcoming year. 
Here are two bold yet totally feasible predictions about retail in 2017 that could make you a lot of coin. Happy New Year!
Ross Stores Buys Macy's to Create a Retail Powerhouse
The idea of off-price retailer Ross Stores (ROST) - Get Ross Stores, Inc. Report  buying Macy's (M) - Get Macy's Inc Report , which boasts numerous high-end locations in major U.S. cities under the Macy's and Bloomingdale's banners, would have once seemed unthinkable.
But it has been another challenging year for Macy's that has caused its stock to underperform the S&P 500 (a gain of 3.5% vs. 10%, respectively). And a solid year for Ross Stores propelled its stock up 23%. Ross Stores has a much bigger market cap ($26.2 billion ) than Macy's ($11.1 billion) now. The total enterprise value, which includes debt, of Ross Stores is $25.7 billion compared to Macy's $18.1 billion.
Given the current valuation disparity, Ross Stores has a powerful currency to barter with Macy's executives in putting together a transaction. Further, Ross Stores has a virtually debt-free balance sheet (14.9% debt to equity ratio), which should help it to fund a major acquisition such as Macy's.
To be sure, a headline-grabbing combination has benefits for both parties. Macy's was late in entering the lucrative off-price retail business, only opening the first of six new Backstage off-price locations in September 2015. Since then, Macy's has decided it makes more sense financially to open Backstage shops inside of its department stores in order to maximize the store's productivity. This past fall, Macy's opened Backstage shops at about 45 of its stores.
It's time for Ross Stores to go shopping for Macy's.
But given the dizzying amount of merchandise it sells both in stores and online, it would still be wise for Macy's to operate free-standing outlet locations. In Ross Stores, Macy's could gain instant access to more than 1,342 Ross Stores in 36 states.
For Ross Stores, the company could become the exclusive off-price retailer for unsold Macy's and Bloomingdale's merchandise, giving it access to some best-in-class inventory that would aid efforts to wrestle market share from off-price heavyweightTJX (TJX) - Get TJX Companies Inc Report . And Ross Stores could benefit directly from the sales and profits at over 827 Macy's stores (soon to be fewer due to planned closures) and 53 Bloomingdale's locations.
TJX is a holding in Jim Cramer's Action Alerts PLUS Charitable Trust Portfolio. Want to be alerted before Cramer buys or sells TJX? Learn more now.
Further, given the two very different business models of both companies, a deal would likely gain swift approval by regulators, unlike the one between Staples (SPLS) and Office Depot (ODP) - Get ODP CORPORATION Report that got shot down earlier this year.
A roadblock to this prediction coming true in 2017 is that Macy's has a ton of stuff going on right now. In addition to planning 100 or so store closures, it's in the process of reviewing what real estate should be sold to enhance shareholder value. Moreover, the company's incoming new CEO Jeff Gennette may not be so inclined to sell the iconic department store as soon as he walks into the coveted corner office gig.
But boy, does this marriage make sense on paper.  
Dunkin' Brands Brews Up a Key Acquisition to Get Diversified
Tea is the most widely consumed beverage in the world next to water, and it can be found in almost 80% of all U.S. households. Approximately four in five U.S. consumers drink tea, with Millennials the most likely to drink it, says the Tea Association of the USA.
Over the last 10 years, the Tea Association notes, the ready-to-drink tea market in the U.S. has grown more than 15-fold to $5.2 billion.
Given the solid existing market for tea in the U.S., which is likely to grow nicely in the future as more people gain awareness of its health properties, it may be time for coffee giant Dunkin' Brands (DNKN) - Get Dunkin' Brands Group, Inc. Report to dip its toes in the water, so to speak. Doing so via an acquisition would also alleviate pressure on Dunkin' Brands' core coffee business, which is feeling increasing price competition from McDonald's (MCD) - Get McDonald's Corporation (MCD) Report  and convenience stores for drip and specialty coffees.
Not helping matters, of course, is Starbucks (SBUX) - Get Starbucks Corporation Report continuing to churn out innovative new coffee drinks while Dunkin' is trying to push into more premium offerings such as macchiattos.  
Starbucks is a holding in Jim Cramer's Action Alerts PLUS Charitable Trust Portfolio. Want to be alerted before Cramer buys or sells SBUX? Learn more now.
A logical acquisition for Dunkin' Brands would be David's Tea (DTEA) - Get DAVIDsTEA, Inc. Report , which went public on June 5, 2015. Since its IPO, shares have plunged about 81% due to a stretch of tepid sales, losses and a change in the CEO ranks.
That essentially opens the door for Dunkin' Brands to make an opportunistic bid. David's Tea would give Dunkin' Brands access to the growing, premium loose leaf tea market, which the coffee titan could exploit in several ways.
If Starbucks bought Teavana, why shouldn't Dunkin' buy David's Tea?
The first would be pitching the David's Tea concept to its existing, and experienced, franchisees to have them aggressively open stores in the U.S. Currently, David's Tea only operates 178 or so stores in Canada and 47 in the U.S. With an average size of 850 square feet and operating margins at more than 15%, the store could be a lucrative opportunity for an existing Dunkin' Donuts franchisee.
Another opportunity would be to bring David's Tea in ready-to-drink form to supermarkets in the U.S., where Dunkin' Brands already has relationships to distribute Keurig pods and bagged coffee. That would give Dunkin' a chance to go head-to-head with Starbucks' Teavana brand, which will soon debut a line of ready-to-drink teas.
The company could also start selling certain popular David's Tea flavors in Dunkin' Donuts locations to help differentiate itself from McDonald's and Restaurant Brands' (QSR) - Get Restaurant Brands International Inc Report  Tim Horton's, and better compete with Starbucks, which continues to introduce new Teavana teas inside its stores.
And finally, there may even be an opportunity to sell tea-flavored David's Tea ice cream at Baskin Robbins, which Dunkin' Brands also owns.
Ultimately, Dunkin' Brands would be following in the footsteps of Starbucks in buying a tea brand such as David's Tea. In November 2012, Starbucks acquired loose-leaf tea purveyor Teavana for $620 million.