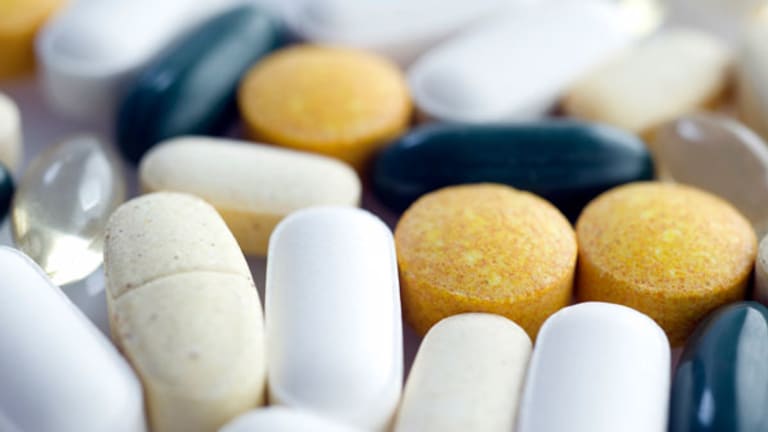 ST. PAUL, Minn. (
) --Into the obesity treatment fray rumbles
EnteroMedics
(ETRM)
, which is developing a surgically implanted device that uses electrical pulses to block the primary nerve regulating digestion. Unlike pacemakers, patients power the EnteroMedics' VBLOC device on and off with a control belt worn around the waist. When VBLOC is on, patients are supposed to feel less hungry, eat less and lose weight.
VBLOC is an obesity treatment potentially less invasive and reversible, unlike gastric bypass surgery. But EnteroMedics is also developing VBLOC at a time when the obese have far easier treatment options in the recently approved pills from
Vivus
(VVUS) - Get VIVUS, Inc. Report
and
Arena Pharmaceuticals
(ARNA) - Get Arena Pharmaceuticals, Inc. Report
.
EnteroMedics is currently conducting a phase III study of VBLOC compared to a dummy device in obese patients. Results from the study are expected before the end of February.
With a stock price under $3 per share and a market cap of $122 million, the upside potential in EnteroMedics heading into the phase III study data is greater than the downside risk. But, of course, EnteroMedics is "cheap" today because of significant doubts about the efficacy of VBLOC. A previous phase III study failed badly.
In its favor, EnteroMedics designed the current phase III study to optimize the weight loss potential of VBLOC while at the same time make it more difficult for control patients to also lose weight. For this reason, EnteroMedics has better odds of winning with the current VBLOC study than it did the last time.
On balance, however, it's tough to be overly optimistic about VBLOC's chances. Data from the previous study raise many red flags. Let's take a look.
The EMPOWER study enrolled 294 obese patients with a mean Body Mass Index (BMI) of 41.
A 5' 4" woman with a BMI of 41 would weigh 240 pounds.
All the patients underwent surgical implantation of the VBLOC device. Two-thirds of the patients were randomized into the treatment group, which meant their VBLOC devices were fully operational. The remaining one third of patients were randomized to the control group, with VBLOC devices that were set at a minimal, sub-therapeutic level. Patients in both arms also underwent weight-loss counseling.
The primary endpoint of the study was to demonstrate significantly greater "excess weight loss" (EWL) in the VBLOC treatment group compared to the control after 12 months.
EWL was calculated as a percentage equal to total weight loss in the trial (the numerator) divided by the difference in baseline weight and "ideal weight" using a BMI of 25 (the denominator.)
Initial EMPOWER study results were first reported in 2009 and published fully in
Obesity Surgery
three years later. The EWL for VBLOC-treated patients was 17% compared to 16% for control patients. Clearly, there was no statistically significant difference at all in excess weight loss between the two groups.
EnteroMedics has never disclosed or published actual numerical weight loss data from the EMPOWER study. However, if I use the same 5' 4" woman weighing 240 pounds as a typical patient, a 17% EWL translates into weight loss of 16 pounds, or 6.7% from baseline. That's slightly better than what you'd expect to see from Arena's Belviq but less than Vivus' Qsymia.
The sham device's 16% EWL translated into 15 pounds of weight loss, or 6.3%.
Using our typical female patient as an example, once again.
EnteroMedics blamed the negative results on the unexpectedly high weight loss in the control group. Somehow, the low-intensity electrical signal of the control VBLOC devices contributed to weight loss, the company said.
Better performance (higher EWL scores) was also correlated directly with increased device usage in both the treated and control patients. Patients who used the active VBLOC device for more than 12 hours per day reported an EWL of 30% compared to 22% for patients using their control devices for more than 12 hours.
EnteroMedics' explanation for the negative EMPOWER study results don't fully gibe with the published data. At various times during the study, control patients lost more weight than actively treated patients. This is particularly true for patients who were more compliant (VBLOC use greater than 9 hours per day) and in patients who lost the most weight.
For instance, 30% EWL was achieved by 28% of VBLOC patients but 37% of control patients. At 35% EWL, the trend reverts back to VBLOC's advantage (23% vs. 20% of patients -- still close.) The same percentage of VBLOC and control patients (18%) achieved 40% EWL.
Looking at the published EMPOWER data, not only was the control VBLOC device active but at multiple times during the study, it was superior to the fully operational (and presumably more effective) VBLOC device. EnteroMedics has never offered an explanation for these data.
A more plausible, logical explanation for the negative EMPOWER results: VBLOC doesn't induce weight loss. Instead, patients who enrolled in the study lost weight through a mixture of placebo effect, adherence to healthier diet and more exercise.
Obese patients willing to have a device surgically implanted are going to be motivated to lose weight -- and they did just that in equal amounts in the treated and control arms of the study overall.
Undeterred, EnteroMedics went back to the drawing board to design a second phase III study that could prevent control patients from losing so much weight. That brings us to the present and the RECHARGE study currently underway.
RECHARGE enrolls 233 obese patients, all of whom are implanted with VBLOC devices. Like the previous study, two-thirds of patients will be randomized to active treatment with a fully functional VBLOC. The remaining one third of patients in the control arm will have devices that are never turned on. EnteroMedics hopes that by using truly sham devices in the control arm -- no nerve blocking electrical signal at all -- the RECHARGE study will not suffer from an artificially high placebo effect.
Results from the EMPOWER trial make it easy to be a VBLOC skeptic, but there is little doubt about the power of placebo, particularly in medical device trials. EnteroMedics admits that some patients feel a sensation when the VBLOC device is active and blocking the signals of the nerve. In RECHARGE, patients in the treatment arm were likely to feel when their device was working. Control arm patients felt nothing (since their devices were dummied) and could have realized they weren't receiving active treatment.
Patients who know they're in a placebo or control arm can quickly lose motivation to participate. In the RECHARGE study, patients randomized to the control arm may not adhere to diet and exercise, limiting weight loss or even causing weight gain.
This is the scenario under which EnteroModics has the best shot at producing positive results favoring VBLOC in the RECHARGE study.
We'll know soon enough.
A quick note on comparing VBLOC to competing weight loss treatments: Gastric bypass surgery patients lose an average of 28% of their body weight. For the sample female patient standing 5' 4" and weighing 240 pounds, that equates to 67 pounds or an EWL of 70%.
VBLOC under no circumstances will achieve an EWL of 70%, so from an efficacy standpoint will always be inferior to gastric bypass. VBLOC, however, requires less invasive surgery and patients likely suffer fewer side effects. It's also reversible.
FDA has set a minimal efficacy threshold for weight-loss pills of equal to a 5% or more reduction in body weight compared to baseline (and placebo adjusted.) To meet this minimum threshold, VBLOC needs to demonstrate an EWL of 13% (again, using the 5' 4" female patient with a 41 BMI.)
To hit a 10% weight-loss standard, the equivalent EWL is 26%.
Keep these conversions in mind when EnteroMedics releases the VBLOC results. If the VBLOC study is positive but the numerical weight loss is equivalent to or less than what's seen with Vivus' Qsymia or Arena's Belviq, the device's commercial potential will be severely curtailed.
-- Reported by Adam Feuerstein in Boston.
Adam Feuerstein writes regularly for TheStreet. In keeping with company editorial policy, he doesn't own or short individual stocks, although he owns stock in TheStreet. He also doesn't invest in hedge funds or other private investment partnerships. Feuerstein appreciates your feedback;
to send him an email.