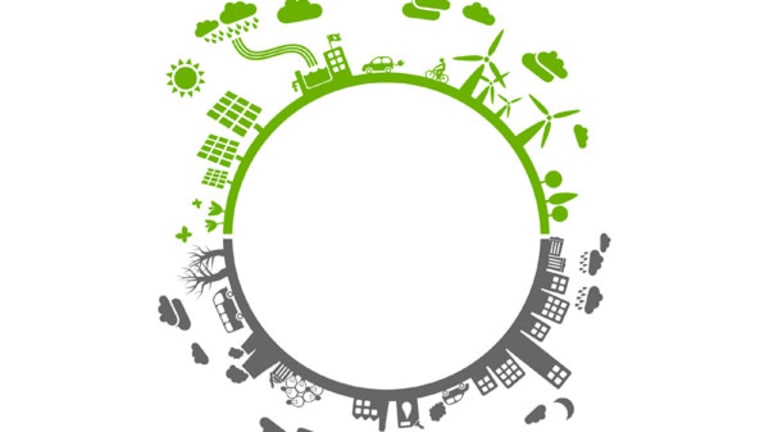 Energy Winners & Losers: Egypt Unrest Rallies Oil
Crude oil rallies as political unrest in Egypt sends shockwaves through the Middle East.
(Crude oil price story updated for market close, political unrest in Egypt)
NEW YORK (
) -- Crude oil rallied on Friday as the political unrest in Egypt created fears of a widening political upheaval in the Middle East and a disruption in the global oil supply infrastructure.
Crude was up by as much as 4.8% on Friday, after an up and down week in trading. Crude had declined in six consecutive sessions previous to Wednesday, when it surged and energy stocks rallied to new 52-week highs. Friday's move up in oil was the largest one-day move in crude since 2009. In the afternoon, the price of crude oil settled at $89.34, a 3.7% rise from the previous settle price.
The protests in Egypt, the shutdown of cell phone and Internet service in the country, the images of the headquarters of the ruling political party in Egypt on fire, and the Egyptian army taking to the streets increased fears that a Northern Africa political crisis was widening. The political crisis in Egypt gave new significance to the toppling of the Tunisian president on Jan. 14.
Crude is highly sensitive to fears of production shutdowns and supply disruptions, most recently evidenced earlier in January when the short-term closure of BP's Alaskan pipeline after a leak spurred a rally in crude, though short-lived, when the supply issue turned out to be immaterial to oil delivery.
The Egyptian political upheaval remains a headline risk, as opposed to a concrete disruption to oil production or supply channels, or vulnerability in Middle Eastern oil supply more generally. The Suez Canal was still operating normally on Friday, and a parliamentary leader in Egypt told the Egyptian press late in the day that the country was in "safe hands" with Mubarak.
Yet protests broke out in Yemen on Friday and it stoked fears that Saudi Arabia, the world's largest oil producer, would next face political turmoil.
Energy stocks lost ground on Friday amid a major market selloff, with the company-specific headlines items being an earnings report from
Chevron
(CVX) - Get Chevron Corporation Report
and the exposure of
Apache Corp.
(APA) - Get Apache Corporation Report
to Egyptian production assets (see chart above).
Chevron reported an improved fourth quarter, in line with earnings reports from other oil majors, and beat Street consensus, though its level of reserves replacement was judged as weak by analysts, and Chevron shares were down 1.5% on Friday for the second-biggest loss among oil majors after
Total
(TOT) - Get Total SA Sponsored ADR Class B Report
, which closed down close to 3% after it shares were initiated at a sell by Citigroup.
In addition to the price of crude oil, tanker stocks were the big winner on Friday, as fears of a Suez Canal shut down sent the heavily shorted stocks in the sector much higher, with the potential need to divert oil tankers all the way around the southern tip of Africa a boon to a glutted tanker market that had recently seen shares swoon.
>>Tanker Stocks Surge on Suez Canal Shutdown Fears
Apache shares declined by 8% this week, based on fears about its huge exposure to Egyptian production -- roughly 25% to 30% of revenue.
>>Energy Losers: Apache Shares Fall on Egypt Fears
While many oil companies have exposure to the same Egyptian Western Desert region where Apache produces 80% of its Egyptian oil, no other company has anywhere near as sizable core exposure to Egypt.
BP, which sold a portion of its Egyptian business to Apache in July, was down 1% on Friday afternoon, in line with losses among most of the oil majors and the sector decline.
Apache shares shares had recently traded at a 52-week high level, and slipped from $124 to $114 by the end of trading on Friday, though a 5% loss at the open was narrowed to a 1.3% loss by day-end.
The energy sector was down a little less than1% on Friday, a much smaller decline than the one-day losses in the S&P 500 Index (-1.8%) and Dow Jones Industrial Average (-1.4%). Trading in most of the oil majors was elevated on Thursday.
Energy stocks have been trading at 52-week highs and on Thursday, majors including
Exxon Mobil
(XOM) - Get Exxon Mobil Corporation Report
and
ConocoPhillips
(COP) - Get ConocoPhillips Report
hit fresh 52-week highs.
The risk of a selloff in the energy sector, and in the broader markets, was embedded in the recent 52-week high levels attained by many stocks. It was a day for "market anxiety" trading, as the typical safe havens, gold and the U.S. dollar, gained amid major losses in equities.
In energy shares specifically, fast money moves to profit-taking on headline risk and long-term investors consolidate holdings over a longer period of time, creating choppy charts around peak valuations, even without a major surprise like political turmoil at the site of the Suez Canal.
ConocoPhillips was the only oil major to hold onto its gains on Friday, gaining another 1.5%, though it came down from another intraday 52-week high of $71.35.
Baker Hughes
(BHI)
the biggest earnings rally stock among the oil services group, was also among the only energy stocks to continue to hit fresh intraday 52-week highs on Friday, though its 2% gain on Friday afternoon was below the intraday high.
By the end of the day Friday, President Mubarak spoke on national television, trying to show the world that he remains in control and making several statements also trying to show his receptive ear when it comes to the suffering of Egyptian people. Mubarak called for calm, respect for law, and said reforms would be made if violence did not continue. Mubarak also said he had asked the government to resign and for a new government to be formed.
-- Written by Eric Rosenbaum from New York.
RELATED STORIES:
>>Energy Losers: Apache Shares Fall on Egypt Fears
>>BP Earnings: How Big Will Dividend Be?
>>Russia Embracing Big Oil Inc.
>To contact the writer of this article, click here:
Eric Rosenbaum
.
>To follow the writer on Twitter, go to
.
>To submit a news tip, send an email to:
.