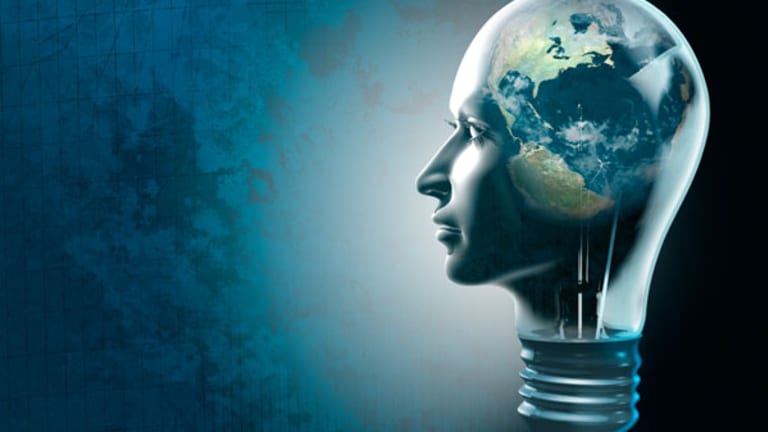 Energy Winners: Cameron International
Cameron International spikes on Tuesday, sending signals that the oil services sector could be coming out of a recessionary trough.
HOUSTON, Texas (
) -
Cameron International
(CAM)
is leading a rally among oil services stocks on Tuesday, as its solid earnings indicated to some energy investors that the outlook on oil services may be changing from a barrel half-empty to a barrel half-full story.
Cameron was up just short of 7% in afternoon trading, on a day when the energy sector as a whole was rallying. "All the energy stocks are in the green today on my screen," said Stephen Gengaro, analyst at Jefferies.
Cameron had seen almost one million more shares traded than on an average day also -- 3.8 million shares versus 2.9 million on average. And while trading spikes in the energy sector are common, the increase in trading of Cameron shares on Tuesday was still above the typical level of volatility in the trading range of oil-services stocks.
FMC Technologies
(FTI) - Get TechnipFMC Plc Report
was up close to 4% in the early afternoon;
National-Oilwell Varco
was up more than 3%;
Haliburton
(HAL) - Get Halliburton Company Report
was up more than 5%; while
Schlumberger
(SLB) - Get Schlumberger NV Report
was up close to 4% in the early afternoon on Tuesday.
The broad energy rally does present a note of caution in terms of Cameron's big day. For one, Cameron was not just receiving a one-day boost because of its earnings day, but because energy stocks tend to be higher beta stocks than stocks in other sectors of the market, and so the Cameron spike may be compounded by the general energy sector move up on a bullish market day.
Still, Jefferies' Gengaro said that Cameron's rally is not primarily driven by the general positive market sentiment on Tuesday. "The fact that the market is up 200 points helps, but the guidance provided was interesting because I had heard consistently that investors had been expecting Cameron guidance would be below consensus," Gengaro said.
Cameron International guidance bracketed the street consensus for 2010. "That got people somewhat excited," Gengaro said.
What's more, BMO Capital Markets analyst Alan Laws believes that the Cameron guidance is conservative, and after analysts are done revising their models post-earnings, a new consensus will come out above the high end of Cameron's guidance of $2.10 to $2.20 for fiscal 2010. "There is room for expansion to above $2.20," Laws said. BMO has a current estimate of $2.14 for 2010 earnings.
BMO's Laws also noted that Cameron had the confidence to provide an estimate for the full year, which is not something that all of its peer companies in oil services have done so far in the earnings season.
Of course, a one-day spike does not a sustained rally make, and analysts cautioned that while the outlook for Cameron seems positive, concerns about global growth will continue to be a bid part of the downside risk in these stocks. What's more, there is still the question of whether there is proof in the rally that this earnings season will serve as an inflection point, with the trough in the cycle having been reached.
BMO's Laws said that most important to him was that it seemed as if the attention of investors has shifted away from a focus on the backlog of business trough to starting to think about when it will shift up.
According to Jefferies data, the backlog in Cameron's core business bottomed in the second quarter, and ended the year 8% above that second quarter trough point. What's more, year over year the backlog is slightly negative, but very close to flat in the core business, and the total Cameron backlog has been flat, though at a high level.
"Maybe people are starting to think the backlog has at least stabilized and will start to move in a positive direction, and I bet if we are not at a definitive trough we are awfully close to one," Gengaro said.
A big positive indicator in the 2010 forecast was that Cameron expects 40% to 50% growth in its deep water drilling business. Cameron does have a more stable earnings outlook than other energy players.
The growth in the sub-sea business provides a sustainability of earnings. Cameron, for example, had earnings of $2.67 per share in 2008, which dropped to $2.11 in 2009 -- 2010 guidance is the $2.10 to $2.20 range that analysts believe might be conservative. Other energy players saw earnings fall by 50% in the recent recession. "Cameron is backlog driven and tends to have less volatility in earnings than other energy stocks," Gengaro said.
So does that mean it is time to buy ahead of a sustained rally in the sector, and in Cameron specifically? The BMO analyst said that Cameron is not a cheap stock, but it is not expensive at its current level of $39.44, either. BMO has Cameron at market perform, while maintaining an outperform on the sector. "I think there is another $10 in Cameron share price just to start out from the cycle's trough," Laws said.
On the issue of valuation and entry point for stocks, BMO's Laws and Jefferies Gengaro both cautioned that the sector still has to balance the downside risk of the global growth environment. However, if we are coming out of the recession and continue to get rising oil demand, there is a significant multi-year opportunity for these companies to grow earnings.
What's more, the Jefferies analyst said that Cameron is trading at 9 times 2010 earnings, and that is not overvalued relative to a historical high-end range of 13 times earnings, especially when taking into account that many analysts now feel that the 2010 guidance is conservative, too.
BMO's Laws said that the sector has considerable upside potential, but that has to be framed by the broader markets and shocks that are still likely to occur. At bottom of every cycle, the BMO analyst noted, there is no clear view and it will take more positive data points suggesting global growth to remove the clouds, however it is a fine line between waiting for the clouds to clear and missing an opportunity to profit on a recovery.
"These stocks should grow earnings, as opposed to being subject to a double dip in the global recession, but the path will be to grind higher," the BMO analyst said.
Jefferies Gengaro explained that earnings growth from Cameron is not easy to pinpoint quarter-by-quarter because there can be lumpiness tied to when Cameron book's business -- Cameron does not book until it actually ships oil services equipment.
"They won't be grinding it out as a byproduct of their business, I'm pretty confident they will execute well, but the jury is still out on the sustainability of the today's rise," Gengaro said.
-- Reported by Eric Rosenbaum in New York.
RELATED STORIES:
>>Energy Winners: Can Brigham Go Higher?
>>See our new stock quote page.
Follow TheStreet.com on
and become a fan on
Copyright 2009 TheStreet.com Inc. All rights reserved. This material may not be published, broadcast, rewritten, or redistributed.