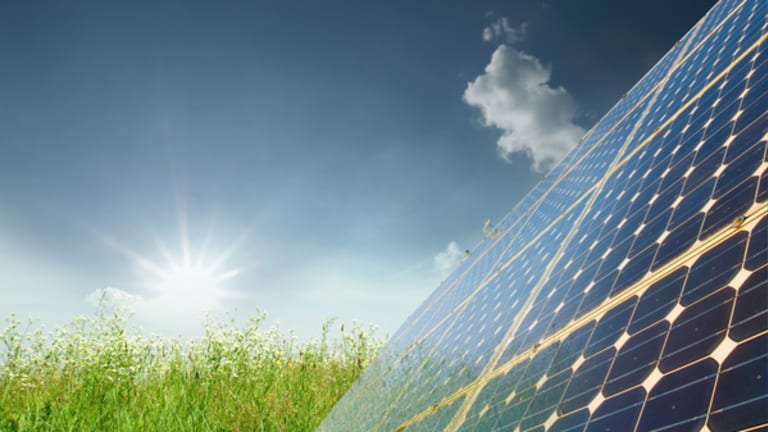 Energy Transfer Gains on ETP Holdco Deal
Energy Transfer shares rose after the oil services company said it will take full control of ETP Holdco
HOUSTON (
The Deal
) -- To simplify a structure that has confounded investors, Dallas oil and gas transportation, processing and storage provider Energy Transfer Partners LP said Thursday, March 21, it would buy the 60% stake in ETP Holdco Corp. it doesn't own from affiliate Energy Transfer Equity LP for $3.75 billion in cash and units.
Shares of Energy Transfer were rising 2% to $49.49 mid-day on Thursday.
The transaction includes $2.35 billion of newly issued ETP units and $1.4 billion in cash. ETE, which owns all of ETP's incentive distribution rights, agreed to forego IDR payments on the newly issued ETP units for the first eight quarters beginning with the quarter in which the closing of the transaction occurs. For eight quarters after that, ETE will collect only half of the IDR payments. The partnerships expect to complete the deal in the second quarter.
ETP and ETE said they received feedback from the credit rating agencies that the transaction won't have any effect on their ratings.Simmons & Co. International wrote in a report Thursday that although the transaction needs to be analyzed further, it's a positive step toward streamlining ETP's ownership structure.
ETP and ETE formed ETP Holdco in June of last year to hold their interests in Southern Union Co., which ETE bought in March 2012 for $5.5 billion, and Sunoco Inc., which ETP picked up in October for $5.35 billion. ETE chairman Kelcy Warren said at the time that creating ETP Holdco would remove the need for external equity or debt financing, boost distribution growth prospects at both partnerships, increase Energy Transfer Partners' scale of operations and improve its ability to serve more customers in a rapidly expanding marketplace.
But the move confused investors, who have criticized the partnerships for not turning asset growth into distribution growth, so in November management said they would work toward simplifying the partnerships' organizational structures.As part of that move, ETE and ETP agreed in December to sell Southern Union's local distribution companies Missouri Gas Energy and New England Gas Co. to Laclede Group for $1.035 billion. Then in February, ETP announced it would sell its Southern Union Gas Services assets to Regency Energy Partners LP, whose general partner is owned by ETE, for $1.5 billion.
There's also been talk about ETP selling Sunoco's 4,900 gas stations, but management said recently it didn't think they would fetch a multiple that "would come even close" to being accretive for its unitholders. But a spinoff still remains a possibility, according to analysts.
ETE owns ETP's general partner and 50.2 million of its limited partner units.Latham & Watkins LLP's Bill Finnegan, Sean Wheeler, Debbie Yee, Sekhar Cephas, Tim Fenn and Eric Matuszak counseled ETE. Vinson & Elkins LLP represented ETP, including David Oelman, Matt Strock, Lande Spottswood, Brett Riesenfeld, John Lynch, Ryan Carney, Billy Vigdor and Cathy Lewis.
Credit Suisse Group's Jamie Welch, Sean Tobin, Lew Steinberg and Ryan Pickard and Potter Anderson & Corroon LLP's Mark Morton, Christina Houston, Pamela Millard and David DiDonato advised ETE's conflicts committee, and Evercore Partners Inc.'s Ray Strong, Eric Bauer and Will Fitzgerald and Morris, Nichols, Arsht & Tunnell LLP's Lou Hering and Andrew Johnston assisted ETP's conflicts committee.
Written by Claire Poole in Houston