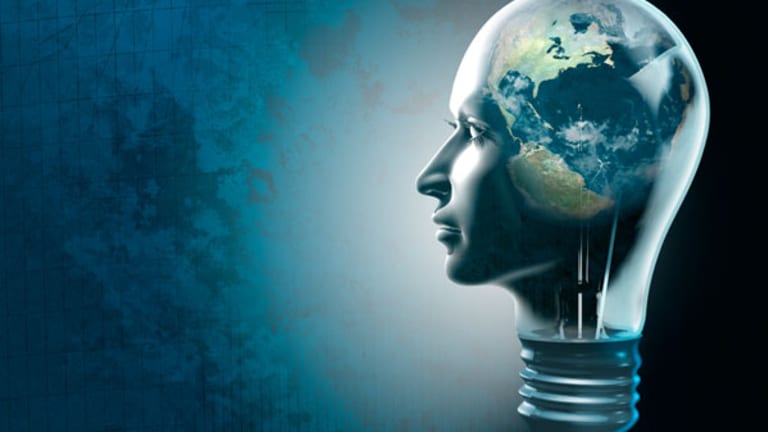 Publish date:
Energy Stock Favorites of Hedge Fund Managers (Update 1)
Hedge fund managers favor independent exploration stocks and go value fishing among the oil service sector in the fourth quarter.
Hedge fund managers favor independent exploration stocks and go value fishing among the oil service sector in the fourth quarter.
(Hedge fund energy stock picks story, updated for multi-quarter energy buying trends)
NEW YORK (
) -- The energy stock buying and selling of the top hedge fund managers in the fourth quarter of 2011 showed heavy selling in oil service names, opportunistic buying in beaten-down value plays, and continued betting on the long-term future of natural gas even as prices remained at a historically low level.
It's important to keep in mind, though, that while seeing what the big hedge fund managers have been buying and selling in any sector is interesting, it's backward-looking information. The activity often reflects short-term trades that may have already been closed out.
When it comes to energy specifically, the fourth quarter was a trading environment for hedge fund managers that makes it even more difficult to determine if any long-term buying decisions within the energy stock universe were being made.
The energy sector reached a one-year bottom just as September 2011 ended and the fourth quarter began. In other words, hedge fund managers were able to buy on the cheap in energy stocks and, if they wanted, turn these stocks for a quick profit as the sector rebounded. In October, the energy sector rose by close to 25% (see chart of the
Energy Select Sector SPDR
(XLE) - Get Report
above).
There are some trades quarter to quarter in energy stocks that should be discounted simply because the energy niches have always made for fast money opportunities. Take refining stocks like
Valero Energy
(VLO) - Get Report
or
Holly Frontier
(HFC) - Get Report
. These refining stocks are among the most volatile trades day to day, and that is compounded by the fact that these stocks also hit 52-week lows during the fourth quarter.
There are also plenty of M&A arbitrage plays among the hedge fund manager bets on energy, the most prominent being
Kinder Morgan's
(KMI) - Get Report
acquisition of
El Paso
( EP), which figured in many hedge fund portfolios' fourth-quarter action.
Here, then, are four of the more interesting trends in energy stock trades revealed by the hedge fund managers' bets in the fourth quarter.
The big hedge funds continue to bet on the long-term natural gas story
SAC Capital is among the top holders of two stocks that are aligned with the long-term U.S. natural gas play:
Heckmann
(HEK)
and
Cheniere Energy
(LNG) - Get Report
.
Even as natural gas prices test historic lows in the first quarter -- after they declined throughout the fourth quarter -- hedge fund managers are keeping their exposure to natural gas as a major component of the U.S. energy and economic story of the future.
Heckmann is a water services company that works with the shale drillers to haul water to and from hydraulic fracturing sites. Heckmann has made a big bet on the conversion of exploration and production trucks to natural gas as a fuel source -- it's a way to cut down on the cost of E&P logistics by replacing diesel engines with natural gas-powered engines.
Cheniere Energy is the only play on the natural gas export market story, having won the first federal government approval for an export terminal.
T. Boone Pickens' BP Capital, which is front and center in the natural gas infrastructure story -- he is on the board of
Clean Energy Fuels
(CLNE) - Get Report
, which is building out the refueling station infrastructure for natural gas transportation -- in the fourth quarter added to this natural gas play from another perspective: shipping. One of his hedge funds top adds was
Golar LNG
(GLNG) - Get Report
, the only stock to play the international liquified natural gas shipping story.
Both Cheniere and Golar hit new 52-week highs in the first quarter, as the long-term
secular narrative about the importance of natural gas continued to bolster stock prices.
George Soros has been a long-time holder of natural gas engine maker
Westport Innovations
(CLNE) - Get Report
.
Simply put: this trade has continued to work, even if the future earnings power and potential size of markets for companies like Westport and Cheniere remains difficult to pin down.
After a year of huge deals in the oil and gas pipeline space, midstream stocks remain on the radar screen of hedge fund managers
With the Kinder Morgan-El Paso deal, as well as the takeover battle between
Energy Transfer Equity
(ETE)
and
Williams Cos.
(WMB) - Get Report
over
Southern Union
( SUG), playing the midstream pipeline stocks still figures in the hedge fund manager bets.
Rose Rock Midstream
(RRMS)
was one of Pickens' biggest increased positions in the fourth quarter.
Beaten up Exco Resources, which is selling its midstream assets, continues to attract hedge fund interest
Distressed investing titan Wilbur Ross has been building a big stake in natural gas exploration and production company
Exco Resources
(XCO)
over the past year. Shares have fallen more than 60% in the past year as natural gas prices have declined and made drilling uneconomic for many companies.
In the fourth quarter, Harbinger Capital took a new position in Exco Resources, and it was a buy that placed Exco among the hedge fund's top 10 holdings at No. 5 overall. Harbinger, run by billionaire Phillip Falcone, saw its value tumble by 50% last year and has been abused in the press for its fall from grace after making the correct call on the subprime mortgage disaster.
If Harbinger hasn't been as smart with its picks since the housing bubble, is it part of the smart money expecting a takeout of Exco? Ross has done it in many sectors before, most recently in the coal sector where he sold
International Coal
to
Arch Coal
(ACI) - Get Report
last year.
It seems unlikely in the short-term: With
natural gas prices so depressed, the dry gas E&Ps can't expect to fetch much of a premium in a deal, even if bigger companies with big balance sheets and big bets on natural gas, like an
Exxon Mobil
(XOM) - Get Report
or
BG Group
could have the patience to wait for a better day.
Activist fund Oaktree Capital is the top hedge fund holder of Exco shares, which is something that analysts who cover Exco point to, alongside the Ross holding, about the potential pressure that can ultimately be applied to the company.
It's possible that Ross and Harbinger are waiting for a better day for the company to be taken out and buying into the depressed shares now, as opposed to expecting a quick buck in this company. Exco did announce this year that it's going to sell its midstream assets, but that is only a $400 million deal.
Oil service was the energy sector in the doghouse among hedge funds
In a trading pattern that was seen across most of the major hedge fund managers, the large-cap oil service stocks were dumped in the fourth quarter, while managers continued to bulk up on their favorite independent exploration and production companies.
Occidental Petroelum
(OXY) - Get Report
was among the top 10 increased positions for Steven Cohen's SAC Capital, while large-cap oil service company
Baker Hughes
(BHI)
was its biggest sale.
Halliburton
(HAL) - Get Report
and
Schlumberger
(SLB) - Get Report
were among the top 10 sales of quant driven hedge fund Renaissance Technologies in the fourth quarter.
The selling in oil service stocks is not surprising as the sector has been battered by the shift in the North American market away from the natural gas basins and to the liquids shale plays. While the shale business is booming, the North American market pricing power that had been held by many oil service companies has begun eroding. Halliburton said in its recent earnings that margins will fall, but won't collapse as some investors seem to be predicting.
The hedge funds sold at the right time, as stocks like Halliburton remain in the doghouse this year -- even as many independent E&Ps tilted to shale oil exploration have rallied, resurgence from fourth-quarter lows in oil service stocks has been modest. The lack of support for oil service shares continues to suggest there is
longer-term value to be exploited for the patient investor.
Multi-quarter buying may be the best indicator of hedge fund managers' favorite energy stocks
The oil service stocks were dogs in the fourth quarter and that shouldn't surprise anyone given the bottoming out in the sector and the expectation that things got worse before they got better. In fact, it might be more interesting to see whether the hedge fund managers start adding back to some of their oil service stakes, like they have already done -- and were doing again in the fourth quarter with oil service stock
Weatherford International
(WFT) - Get Report
, which was beaten up long before the rest of the sector due to company-specific missteps.
SAC Capital, for example, while dumping Baker Hughes was adding to its Weatherford stake in the fourth quarter. Weatherford is now the hedge fund's third-largest holding after adding to its position three quarters in a row.
Here are some of the other top hedge fund manager multi-quarter buys across the energy sector:
Activist hedge fund Jana Partners has added to its stake in
Anadarko Petroleum
(APC) - Get Report
for two consecutive quarters.
Pickers has lightened his exposure to
EOG Resources
(EOG) - Get Report
for three quarters, while U.S. independent exploration and production peers of EOG,
Devon Energy
(DVN) - Get Report
,
SandRidge Energy
(SD) - Get Report
and
Chesapeake Energy
(CHK) - Get Report
remain among his top 10 holdings in the fourth quarter.
Ray Dalio's Bridgewater Associates has been adding to its stake in U.S. independent E&P
Denbury Resources
(DNR) - Get Report
for three quarters.
Denbury has been a popular way for energy investors to gain exposure to the mid-cap U.S. oil exploration story and the support for crude oil prices, with a
unique production technique twist.
In multi-quarter stock buying action like Denbury or Weatherford, a longer-term bias from the hedge fund managers may be revealed, as these stocks haven't moved up or down in a straight line in the past year.
-- Written by Eric Rosenbaum from New York.
RELATED STORIES:
>>5 Trades to Play Low Natural Gas Prices
>>No. 1 Reason Natural Gas Prices Can't Rise: Exxon Mobil
>>Why Halliburton Shares Can't Find a Bottom
>To contact the writer of this article, click here:
Eric Rosenbaum
.
>To follow the writer on Twitter, go to
.
Follow
TheStreet
on
and become a fan on