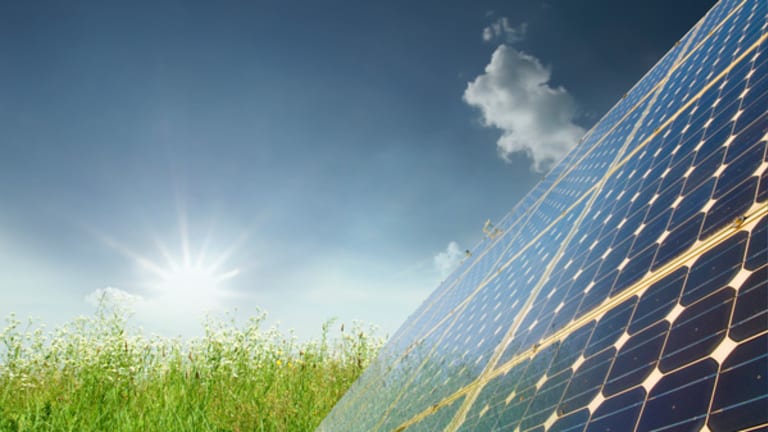 Comverge-Con Ed Deal Low on Energy
A deal between smart grid company Comverge and Con Edison takes another disappointing turn.
(Comverge, Con Ed story updated for pre-market trading on Tuesday)
NEW YORK (TheStreet) -- Smart grid company Comverge (COMV) announced after the close on Monday that a once-promising deal with Consolidated Edison (ED) - Get Consolidated Edison Inc. Report for energy demand management was being significantly reduced.
Disappointing news related to the Comverge-Con Ed demand management deal isn't a surprise.
Charles Fishman, analyst at Pritchard Capital, said the deal, which is outside the company's core business of demand response, has been a headache for Comverge. Yet other analysts say that, while the Con Ed deal has highlighted disappointing revenue from Comverge's energy efficiency business, the issues for Comverge are at a broader level.
At one point, Comverge had touted the deal with Con Ed, which was technically a contract for its subsidiary Public Energy Solutions. However, Fishman said that the handwriting has been on the wall for some time already that the Con Ed deal hadn't gone the way Comverge had hoped or wanted.
In fact, Fishman said that the Con Ed deal was really a project of the previous Comverge management team. Since coming on board as CEO of the company in February, Blake Young has made comments suggesting that Comverge wouldn't mind selling the demand side management business, Fishman said.
The deal between Comverge and Con Edison, originally announced in February 2008, was scheduled for a full-scale roll out between 2009 and 2012. Comverge expected to recognize revenues of approximately $67 million over the installation and build-out phase.
At the time of the deal, previous Comverge CEO Robert Christe said: "Comverge has extensive experience implementing demand side management programs for utility energy efficiency and demand response initiatives. This multi-year program illustrates the 'win-win' relationship between Comverge and its utility customers to achieve results by working together."
The deal was intended to reduce the base load energy requirements for commercial customers of Con Edison.
As of the latest amendment to the Con Ed deal announced after the market close on Monday, the plan to eliminate up to 42 megawatts (MW) of base load energy demand within Con Edison's system has been reduced by 29 MW for expectation of total delivery of a net 13 megawatts of load reduction.
In terms of lost revenue, the reduced megawatts of capacity under the contract equate to approximately $29 million of lost Comverge revenue over the remaining term of the agreement. Only 6 MW remain to be delivered over the next two years.
Pritchard Capital's Fishman didn't expect a big negative reaction to the news given the declining profile for the Con Ed deal, and the previous setbacks.
However, Comverge shares were down more than 5% in after-hours trading on Monday, after having finished regular trading up close to 3%. On Tuesday morning, Comverge shares were lower by 10% in the pre-market session.
"The deal hasn't worked, and it hasn't made money, and it hasn't produced much in earnings," Fishman said.
From an earnings-per-share standpoint, Fishman said the Con Ed deal represented a declining percentage of earnings. "Maybe this is just the final confirmation that the business is not going well and won't turn around," the analyst added.
Comverge reported a loss of 6 cents per share for the third quarter on revenue of $51.7 million, falling short of Wall Street's expectations on both counts.
Pacific Crest Securities analyst Ben Schuman noted in a third-quarter wrap, "The revenue shortfall was driven by a slower-than-expected ramp of the company's turnkey residential demand response contracts and continued weakness in its energy efficiency (EE) contract with Con Ed... Comverge believes it can grow its business by 30% annually, excluding its struggling EE business. We model a 33% reduction in EE revenue to $4 million in 2011 from $6 million."
Profitability remains elusive for Comverge. Even analysts who give it the benefit of the doubt, pointing to its leadership in the demand response business, say it still has to prove it will be able to sustain profitability.
Comverge has had a few key business wins this year, including contracts with
TXU Energy
and the
Public Service Company of Oklahoma
. Comverge has also won demand response management software contracts with
Exelon
and
PPL
related to Pennsylvania's energy efficiency 129 Act.
Comverge shares are down 38% this year. The company also announced after the close on Monday a restructured credit agreement with Silicon Valley Bank, the latest in a series of loan modifications.
Comverge shares initially fell roughly 25% following its third-quarter report on Nov. 8, tumbling from $8 to $6 per share but the shares have made up almost half of that decline in the past few weeks.
-- Written by Eric Rosenbaum from New York.
>To contact the writer of this article, click here:
Eric Rosenbaum
.
>To follow the writer on Twitter, go to
.
>To submit a news tip, send an email to:
.