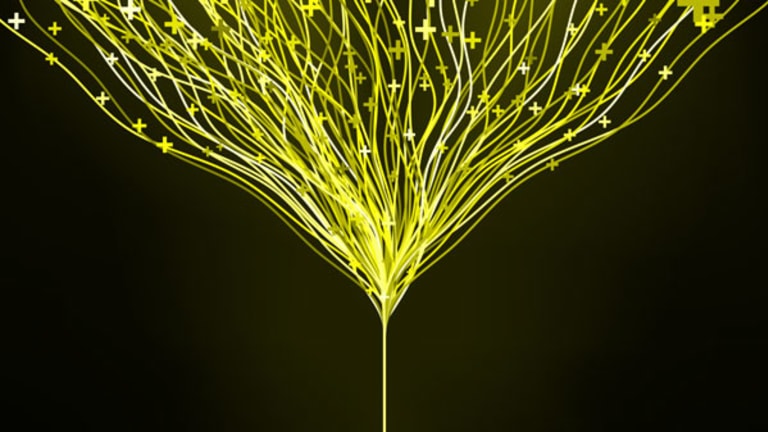 Energy Winners: Apache Reverses Egypt Loss
Apache Corp. is having a rough week with Australian cyclones and political unrest in Egypt sending its shares lower.
(Apache Corp., Egypt political risk story updated for Monday trading, analyst commentary)NEW YORK (TheStreet) -- Between cyclones in Australian and Egyptian political upheaval, it was a bad news cycle for Apache Corp. (APA) - Get APA Corporation Report last week, but amid a major rally in energy stocks on Monday, Apache has reversed its big losses.
Shares of Apache were up 2.7% on Monday as the protests in Egypt continued -- and continued to highlight the biggest company-specific risk in Apache shares: more than 20% of total production and roughly 30% of revenue from Egypt.
Apache shares began to sell off last Thursday and lost 8.5% last week. The shares weren't all the way back on Monday, but clearly some investors read last week's dip as an opportune entry point.
On Monday, Goldman Sachs reiterated a buy on Apache and said that fears related to its Egypt exposure were overblown. Raymond James also made the bullish case for Apache on Monday and reiterated its overweight rating, contending in its Monday report that even in the event that President Mubarak is ousted, an Islamic takeover in Egypt is not likely; regime change in Egypt carries a limited read-through for the Persian Gulf; and the risk to foreign oil and gas assets in Egypt should not be overstated.
Raymond James also argues that market fears that Egypt's turmoil could spread eastward, toward Saudi Arabia and the rest of the Gulf oil producers, are misplaced. "This is the modern-day equivalent of the Domino Theory. During the Cold War, especially in the early years, western geostrategy was based on the idea that if one country falls to communism, its neighbors will be at risk of following suit. So, for example, if Vietnam turned communist, then it would be Thailand, then Indonesia, and finally Australia and even the U.S. West Coast would be threatened. Of course, as we know from history, things didn't actually work out that way. The same is true of Middle Eastern politics. A power shift in Egypt -- even in the remote scenario of an Islamist takeover -- does not mean that Saudi Arabia will be next," Raymond James analysts wrote on Monday.
The selloff that began on Thursday, weren't just triggered by Egyptian political unrest. Apache announced last week that cyclones in Australia had caused a production shutdown to major oil fields, but by the weekend the company announced that the shutdown had ended.
Between the bad weather and the headline risk in Egypt, Apache couldn't catch a break last week, yet it caught the tailwind of the energy sector rally and major Street endorsements on Monday.
Egypt will continue to be a major mover for Apache shares (see chart above). While the Australian cyclones could lead to a weaker first quarter than the Street had modeled, the Egyptian political unrest, and the existential crisis for Mubarak's regime, can dovetail with an existential crisis for Apache's core production in the country.
Crude oil continued its rally on Monday, too, with Brent crude above $100 and U.S. crude trading above $92.
>>Brent Crude Oil Rallies Past $100
Apache itself notes in 2009 year-end data (the most recent) that the Egypt region represents it's largest acreage position with more than 11 million gross acres in 21 separate concessions (18 producing). Apache is the largest producer of liquid hydrocarbons and natural gas in the Western Desert and the second largest in Egypt.
In 2009, the Egypt region contributed 30% of Apache's production revenue, 26% of total production with 152,600 barrels of oil equivalent (Boe) per day, and 13% of total estimated proved reserves.
Additionally, the Apache business in Egypt has grown on an absolute basis. It acquired a chunk of BP's Egyptian assets in the deal signed between the two companies this past July, when BP was selling off non-core assets to help fund its oil spill liabilities.
The Apache portion of the Apache-BP deal related to Egypt was roughly $350 million of a $7 billion deal. While it increased Apache's exposure in Egypt, on a relative basis the purchase of the other assets in the deal actually decreased the percentage of Apache's global market represented by Egyptian assets.
Raymond James data indicates that the acquisition took down Egypt's share of Apache total reserves from 13% to 11%.
With the big rally in energy stocks, Apache was also trading near a 52-week high level reached on Jan. 19, so a selloff on major headline risk was not surprising, and it seemed to be part of a general equities selloff last week as 52-week high stocks across many sectors sold off.
The BP sales of Egyptian assets to Apache highlights the fact that many oil companies, including the global majors, have operations in Egypt, but for most it's a blip on the global production landscape as opposed to a driver of production and profits.
On Monday, Apache said it had shut down its office in Cairo, but that production in Egypt remained unaffected by the political crisis. Drilling companies with offices and/or employees in Egypt had begun evacuations and shut down offices as well, including
Schlumberger
(SLB) - Get Schlumberger N.V. Report
,
Transocean
(RIG) - Get Transocean Ltd (Switzerland) Report
and
Diamond Offshore
(DO) - Get Diamond Offshore Drilling Inc. Report
, according to a
Reuters
report.
There are two issues for investors related to Egypt and Apache: First, will the political unrest shut down production in the same way that Australian cyclones shut down production from offshore operations? If that occurs, it's an immediate hit to Apache's core business, Street models for 2011 will have to adjust lower, and analysts said that's the immediate issue to monitor. While the headline risk from Egypt will pressure Apache shares, it's the headline that specifically says production has been shut down which matters.
On the issue of a production shutdown, Raymond James analyst David Eller notes that roughly 80% of Apache's production in Egypt is in the Western Desert, which is 425 miles from the Nile Delta. Roughly 99% of the people in Egypt live in cities along the Nile Delta. Therefore, from an operational standpoint, even though Apache has some assets near the city of Suez, the geographic risk of riots and fires leading to production shutdowns for Apache seems, at least at this point, a long shot.
In the broader sense, Egypt is not Nigeria or Venezuela, and that's a good thing. Analysts attempting to wear the hat of a political analyst and foreign relations expert have noted that Egypt is not, at least historically, a market like Nigeria where protests have effectively shut down production for oil companies. Political chatter on Friday included rumbling about the Egyptian crisis not just spreading to the Middle East, but to Nigeria. In Egypt, though, even with a potential change in government, a comparison to Venezuela where assets were nationalized is tenuous at best.
Phil Dodge, analyst at Touhy Brothers, said that the Apache operations in Egypt are already more or less in the form of a 50%-50% joint venture with the national oil company, and even if there is a change in government, it's not a clear cut case where the new government would want to lose out on the 50% of capital they receive from Apache to fund operations.
Raymond James' Eller notes that the Egyptian government still relies on oil and gas for a large share of export earnings, and those export earnings fund critical government subsidy programs, such as food and grain programs.
Additionally, the way the JV works is that Apache pays 100% of the development, operations, and leasing costs upfront, and as oil production comes online, Apache is paid back for its investment through "cost recovery" barrels. After that, the government and Apache split the barrels with the government receiving 75% to Apache's 25%.
Nationalizing Apache's assets in Egypt 100% would mean that the government would have to pay the 100% of upfront costs currently paid by Apache.
"Apache is the largest producer in Egypt, but even if there is a change in government, I don't think I'm naive in considering that a new government would work with Apache," Phil Dodge, Touhy Brothers analyst says.
On the larger issue of an existential crisis for Apache in Egypt, Raymond James pointed to the 11% total reserve figure as a starting point. Raymond James' Eller says that the 11% of total reserves figure actually understates Apache's resource potential in Egypt. Raymond James estimates that given exploration upside in Egypt, the true picture of Egypt is 25% to 30% of Apache's total resource potential.
Raymond James estimates that Apache's assets in Egypt are worth $7 billion to $13 billion in value, or a range of $15 to $30 per share. With Apache shares down from $124 to $114 this week, using the $15 to $30 range for the value of Egypt implies that the market is dialing in a roughly 40% chance that Egypt nationalizes the business and Apache's assets go to a value of zero.
"That's a pretty pessimistic view, despite what you see on TV," the Raymond James analyst says.
Phil Dodge of Touhy said that if Apache lost the cash flow from Egypt it would have no way to reallocate and the company would be in trouble, yet he believes that the situation remains a headline risk, rather than a true existential crisis. He also noted that Apache is a very liquid company and even if it couldn't reallocate the cash flow from lost Egyptian operations, it wouldn't immediately be in the position of throwing up its hands in the air and selling out to the highest bidders its remaining assets.
"A lot of things can happen in countries with oil and gas production, yet if Egypt doesn't keep Apache they lose a major source of capital, and that's why I'm not as alarmed as maybe I should be," Dodge said.
Raymond James estimates that an ultimate floor value in Apache shares if it lost 100% of its Egyptian business would be roughly $95.
A second energy analyst who could not be quoted without compliance approval said that there is always inherent risk dealing in foreign countries, and as a result foreign assets are more aggressively discounted using a 15% rate. Yet Egypt has never presented a profile like a Nigeria or Venezuela and therefore, the analyst said it's a headline to monitor, but still not a financial model to adjust.
By the end of the day Friday, President Mubarak spoke on national television, trying to show the world that he remains in control and making several statements also trying to show his receptive ear when it comes to the suffering of Egyptian people. Mubarak called for calm, respect for law, and said reforms would be made if violence did not continue. Mubarak also said he had asked the government to resign and for a new government to be formed.
-- Written by Eric Rosenbaum from New York.
RELATED STORIES:
>>BP Earnings: How Big Will Dividend Be?
>>Russia Embracing Big Oil Inc.
>>Brent Crude Oil Rallies Past $100
>To contact the writer of this article, click here:
Eric Rosenbaum
.