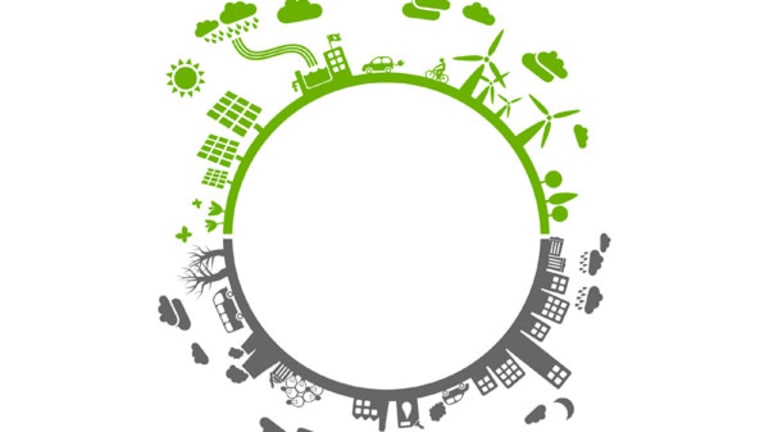 Energy Department's Loan Director Leaves
Jonathan Silver is stepping down as head of the Department of Energy's loan guarantee program.
NEW YORK (
) -- Jonathan Silver, head of the Department of Energy's loan guarantee program, is leaving the agency.
Caught in the middle of a political firestorm over the loan granted to bankrupt solar energy company Solyndra, Silver is leaving the DOE to take a position as a distinguished visiting fellow at Third Way, a think tank that creates and advances moderate policy and political ideas.
President Obama during his now infamous photo-op at Solyndra's manufacturing facility
While the intense political fight that has erupted over the DOE loan program might lead to the inference that Silver is falling on his sword, a statement from Energy Secretary Steven Chu claimed otherwise.
"In early July, shortly after the fiscal year 2011 budget was completed by Congress and it became clear that no significant new funds were included for the loan program, Jonathan Silver informed me that he intended to return to the private sector shortly after September 30, the statutory end-date of the 1705 loan guarantee program," Chu said. "Since he joined the Department in November 2009, Jonathan assembled and managed a truly outstanding team that has transformed the program into the world leader in financing innovative clean energy projects."
Chu continued: "Under his leadership, the loan program has demonstrated considerable success, with a broad portfolio of investments that will help American companies compete in the global clean energy market. Because of my absolute confidence in Jonathan and the outstanding work he has done, I would welcome his continued service at the Department, but I completely understand the decision he has made. I want to thank him for his tremendous service to our country and for the work he and his outstanding team have done to renew American leadership in clean energy innovation."
Through Sept. 30, the Department has issued loans, loan guarantees or offered conditional commitments for loan guarantees totaling over $35 billion to support 39 clean energy projects.
Jonathan Silver assumed his position with the DOE in November 2009, which was after the Solyndra loan process had been put in place.
-- Written by Eric Rosenbaum from New York.
RELATED STORIES:
>>Why You Should be Alarmed by Solyndra
>>The Facts About Green Energy Loans and Lobbying
>>In D.C. Politics, Solyndra Played by the Rules
>To contact the writer of this article, click here:
Eric Rosenbaum
.
>To follow the writer on Twitter, go to
.
To submit a news tip, send an email to:
.