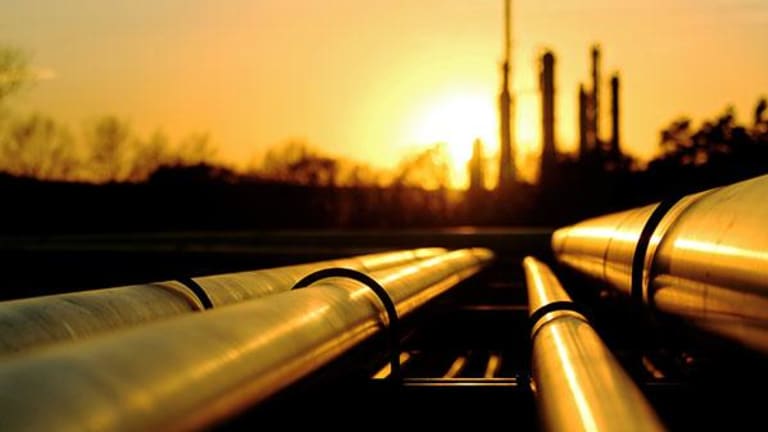 Energy Companies Bludgeoned as Oil Falls, Dollar Gains
Marathon Oil was among the energy market's biggest losers Tuesday as a stronger dollar and concerns over OPEC output pushed oil off one-year highs.
Markets were down big Tuesday, Oct. 11, as oil fell back from one-year highs and the dollar surged about 0.8% by the closing bell, and energy companies were among the biggest losers of the day.
International oil and natural explorer and producer Marathon Oil (MRO) - Get Free Reporttook one of the biggest beatings Tuesday, falling 4.1% by the close, with Southwestern Energy (SWN) - Get Free Report, Murphy Oil (MUR) - Get Free Report, Chesapeake Energy (CHK) - Get Free Reportand FMC Technologies (FTI) - Get Free Report on its heels in the loser's column. 
Natural gas-levered players Southwestern and Chesapeake, the latter of which continues to fight an uphill battle in rightsizing its balance sheet through asset sales and debt restructuring, were down 3.9% and 2.5%, respectively, at the closing bell.
El Dorado, Ark.-based oil and gas explorer and producer Murphy Oil and Houston-headquartered oilfield equipment and services provider FMC Technologies also saw some depreciation in market value Tuesday, falling 3.2% and 2.6% by the close, respectively. 
San Antonio-based petroleum refiner and marketer Tesoro (TSO) was the sole winner among the 37-company Energy Select Sector SPDR Fund (XLE) - Get Free Reportgaining 1.2%on the day, while the fund's major integrated oil players ExxonMobil (XOM) - Get Free Report and Chevron (CVX) - Get Free Report managed smaller losses of 0.8% and 0.9%, respectively. 
The energy market selloff comes as West Texas Intermediate crude futures were down about 1% around 4 p.m. as concern over OPEC's September output and upcoming production freeze agreement swirled. 
A strengthening dollar also likely played a role in falling oil prices, as the commodity is traded in U.S. dollars, meaning it becomes more expensive for other currency holders to purchase crude contracts. 
The entire Energy Select Sector SPDR Fund was down 1.2% by Tuesday's closing bell.