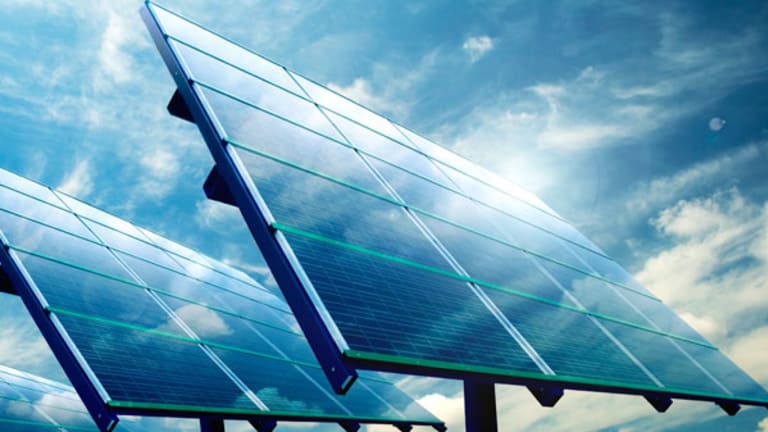 Publish date:
Energy Companies Are Exhibit A in Shareholder-Rights Battle
Pension funds are looking to make examples of Chesapeake and Nabors.
Pension funds are looking to make examples of Chesapeake and Nabors.
NEW YORK (TheStreet) -- Citigroup (C) - Get Report shareholders' "stinging rebuke" of CEO Vikram Pandit's $15 million pay this week is a skirmish in a potentially precedent-setting war that some of the biggest institutional investors will be waging at annual meetings.
New York City and California state pension funds, among others, are expecting support for proposals that allow shareholders with a 3% stake (held for at least three years) to nominate board directors.
Large shareholders have been waiting for this chance for years. Boards are famous for indulging management and playing into CEOs' interests. A lawsuit brought by the Chamber of Commerce and others that was resolved in late 2011 -- which challenged the Securities and Exchange Commission over its attempt to implement a similar proposal on a market-wide basis -- has opened the door to challenges targeting individual companies.
Institutions have zeroed in on two companies in the energy sector:
Chesapeake Energy
(CHK) - Get Report
and
Nabors Industries
(NBR) - Get Report
. And for good reason.
Pension funds including CalSTRS and the New York City pension funds represented by the city's Office of the Comptroller, have targeted Chesapeake and Nabors because the proposals are likely to have the greatest chance of being approved by shareholders due to long-standing complaints about CEOs running personal fiefdoms with rubber-stamp directors.
In the latest sign of shareholder frustration with Chesapeake,
Reuters
reported this week on more than $1 billion in personal loans that the company's CEO, Aubrey McClendon, had tied to his stakes in Chesapeake wells, a revelation that led to one of the most massive days of selling in Chesapeake share history. Argus Research analyst Phil Weiss concluded: "The best thing for investors would be to replace the board and/or the CEO."
Michael Garland, head of corporate governance for the New York City comptroller's office, said in an email to
TheStreet
: "This is fundamentally a failure of Chesapeake's board, which has repeatedly shown itself to be incapable of providing independent oversight of a risk-addicted CEO. What is most troubling in this case is that the board was reportedly aware of the loans yet failed to either review or approve them. Chesapeake's long-term shareowners need directors who will protect our interests, not those of a self-interested CEO."
Chesapeake Energy shares are trading at a four-year low, though at least in part due to a decade-low price in natural gas.
The proxy war goes beyond energy company boards behaving badly, and includes an effort by Norges Bank Investment Management, a division of Norges Bank, the central bank of Norway, to win support for an even broader director nomination proposal.
Norway's bank has directed proposals at the boards of directors at
Wells Fargo
(WFC) - Get Report
,
Staples
(SPLS)
-- which is challenging the measure -- and
Charles Schwab
(SCHW) - Get Report
. Norway's investing arm wants investors with a 1% stake to be able to nominate directors.
Bill Atwood, executive director of the Illinois State Board of Investment, said the moves by Norway's central bank were important for two reasons: First, because of the stature of the entity that was filing the proposal, and second, because of the 1% stake threshold for shareholders to nominate a director, which would result in even greater leverage and easier board challenges.
Even the biggest pension funds in the world rarely own as much as 0.5% of any single stock. Two years ago, when nine of the largest pension funds joined together in an effort against coal miner
Massey Energy
after a mine disaster, the combined shareholders stake in Massey was still less than 3% of shares.
A pension official familiar with the planning of the proposals aimed at Chesapeake's and Nabors' boards indicated that there is broad support for the 1% threshold, but the pension funds didn't want to "push their luck" and settled on 3% since it matched the original SEC proposal. Nabors had offered a 5% threshold in negotiations aimed at avoiding a proxy battle, the pension official said.
In the past five years, Nabors shares have declined 59%, while the S&P energy index has returned 18% and the S&P 500 lost 5%. In the past three years, Nabors shares have declined 50%, while the S&P 500 has gained close to 4%. During that period of time, just-retired Nabors CEO Gene Isenberg was paid more than $109 million, almost all of it in performance-based compensation as opposed to salary.
The naming of a new CEO at Nabors, Anthony Petrello, was supposed to be the signal to investors that a new era had begun and shareholders would be rewarded -- and Wall Street has bought into the turnaround story. The pension funds, though, aren't stepping up to endorse the CEO. For pension funds, the issue is the board and not any single CEO. Indeed, there is still a hint of tone-deafness in the boardroom. In 2011, Petrello received a bonus of $13.6 million, "as a result of the company's strong performance."
Nabors shares dropped by 32% in value in 2011, while the energy sector was up 7.5% and the S&P 500 eked out a minor gain.
"When we see that type of performance and the compensation awarded to executives, there is a strong disconnect there," Illinois' Atwood says. "As a public fund investor, it's generally our position to be critical of compensation levels in corporate America, but when we have extreme compensation juxtaposed against abysmal stock performance, we just feel duty-bound to raise hell."
The tale of Nabors during the reign of Isenberg hit a crescendo right before his retirement late last year, when he was awarded a $100 million "contingent liability" payment, a retirement check Isenberg ultimately gave back after public outcry. The Nabors board contends in its annual meeting proxy filing that it "negotiated" the termination of Isenberg's retirement payment and has brought down compensation over a period of consecutive years.
Atwood is nonplussed. "It's hard to find a case as egregious as this one," he says. "Shareholders weren't protected by the board. Whatever motivated him
Isenberg, shareholders should not have been in that situation in the first place."
For the pension funds, none of these are easy battles to win. Shareholders typically vote their proxies the way the board instructs them to.
A pension official who is involved in both battles said Nabors' recommendations in its annual meeting proxy were, in the least, reasoned attempts to persuade shareholders to reject the proposals. Chesapeake's proxy language, though -- not yet released but by law required to be sent to the shareholders proposing the measure before a proxy is filed with the SEC -- was much "more aggressive and misleading," the pension official said.
The critical voting bloc isn't the pension funds, but the mutual fund giants of the world, like Fidelity Investments and Vanguard Group, which often vote blindly alongside board recommendations. Pension officials believe that even the typically lethargic mutual fund companies will be hard-pressed to be on record -- their votes must be publicly disclosed to shareholders of their funds -- as voting against efforts to change the board composition at these companies, where the headlines have repeatedly shown a too-cozy relationship between the boardroom and CEO.
Ted Allen, head of publications/governance counsel at influential proxy voting firm Institutional Shareholder Services, said he couldn't comment on the Nabors or Chesapeake proposals, which are still under review by ISS. However, Allen said the public pension funds are correct in focusing on this issue, which had strong support from shareholders the last time a major challenge was mounted in 2007.
"Proxy access is one of most interesting issues shareholders have this year, and they have picked wisely to have best chance of success, with well-targeted proposals," Allen said.
ISS has been no friend to Chesapeake in the past. Last year, ISS recommended that Chesapeake shareholders oust McClendon as CEO in response to the company's unwillingness to adopt reforms in setting executive compensation, an effort that resulted in Chesapeake agreeing to an independent compensation consultant hours before its annual meeting.
The ability to gain access to the Chesapeake board is hindered by a law passed by the Oklahoma legislature in 2010 mandating that large publicly traded companies incorporated in the state, which includes Chesapeake, have staggered terms for board members, at least until 2015. Oklahoma is one of only two states to offer that protection to boards, and it is law that Chesapeake critics contend was written specifically for the oil and gas company.
Proxy access only sets up a mechanism for putting director nominees on the ballot -- and it's non-binding. It doesn't guarantee representation by shareholders or public funds, which would still have to make their case to shareholders, and counter the board view that it is a distraction for the companies and will lead to a focus on short-term results.
For the pension funds, it would at least be a new beginning, and an end to a great deal of frustration, too.
"If the status quo was sufficient, the board would not have such a pathetic performance of returning value to shareholders," Illinois' Atwood says. "Shareholder value is not a metric they are using."
A pension official involved in the battle for the Chesapeake board said there is little disagreement about CEO McClendon being a lightning rod for criticism and a "risk addict," but, as long-term investors, the pension funds aren't in the position to sell in anger as other shareholders might, leading to the looming fight. "If you don't have independent board overseeing him, forget about it," the pension official said.
-- Written by Eric Rosenbaum from New York.
>To contact the writer of this article, click here:
Eric Rosenbaum
.
>To follow the writer on Twitter, go to
.
Follow
TheStreet
on
and become a fan on