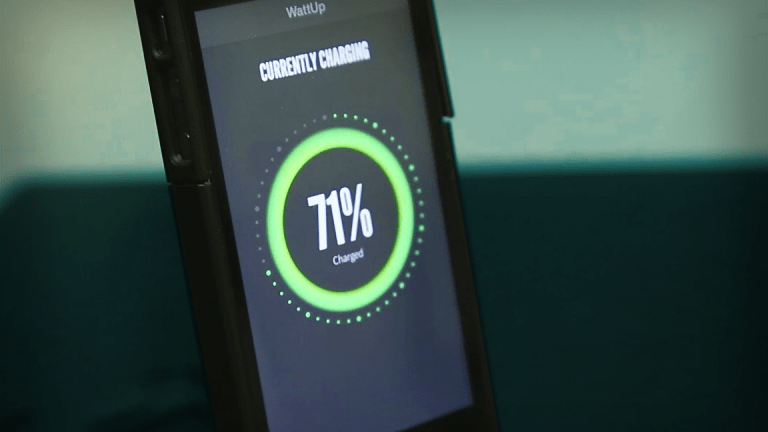 Energous Still Has Much to Prove, Including Its Relationship With Apple
The wireless charging technology firm's shares have soared on news the FCC has approved one of its transmitters. But considering the company's history, investors might want to tread carefully.
Like many other early-stage tech companies before it, Energous' (WATT) - Get Energous Corp. Report shares have risen and fallen on investor hopes related to a groundbreaking technology the company promises to bring to market.
In Energous' case, speculation (never confirmed) that Apple  (AAPL) - Get Apple Inc. Report is among the firms interested in its technology, which promises to transmit power to devices over the air via radio frequency (RF) signals, has added fuel to the fire.
Earlier this week, Energous gave bulls a fresh reason to hope for an eventual payoff, and has seen its shares skyrocket in response. But between the fine print accompanying Energous' latest announcement, and the company's history of missing deadlines, it's probably best to tread carefully.
On Dec. 26, Energous announced it had finally received FCC approval for a transmitter that can send RF-based power at a distance. The company notes the transmitter, whose range is a modest three feet, was the first of its kind to be certified under Part 18 of the FCC's rules. Unlike the less demanding Part 15 of those rules, Part 18 traditionally covers industrial, scientific and medical (ISM) devices.
As of the close on Dec. 28, Energous shares have more than tripled this week, making new all-time highs along the way. The company, which only recorded $1.1 million in revenue (all from engineering work) over the first nine months of the year, now sports a $665 million market cap. A short-squeeze appears to have contributed to the surge: 26% of the float was shorted as of Dec. 15.
In 2016, Energous shares flew higher on Apple-related hopes, but gave back most of their gains in 2017, prior to the recent surge. In January 2016, Bloomberg reported that Apple was working with unnamed partners on a wireless charging solution that could work at a distance, and that the technology could be included in 2017 iPhones. Energous, which had already been talking about a partnership with an unnamed "tier-1" consumer electronics giant, jumped in response.
Later in 2016, Energous-Apple speculation got a boost from news that Dialog Semiconductor, a long-time supplier of power management chips for iPhones and iPads, was investing $10 million in Energous. Dialog invested another $15 million in early 2017.
But while Apple did eventually include wireless charging receivers in its latest iPhones (the 8/8+ and X), they rely on conventional Powermat-based charging via the popular Qi charging standard, rather than over-the-air charging. As for Dialog, Japan's Nikkeireported in November that Apple plans to start phasing out Dialog's chips within iPhones in favor of using power management chips made in-house, possibly as soon as 2018.
Could Apple nonetheless be working with Energous on wireless charging? It's conceivable, particularly given Apple's penchant for secrecy when it comes to R&D work. But there's no definitive proof at this point, or even a report from a prominent media source (Reuters, Bloomberg, etc.) citing sources who can confirm a partnership.
For now, Energous says it's engaged with two unnamed tier-1 consumer electronics firms, and is hoping for the first consumer product shipments related to the engagements to happen during "the latter part of 2018." That's also the ETA that Energous is giving for commercial shipments of its mid-field transmitter.
Will the mid-field transmitter ship in large volumes at that time? To pull that off, Energous will likely have to improve the transmitter's specs. In addition to having limited range, the transmitter can only send "greater than 100mw" of power (that's 100 milliwatts, or 1/10th of a watt) to paired devices, according to an Energous spokesperson. By comparison, Qi Powermats can send up to 7.5 watts to paired iPhones, and the recently-announced Quick Charge 4.0 standard for USB charging reportedly supports up to 28 watts.
In addition, Energous and its partners will have to develop receiver modules that are small and cheap enough to be built into phones or other high-volume, battery-powered, devices. There's also the question of whether Energous will make good on its current timetables, given its history of missing deadlines.
A September presentation (still on Energous' site) said "partner products" containing the mid-field transmitter would arrive by the end of 2017 or in early 2018, rather than in the back half of the year. It also called for a contact-based transmitter to arrive by the end of 2017, and a transmitter with a 15-foot range to ship commercially by the end of 2018. The first product now has an ETA of Q1 2018, and the second a 2019 ETA.

A slide from a Sep. 2017 Energous investor presentation. The company has already pushed back its expected launch dates.
This is hardly the first time that Energous missed deadlines. During its August 2016 earnings call, the company forecast licensees would ship its Mini WattUp transmitter (meant for wearables and IoT devices) by late 2016 or early 2017. It also forecast a mid-sized transmitter would ship in late 2017, and a full-sized transmitter in early 2018.
And if one dials the clock back to 2014, it's possible to find quite a few press releases announcing partnerships with Asian manufacturers to commercialize Energous' technology, as well as a forecast that "general availability" of the first consumer products featuring the technology "is scheduled for Christmas 2015."
While Energous continues working to bring its transmitters to market, it continues bleeding cash. Though cash burn has declined a bit lately, it still totaled $7.8 million in the third quarter, leaving the company with a $20.2 million cash balance.
Management insists it has "a number of options" to raise cash between now and 2019, when it predicts Energous will become "a self-sustaining high-margin business." As with many of the company's other promises, it might be best to take a wait-and-see approach.
Jim Cramer and the AAP team hold a position in Apple for their Action Alerts PLUS Charitable Trust Portfolio. Want to be alerted before Cramer buys or sells AAPL? Learn more now.
More of What's Trending on TheStreet: