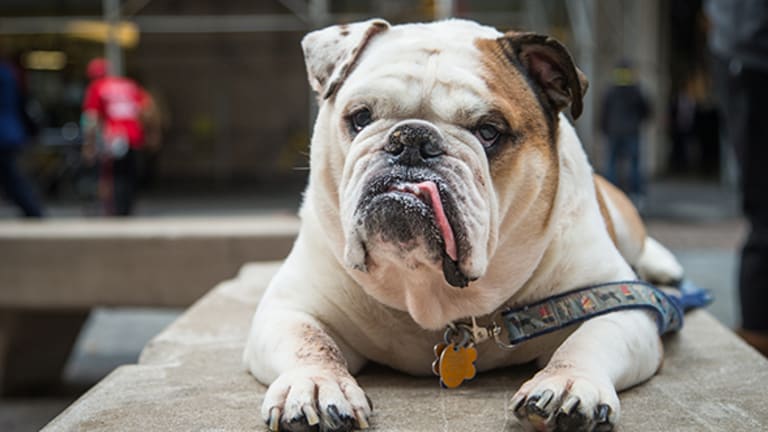 Endo International Is Top 'Dog of the S&P 500'
There are more dogs on the S&P 500 than on the Dow. Here's one example.
Never mind Dogs of the Dow, how about Dogs of the S&P 500? There are a lot more of them -- for instance, Endo International (ENDP) .
Year to date, shares of specialty pharmaceutical company Endo looks to end 2016 down over 74%, the worst performing stock in the S&P 500. The shares, currently trading around $15.70, have been obliterated by slowing growth, a staggering amount of litigation and an investigation by the Department of Justice into potential collusion in the pricing of generic drugs.
Endo is embroiled in a huge amount of litigation. First, Endo has a ton of product liability lawsuits related to subsidiaries the company divested or wound down. The company has over 8,000 unsettled lawsuits against it. Although the company has settled approximately 49,000 cases already, it still has a lot of work left. 
Second, the United States Federal Trade Commission filed suit against the company alleging the company violated antitrust laws by paying other generic companies to delay the launch of their generic drugs.
Finally, Endo could be mixed up in a generic drug price fixing scheme. Bloomberg reported two executives of small generic drug companies were charged in a criminal indictment of fixing the prices of an antibiotic and a drug used to treat diabetes. According to Bloomberg, the investigation is not over. The investigation spans more than a dozen companies and about two-dozen drugs. Endo previously disclosed it has received a subpoena related to its generic doxycycline.
If you can get past all the messy litigation, sales in 2016 are expected to rise 19.4% to $3.9 billion aided by acquisitions. But sales are expected to stall out in 2017. Revenue could be flat in 2017 and 2018 revenue could be down about 5%.
The company's new drug, Xiaflex, is expected to generate sales of $190 million in 2016 and grow 10-11% per year. But Voltaren Gel, which had sales of $207.2 million in 2015, is projected to have sales of just $103 million in 2016 and only $56 million in 2018.
The company's largest drug Vasostrict raised prices in late July by 20%, but at least 14 other drugs made by ENDP are under attack by other generic makers.
On Dec. 8, the company terminated its licensing of rights for BELBUCA. Endo licensed the drug from BioDelivery Systems (BDSI) in 2012 and brought the drug to market. Analysts were expecting sales of $77 million in 2017 and sales to peak over $250 million by 2026. But now analysts will have to adjust estimates down again.
The company does have a number of drugs in development and positive results on any of them could drive speculators into the shares. The company recently named a new CEO and he may be able to change investor sentiment, clear the decks of all the litigation and get investors re-focused on the potential of the drug pipeline.
At this point, the risk of the stock going lower is pretty low. The next catalyst for the shares is the company's earnings release on Feb. 27. If you want to speculate on a Dog of the S&P 500, I suggest you try ENDP. How much worse could it get?
This article is commentary by an independent contributor. At the time of publication, the author held no positions in the stocks mentioned.