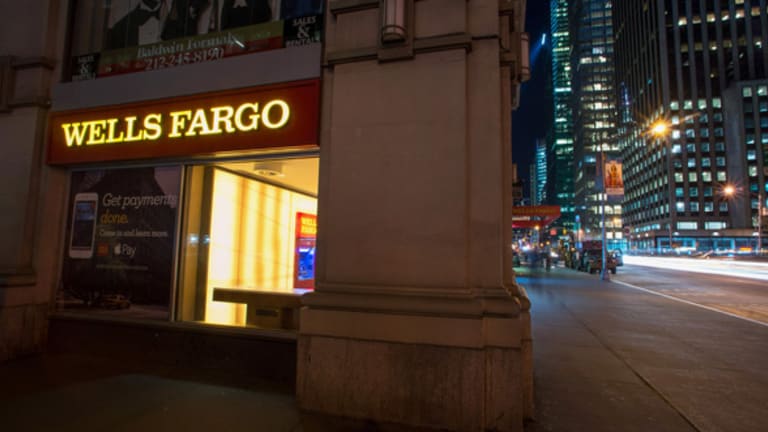 Embattled Wells Fargo Finds Solace in Funding Wall Street Bond Traders
As regulators pressure the largest U.S. banks to reduce risk, most have responded by scaling back in the business of securities lending, known as repo. Not Wells Fargo.
As regulators pressure the largest U.S. banks to reduce risk, most have responded by scaling back in the business of securities lending, known as repo. Not Wells Fargo.
Ever since the U.S. financial crisis forced the nation's biggest lenders to get billion-dollar bailouts from the Treasury Department and Federal Reserve, officials have pushed banks to rein in risk.
But one of the biggest U.S. lenders, Wells Fargo (WFC) - Get Report , wasn't nearly as risky as peers -- at least in terms of a key financial ratio monitored by regulators. That's one reason the San Francisco-based bank has been able to push deeper into a core Wall Street specialty where other players have scaled back: repo, or the business of lending to traders to help them juice returns on bond bets. 
Wells Fargo has nearly tripled its repo loans since 2013 to $67.4 billion as of Sept. 30, filings show. Competitors JPMorgan Chase (JPM) - Get Report , Citigroup (C) - Get Report , Goldman Sachs (GS) - Get Report  and Morgan Stanley (MS) - Get Report  have trimmed their repo books over the same period, in amounts ranging from 5% to 14%.
The recent scandal over improper sales practices in Wells Fargo's retail-banking unit has overshadowed the lender's healthier financial standing -- and lower risk -- compared with rivals. Using the most basic measure of a bank's financial strength, Wells Fargo has $7.70 of equity for every $100 of assets. At JPMorgan, the figure is $6.60 and at Morgan Stanley, it's $6.20. The regulatory minimum for big U.S. lenders is $5.
And while industry overseers want banks to have more equity, to make them safer, many shareholders still want the firms to take as much risk as they can, to maximize returns. That's why few analysts expect new CEO Tim Sloan, appointed following the departure last month of John Stumpf, to turn away from his goal of grabbing market share from longstanding Wall Street titans.
"They're able to enter businesses that for others are more capital-constrained," said Gerard Cassidy, an analyst at RBC Capital Markets. "What might not be as profitable for a New York City money-center bank because of these extra capital levels that are required, Wells may find it more profitable."
Repo lending fits the bill. It's considered a low-margin business, returning an estimated 3% on equity versus a target of at least 10% for banks on average. But it's still often called the "lifeblood of Wall Street," since financing is such a basic need for so many bond investors.
Wells Fargo has pushed into the arena as part of its efforts in 2012 and 2013 to expand in mortgage-bond trading and, earlier this year, into U.S. Treasuries, according to Elise Wilkinson, a bank spokeswoman.  
"We do not run repo as a standalone business," she said in an e-mail. "It exists to meet the needs of our investor clients."
EXCLUSIVE LOOK INSIDE: Wells Fargo and Citigroup are holdings in Jim Cramer's Action Alerts PLUS charitable trust portfolio. Want to be alerted before Cramer buys or sells the stocks? Learn more now.
The practice, by itself, isn't considered highly risky. The loans are collateralized with bonds such as U.S. Treasuries and government-backed mortgage securities from the housing-finance agencies Fannie Mae and Freddie Mac. Even so, sharp movements in prices -- coupled with a default by a big trader -- could leave a repo lender nursing unexpected losses.
Most of the big U.S. lenders have reduced their repo books in response to the broader push by regulators to reduce risk in the financial system. JPMorgan has trimmed its repo loans and other collateralized financings by about 5%, while Goldman's book is down by 14%.
And Wells Fargo has stepped into the void. Earlier this year, its profile as a Treasury-bond trader was elevated when Wells Fargo won status as a primary dealer with the Federal Reserve Bank of New York. 
In repo, "our footprint is consistent with our market-making responsibilities as a primary dealer," said Wilkinson, the spokeswoman. 
According to the U.S. Office of Financial Research, Wells Fargo as of Sept. 30 was the biggest counterparty to money-market funds in repo contracts backed by government-agency securities. The bank's share of that market is 17%, up from 2.8% in January 2011.
"They've built a big book on purpose," said Chris Wheeler, a U.S. banks analyst at Atlantic Equities in London. "It's very low-margin but it's keeping them in front of the institutions they want to be with," such as bond-investing behemoths BlackRock (BLK) - Get Report and Pacific Investment Management Co., better known as Pimco, he said.
Sloan, who previously served as Wells Fargo's CFO and as head of commercial banking, has made no secret of his tilt toward Wall Street. Indeed, he was the "architect" of the bank's push in recent years to do more corporate lending, trading and investment banking, according to Wheeler.
"That's his position of strength, so inevitably he will be a supporter of continued growth of investment banking," the analyst said.
At a conference in May, Sloan presented slides stating that Wells Fargo "views risk management as a competitive advantage." Among the areas targeted areas for growth were prime brokerage -- the business of lending to hedge funds and processing their trades.
In June, Sloan insisted the bank's strategy was "not dependent upon using your balance sheet to be able to buy business" but rather to broaden relationships with existing customers.
"Maybe bring some new ones into the company, too," Sloan added. "And it's working, right?"
Among bond traders, Wells Fargo is still a junior player; the bank doesn't break out quarterly results from trading fixed-income securities, currencies and commodities -- a staple of financial reporting for all the other big U.S. banks; bond trading was a key driver of their earnings improvement in the third quarter. 
And Wells Fargo's repo loans are still a fraction of those at the longstanding Wall Street firms. JPMorgan's repo book, for example, is five times as big at $341.8 billion. 
But as Wells Fargo's repo loans grow, more traders and investors will start to take notice, Atlantic's Wheeler said. The risk is that the bank ends up taking on, well, too much risk.
"Wells Fargo is starting from the point of being less complicated than its peers," he said. "But it's a careful balance they've got to play here."