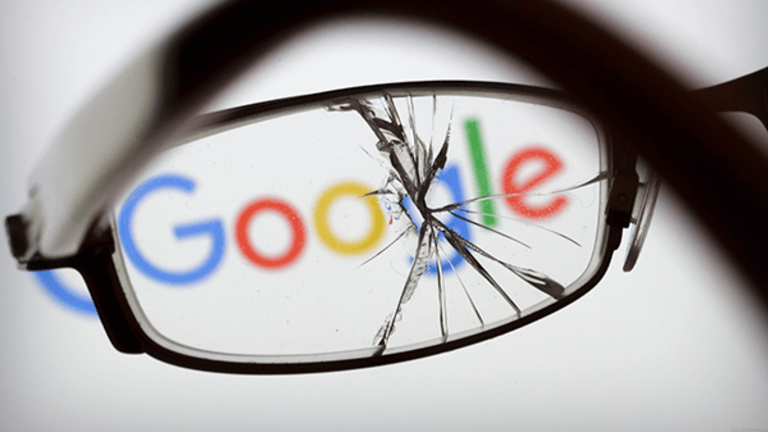 Publish date:
'Whole New World' for Publishers as Google Finally Scraps First Click Free
As Google drops its 'your audience or your money' demand, publishers look to reap 'millions' from new digital news subscribers. And coming soon: Google aims to take a subscription revenue share.
As Google drops its 'your audience or your money' demand, publishers look to reap 'millions' from new digital news subscribers. And coming soon: Google aims to take a subscription revenue share.
Google's decade-plus First Click Free program sounded innocuous enough.
In the Alphabet Inc. (GOOGL) - Get Alphabet Inc. Class A Report unit's perpetual effort to keep the open web free, Google promised a search throughway to news pages. If publishers wanted to be easily found, they found little choice but to accept the mandates of First Click Free. Now, as Google announces the end of the policy that many publishers long abhorred, we'll begin to see the potential damage to news businesses it's done over the years.
"The end of First Click Free opens up a whole new world. It has the potential to mean millions of dollars a year gets plowed back into journalism," Edward Roussel, chief innovation officer of Dow Jones, said Friday, Sept. 29. 
Another major publisher involved in the testing of the end of First Click Free said: "We'll see a double-digit lift in subscription conversion. Of the universe of people in the test and the variations of lower meter counts, we saw encouraging results. Not moderately encouraging, pretty encouraging results that indicated we would see a lift in conversions and subscriptions at lower meter counts."
In a week when "the platforms" drove so much major news -- Facebook Inc. (FB) - Get Facebook, Inc. Class A Report , Google and Twitter Inc. (TWTR) - Get Twitter, Inc. Report called to face political music and Facebook's news subscriptions program launching -- the news of First Click Free fit right in.
Of course, as with so much, it's got the strong element of heightened Google versus Facebook competition.
Further, in the ever-shifting winds of dominating digital business, mounting suspicion on the left and right of bigness in general, and regulatory threats mounting, the platforms show their ability to make adjustments. There may be no better time for them to repair problematic relationships with news media, and as they accede to some publisher requests, publishers see a new flexibility. Quietly, top news publishers now eagerly compile wish lists for the next rounds of negotiating beyond public view.
Alphabet, Facebook and Apple are holdings in Jim Cramer's Action Alerts PLUS Charitable Trust Portfolio. Want to be alerted before Cramer and the AAP team buy or sell GOOGL, FB and AAPL? Learn more now.
Watch the replay of Jim Cramer's full NYSE live show:
Don't miss these top stories on TheStreet:
Why Did Publishers Decry First Click Free?
Google originally promoted First Click Free as a program "that allows publishers to let readers pass registration and subscription barriers, if they come from Google News." Lots of new audience was the carrot, in a carrot-and-stick publisher strategy. Publishers early on played along with it, but in the past decade, the world of publishers has been transformed. Many of the news businesses have been halved; digital disruption, and lately the galloping Google/Facebook ad-selling duopoly, have forced newspaper companies to rely heavily on reader revenue for survival. 
The big problem, then, with First Click Free: It has facilitated massive free access to paywalled websites, making conversion of readers to subscribers more difficult. It said, in effect, to publishers, pick one, money or audience.
"FCF presented publishers with a false choice: Visibility in search but with the obligation to make content free, or a pay model but invisible in search," Dow Jones' Roussel summed up.
How much free access did it offer?
One top publisher offered this arithmetic. First Click Free not only mandated that a reader's first click from Google to a paywalled website must be free and easy. In fact, it mandated that each day Google users could get three articles (down from five in 2015) for free on any paywalled news site that participated in the program.
Three articles might not seem like much, but do the math. That's 90 articles a month. For publishers that otherwise block nonpaying readers after they consume five or 10 articles per month, that means diligent Google users could eat up a hundred pages from a single publisher -- for free. If a reader reads from both a smartphone and a laptop, the number doubles. Those stronger on wiles than money could use two or three browsers, and multiply even further. 
That's a powerful disincentive to subscribe, publishers long cried. In February, The Wall Street Journal "opted out" of First Click Free. The Journal saw Google traffic drop off 44%, as Google demoted its presence on its sites -- the stick in the carrot-and-stick strategy of FCF. And yet, the Journal proved out its case -- attributing substantial digital subscription growth to cutting off freeloaders.
So, for the moment, the Journal and its peers can celebrate one victory.
That's why the leading digital subscription-selling publishers -- News Corp.'s (NWSA) - Get News Corporation Class A Report Journal, Times of London and Australian, among them, as well as The New York Times, The Washington Post, The Boston Globe, Los Angeles Times and Financial Times -- see big boosts ahead in both subscriber numbers and critical reader revenue. 
Raju Narisetti, now CEO of Gizmodo Media Group and former News Corp. exec., puts the shift in perspective. "Google forced publishers with paywalls, such as News Corp., to make journalism free on Google or really suffer the consequences. It was way past time that the choice and the decision returned to publishers, who can now decide for themselves, weighing costs versus benefits."
Why Did Google Finally Accede to Publishers?
News Corp. CEO Robert Thomson has served as Google and Facebook's most public inquisitor. In a talk at the Goldman Sachs Communacopia Conference on Sept. 12, previewing the end of FCF, he laid out the full case: "When you look at fake news, when you look at false metrics, when you look at faux advertising, something has to change, both from a commercial perspective and content perspective but also from a social perspective. ... There's a lot more to negotiate, there's a long way to go, but their willingness to end First Click Free should be celebrated by all publishers."
As Thomson patted Google CEO Sundar Pichai on the back -- "Sundar Pichai deserves a lot of credit for taking a different approach" -- he kept the pressure squarely on Google and Facebook, particularly.
Sources said it was a gentlemanly tete-a-tete at the annual Allen & Co. media conference in July that finally led to the demise of First Click Free. There, they said, Pichai came to understand that the Western World's news media were choking to death and that Google's collateral complicity was part of the problem. It's a great story, but it also ignores the fact that news publishing executives have been pressing that point with roomfuls of Google execs for many years. 
So, why did Google move now? We have many reasons to count. 
In Europe, where Google has seen its toughest opponents win cases about its anti-competitive behavior -- including a EU court fining the company $2.7 billion -- the issue of First Click Free had remained a live legal one. Now Google can take that problem off its defense list.
Further, Google has found itself caught up in the fake news wars, though as a largely secondary combatant to Facebook. As government investigators and political partisans dig into who "enabled" what, Google's vulnerability grows.
And then, there's its competition with Facebook. Though its annual profit is still about double Facebook's -- $19.5 billion to $10.2 billion -- Facebook insistently ups the game in hyper-targeted advertising. As the two companies together pulled in 90% of the growth in digital advertising last year, the competition for each new dollar, pound, euro and yen increasingly amounts to competition between the two of them.
Increasingly, they compete for publisher affection, as companies both pit one against the other and make their decisions on marketing spending allocation. As the two companies compete on a number of different fronts, publishers learn to play one against the other.  
Google has again, smartly, positioned itself where it wants to be. As it did when it introduced its highly successful AMP speed-the-mobile-web technology 18 months ago, Google makes a logical public and publisher case: "We're all about the Open Web." It can paint Facebook as the biggest monopolistic "walled garden" that ever was, one that keeps its users -- and all their data, precious for hypertargeting advertising -- behind walls. Incidentally, it also places it out of Google's own ad reach.
In addition, just as Facebook readies its publisher subscription program for formal launch -- scooped in detail here at The Street last week -- Google makes a kind of mincemeat of it. At issue in the Facebook subscriptions launch: Its own mandate that participating publishers make 10 free articles available through its Instant Articles program. That was a deal-breaker for many publishers, including The New York Times, The Wall Street Journal and Financial Times, all of which have declined so far to participate. In contrast, those three publishers have led the cheering for end of First Click Free.
Google here positions itself as the anti-Facebook, "freeing" publishers while Facebook continues to impose its own business model on them.
Rebecca Grossman-Cohen, vice president of audience and platforms at New York Times Co. (NYT) - Get New York Times Company Class A Report and a veteran of Google talks, looked at the move through the wide lens.
"I think they do see it probably as a win-win," she said. "I also think they're sort of coming around to seeing how important it is to support news publishers and the system at large, just because of what's going on in the world and the need for quality journalism.  Plus, the fact that advertising for news publishers has become challenging to say the least. And all the everlasting regulatory issues. I think it's a combination of all of those things."
So What's to Come?
Exit, First Click Free. Enter, Flexible Sampling. That's Google's fancy name for returning some control to publishers.
Google won't show any more subscription site icons, which acted as warnings and led many readers to go elsewhere, Richard Gingras, Google's vice president for news, said Friday. Readers will click through -- and will find new messaging.
That presents a big new question for publishers with paywalls.
How will they welcome Google searchers onto their pages? Certainly, if readers haven't hit a monthly limit -- often now reduced to five by an increasing number of publishers -- that's not an issue. For those who have "hit the wall," publisher now look to a range of alternatives. Among them: cheap, trial subscriptions; limited access in exchange for registration; access to newsletters; "micropayment" access to a story, a session, a day or a week; and even the introduction of Google Consumer Surveys. Publishers can work these tactics and track what now performs best. As readers now visit news sites, they'll see new greetings -- and warnings.
The end of "FCF opens up a whole new world, and it gets a little more complex, but kind of in a good way," Roussel said. Roussel believes the divide between "hard" paywalls and "metered" ones may get a lot grayer, enabling more experimentation.
Full circle, even as Google makes its announcement, look for it to try to reinsert itself in the publisher business model -- though on a more-voluntary basis. It will import learnings and tech from its Newsstand subscription-selling service and offer publishers a leg up. "Do we have the propensity to pay signal? Do we have the account information or an email address? Do we have a credit card?" Gingras said.
The allure is clear, even as the negotiations are sure to be gnarly. Even those magic words, "artificial intelligence," have been invoked, the FT said. 
If publishers could combine what they know of readers with what Google knows about them -- with hundreds of millions of us signed into Google accounts that track our every move, many with credit cards stored -- then the propensity modeling techniques they use to convert more readers to subscribers could be improved. That will help them ramp up their reader revenue efforts. A relative few publishers, led by The Washington Post, have used Apple News to find new subscribers, with Apple Inc. (AAPL) - Get Apple Inc. (AAPL) Report taking a 30% revenue share.
Will Google expect a 30% share?
"The business terms on the subscription process and subscription optimization?" Gingras said. "We haven't settled on it. I will say bottom line, it will be as extremely generous as we can make it. We're not looking to develop a new line of business here.
"The only reason we haven't come to a firm conclusion is [that we] are in development. Subscription optimization is something we'll be experimenting with over the next quarter. And then productizing and bringing to market.
"I don't want to do a back-and-forth guessing game with you, but I will tell you that it will be significantly more generous than 70-30," Gingras said. 
On data sharing, too, he maintained Google will be a good partner, borrowing from its Newsstand business.
"That's the philosophy we'll take here too, even where we process the subscription. Unless the user says 'no,' we'll provide name of user, the email address of the user [to the publisher], and if it requires the physical delivery of goods, then we'll provide the physical address as well." 
Google's pitch is that it will reduce the enemy of the day -- friction -- in getting people to pay for news. The idea: Google is in a perfect position to reduce the number of clicks needed to subscribe. Maybe it can't yet match Apple's touch pay, but it can get closer than publishers can.                  
So is all peace and light between publishers and Google? Not by a long shot. 
Publishers now feel a bit emboldened. In these odd political times, with great Trump Bumps of digital subscription growth, publishers see more clearly see their societal value and their appetite for reasserting their rightful business and social value grows.
The end of FCF "is a baby step in [the power exercised at] these massive points of power by platforms. They are pulling back on enforcing the business model they want to enforce," said Jason Kint, executive director of Digital Content Next, an association of 80 leading media companies.
News Corp.'s Thomson and Axel Springer CEO Mathias Dopfner have been most publicly vocal about the platform hegemony, but they've now proved their point out to their less public-in-protest peers. Certainly, expect the push and shove around Google's table in Mountain View, Calif., and Facebook's in Sunnyvale, Calif., to become more aggressive. 
As Thomson said, "The felicitous demise of First Click Free is an important first step in recognizing the value of legitimate journalism and provenance on the internet."