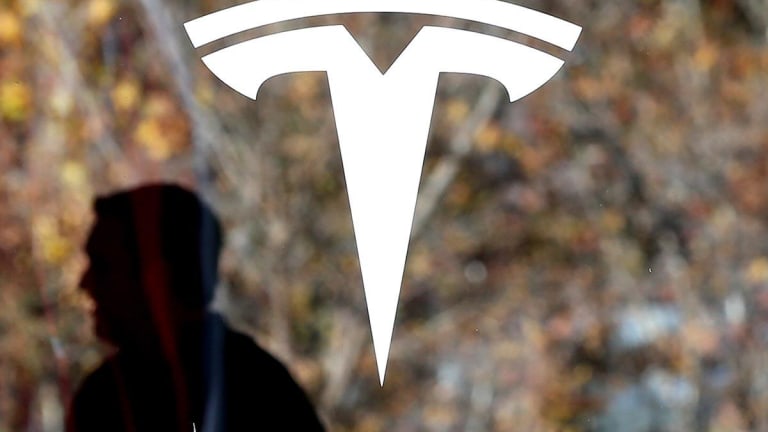 Elon Musk's Tweeting Obsession Is Crushing Tesla Stock Believers
Tesla CEO Elon Musk's tweeting is starting to cost shareholders.
Shares of Tesla Inc.  (TSLA) - Get Tesla Inc. Report have rebounded about 1% Tuesday, now trading near $313.
That's after shares were drummed on Monday, dropping Tesla stock right down to a vital level between $300 and $310. The fall is making some question which group has control of the stock -- the bulls or the bears.
Perhaps that wouldn't be a debate had CEO Elon Musk dialed down his hot takes on Twitter (TWTR) - Get Twitter Inc. Report a bit. Better yet, perhaps he ought to delete the app for a while, as it's obviously become a distraction.
If it's not distracting him, which it seems to be doing, then at the very least, dump it for the sake of shareholders. For those who are out of the loop, Musk made some really questionable tweets over the weekend. In what has since been deleted, he insinuated that one of the divers assisting in the Thailand cave rescue was a pedophile.
This followed the diver's comments that Musk was only trying to help with his mini sub as part of a PR stunt. While some observers can argue that Musk could have been less public with his efforts, it seemed like his intentions were in the right place.
That doesn't give him to right to call one of his critics "pedo guy" though, particularly one that played a role in rescuing 12 kids from a rather dangerous situation. Given what just happened to Papa John's (PZZA) - Get Papa John's International Inc. Report CEO John Schnatter, investors aren't wrong for worrying about Musk.
Schnatter is now out as chairman at Papa John's, even though he still has a seat on the board. The founder is being shunned from the company right now despite owning almost 30% of the stock and being the founder. What does Papa John's founder have to do with any of this? Because Musk owns about 20% of the company he co-founded, and serves as the CEO and chairman.
There are similarities, even if the outcome doesn't end up the same.
And in the very least, Musk owes it to the bulls to not use a platform like Twitter to hurt the company's stock price. Investors are already putting a lot on the line for a company that has a precarious financial situation and faces a near-constant wave of criticism.
They don't need the company's leader shooting it in the foot.
Tesla's cash position continues to dwindle, while the bonds maturing in 2025 that Tesla issued less than a year ago are already trading at 90 cents on the dollar. This isn't a company that's flourishing at the moment, financially speaking. 
More On Tesla's Future From TheStreet
Musk wiping out more than $1 billion in market cap thanks to some ill-advised tweets is not something investors should have to endure. It's also making some observers question what's going on behind closed doors at Tesla and whether the wheels are starting to come off. Regardless of whether they should be asking those questions, they are, and it's not a good look for Tesla right now. 
This article is commentary by an independent contributor. At the time of publication, the author had no positions in the stocks mentioned.