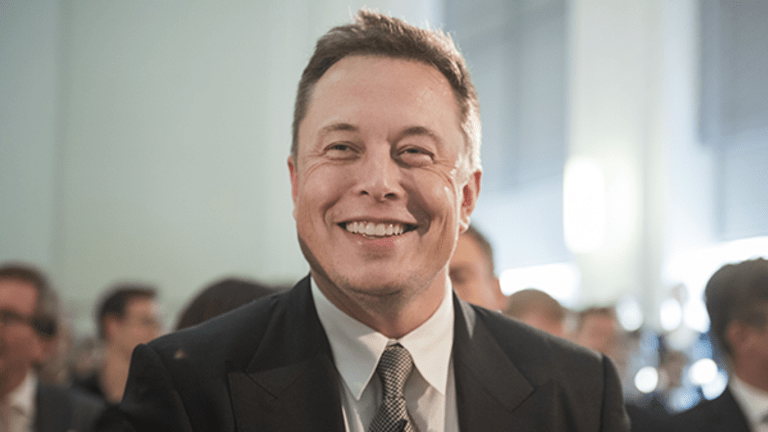 Tesla CEO Elon Musk: I Just Felt Like Hell, but Am Now Feeling Awesome
Tesla's shares in focus after bottom line beat.
Tesla (TSLA) - Get Tesla Inc Report pleased the bulls on Wednesday when it beat Wall Street's expectations for the second quarter and said it was seeing high demand for the new Model 3 sedan released last week. Shares were climbing 7.4% to $350.06 in after-hours trading on the back of the stronger-than-expected results. 
Although the electric-car maker posted its largest-ever loss, Tesla's aggressive cash spending to meet the Model 3 ramp seems to have paid off. CEO Elon Musk said the company is averaging more than 1,800 net Model 3 reservations since the car was released last week. He was even more bullish about the company's future on its earnings call with investors late Wednesday.
Watch:Tesla Shares Surge on Narrower Than Expected Quarterly Loss
"This is maybe the best I've ever felt about Tesla, to be frank," Musk said on the call. "Last week stressed the hell out of me, but I really think this is probably the best I've ever felt." 
Musk faces what will likely be several stressful months ahead as it continues to ramp up Model 3 production. Ahead of the vehicle's release, Musk said the company is going to go through at least six months of "manufacturing hell" as it works to meet ambitious targets. 
Fears that Tesla's low-cost Model 3 might cannibalize sales of the Model S and Model X appear not to be a problem, as Tesla noted that orders for both models are rising. Deliveries rose 53% year-over-year, despite overall flatness in the luxury vehicle market. So far, the company has only shipped Model 3 vehicles to employees and early investors, but deliveries to non-Tesla employees will begin in the fourth quarter. 
Tesla hopes to produce 100 Model 3 sedans in August, then more than 1,500 vehicles in the third quarter. Eventually, it hopes to achieve a run rate of 5,000 vehicles per week by the end of 2017. 
The company plans to produce 500,000 Model 3 vehicles annually by 2018, but noted that it will have to spend more to get there. Tesla finished out the quarter with roughly $3.03 billion in cash, which is less than the $4 billion it held during the prior period. Capital expenditures in the first half of 2017 were $1.5 million and are expected to be about $2 billion in the second half of 2017. At that rate, Tesla would be left with $1 billion in cash by the end of 2017, which is where the company has said it's comfortable operating at.
Don't miss these Tesla stories on TheStreet:
When asked whether the company would have to raise more capital to meet production targets, Musk said it's more likely "thinking about debt."
"We're not at this point considering an equity raise," Musk told investors on the company's earnings call. "We are thinking about debt."
Tesla's burn rate continues to climb higher, as negative free cash flow grew to to $1.16 billion during the quarter, which is almost double the amount from last quarter.
Not everyone was so sure about Musk's confidence, however. CFRA Research analyst Efraim Levy said the cash increase was more likely related to timing and that he expects spending in the second half to be above consensus estimates of $2 billion.
"They'll need to raise some cash in 2018," Levy added. "I think they want to have a cushion of more than $1 billion."
Watch More with TheStreet: