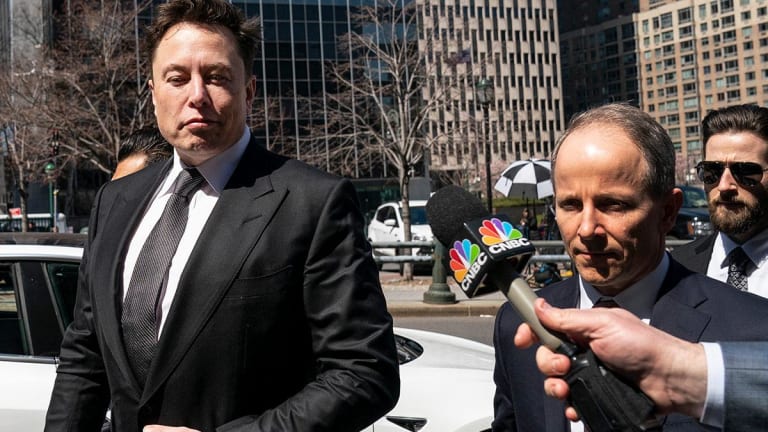 Here's What the SEC Wants Tesla's Elon Musk to Do
The SEC is now seeking harsher fines and more oversight to make Elon Musk's misbehavior on Twitter 'not worth it.'
First and foremost, the Securities and Exchange Commission wants Tesla (TSLA) - Get Tesla Inc. Report CEO Elon Musk to stop casually tweeting material information about his company. 
But to accomplish that, the government agency now wants harsher fines to serve as a greater disincentive, as well as more systematic oversight of his behavior. 
The Issue
Elon Musk and his lawyers argued against the SEC in the U.S. Southern District Court of New York in lower Manhattan Thursday over whether Musk should be held in contempt for tweets that the SEC argues violate a settlement agreement between the two parties.
In October, Musk and the SEC agreed to a settlement that Musk wouldn't put any potentially material information about Tesla on Twitter without first consulting legal counsel. The action came about because in August, Musk had tweeted "funding secured" in reference to the possibility of taking Tesla private, which turned out to be inaccurate. 
In late January, Tesla guided for production of 500,000+ vehicles by the fourth quarter of 2019 and early 2020. But in February, Musk tweeted that Tesla was going to produce 500,000 cars in 2019, which he later corrected to an annualized production rate of 500,000 vehicles by the end of the year, with full-year deliveries totaling about 400,000.
As a result, the SEC asked the court to hold Musk in contempt. 
What the SEC Wants Now
An SEC lawyer argued before the judge Thursday that Musk should incur a "series of escalating fines" for each additional court violation. The idea is that, with each new violation, Musk should pay more money to the SEC as punishment. For his initial "funding secured" misstep, Musk had to pay a $20 million fine and was forced to step down as chairman of Tesla for a period of three years, in addition to agreeing to have his messages be reviewed by the company before being sent.  
The SEC's lawyer argued that any additional fines placed on Musk should be meaningful enough to make his behavior "not worth it." She also suggested that Musk should report in periodically to the court to make sure he was in compliance. 
Will I Have Enough Money to Retire?
Want to learn about retirement planning from some of the nation's top experts? Join TheStreet's Robert "Mr. Retirement" Powell live in New York on April 6 for our Retirement Strategies Symposium. For a limited time, tickets are available for $99 for this full-day event. Check out the agenda, learn about the speakers and sign up here.