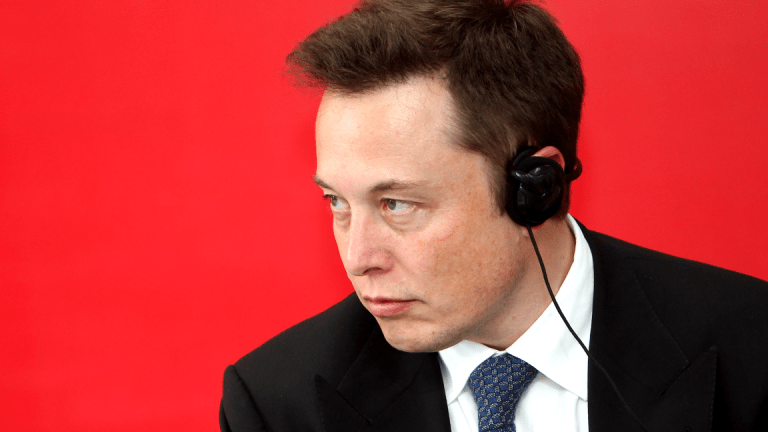 Elon Musk Saves Tesla From Disaster, but Will Starbucks CEO Do the Same?
Tesla CEO Elon Musk managed to pull off a decent earnings call, and is being awarded by Wall Street as a result. Sonos prices it IPO, and earnings earnings season madness continues.
Tesla CEO Elon Musk managed to pull off a decent earnings call, and is being awarded by Wall Street as a result. Sonos prices it IPO, and earnings earnings season madness continues.
For the win.
While Tesla's (TSLA) - Get Report second quarter was far from clean, CEO Elon Musk managed to do just enough to jump-start the bullish thesis on the stock that had all but died in recent months. Here is what TheStreet picked up on from the earnings call that helped fuel a 10% pop in Tesla's stock in after-hours trading Wednesday. Shares indicated up 9% in pre-market trading Thursday.
(1) Musk promised (again) Tesla would be profitable each quarter going forward. He did leave himself an out should the economy weaken from strong second quarter growth rates. But the promise was enough for the Tesla bulls. Now former Musk friend President Trump has to deliver on economic growth, or else the new Tesla bulls will have their faces ripped off.
(2) Musk reiterated he doesn't expect an equity capital raise.
(3) Musk suggested (again) Tesla has fully autonomous driving capabilities ready to go today. BMW who?
(4) Musk apologized to the two Wall Street analysts he embarrassed on the first quarter earnings call. He blamed a lack of sleep last time. A more mature Musk emerging? Who knows, but Wall Street appreciated the olive branch. Said RBC Capital Markets analyst Joe Spak (who Musk trashed on the first quarter call, and apologized to this time): "Second quarter results better than expected and we are more comfortable with second half 2018 profitability/cash flow. Further, there seems to be more ammo for bulls than bears in commentary. Given the stock's propensity to sentiment/momentum, we could see a rally, but remain Sector Perform rated believing a lot priced in."
And away we go.
The Bottom Line
Quick tip to Starbucks (SBUX) - Get Report CEO Kevin Johnson (who seems like a perfectly nice fella): chill out on the TV appearances, put your head down and grind. Grind like you have never done before. If you think you are grinding hard, kick it up one extra notch. 
Starbucks is at such a critical juncture that Johnson should be putting on plain clothes, leaving his director of communications at home, and taking his laptop to spend hours in Starbucks stores -- and upstart competitors selling $10 medium coffees -- studying. The more ideas Johnson and his impressive roster of executives pumps into the current structure of Starbucks, the worse sales may get.
Starbucks needs less complicated drinks to improve line speed. Starbucks needs more of these Princi bakeries in its stores so it can serve real food. Starbucks needs a low fat, sugar free frap line. Starbucks kitchens need to be redesigned for maximum efficiency. The seating options need to improve so people stay there longer and buy more. But hey, at least Starbucks got to announce a nice partnership with Alibaba (BABA) - Get Report today. Starbucks said it will leverage Alibaba-owned Ele.me's on-demand delivery service for its coffee delivery across 30 cities in more than 2,000 China stores by end of 2018.
Starbucks shares were unchanged Thursday on the Alibaba news. They are down about 10% year to date. 
Around TheStreet
Mood on the ground in the real economy may not be what the headlines suggest. German American Bank (GABC) - Get Report CEO Mark Schroeder tells me farmers in his districts are starting to put off capital equipment investment amid the trade tensions. Here comes Deere's (DE) - Get Report cautious outlook on August 17. Meanwhile, Bank of Marin (BMRC) - Get Report CEO Russ Colombo hinted to me that commercial and residential real estate in Silicon Valley -- where his bank does a lot of business -- are peaking. Maybe there is something to the FANG stock downdraft.
TheStreet's @ScottGamm will be sitting down with Sonos CEO Patrick Spence following its IPO today. The company arguably isn't off to a good start as a public company. Sonos priced its IPO at $15 a share Wednesday evening, below the expected range of $17 to $19, valuing it around $1.5 billion.
Yours truly will be hopping on the horn with Clorox (CLX) - Get Report CEO Benno Dorer following earnings today. Dorer has done a heck of a job reinventing Clorox -- it will be interesting to see how he leads the company through increasing challenges in the packaged goods industry this year.
Hat tip the @KatherineRoss and @AndersKeitz for an insightful podcast with Lauren Simmons, the youngest female stockbroker (23 years old) to work on the New York Stock Exchange full-time. What were YOU doing at 23 besides sucking down 40 ounces in a parking lot?
On a personal note, appreciate your interaction on Twitter Wednesday on all things Tesla. Our feeds @TheStreet and @BrianSozzi didn't stop with interactions on Tesla, please do keep them coming today.
Meanwhile, OMFIF -- an international think tank for central banking and public finance, said Thursday it's appointing Mark Sobel as its U.S. chairman. Sobel represented the U.S. on the International Monetary Fund executive board up to April. He has had a 40-year Treasury career. Of note, he served as Treasury Deputy Assistant Secretary for international monetary and financial policy between 2000 and early 2015.