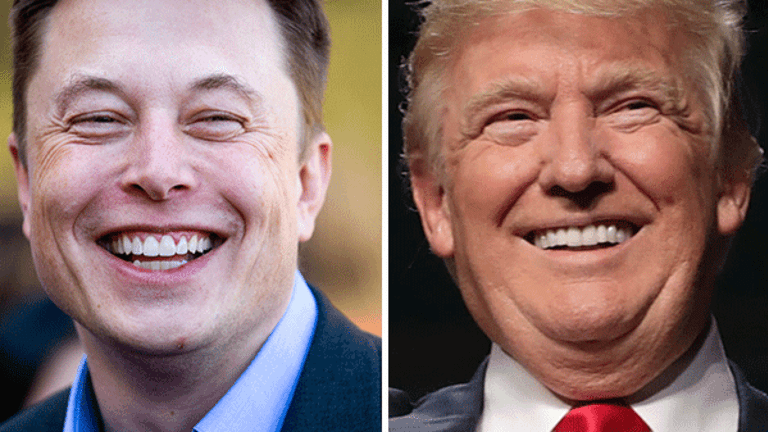 Why the New Elon Musk and Donald Trump 'Bromance' Is Great for Tesla
Tesla's CEO and the new president seem to have discovered a critical area of common interest.
Tesla (TSLA) - Get Tesla Inc Report CEO Elon Musk's relationship with Donald Trump has been an unpredictable one, with Musk going from a critical outsider to a close adviser within a month of the election. And Tesla's stock seems to have reflected that transition, soaring by 30% since Election Day on November 8. 
"I feel a bit strong that [Donald Trump] is not the right guy. He doesn't seem to have the sort of character that reflects well on the United States," Musk said on CNBC just four days before Trump was elected president. 
As the CEO of an electric car company that recently acquired solar company SolarCity, Musk was in strong disagreement with Trump on fossil fuels and climate change. Back in November 2012, Trump famously tweeted that global warming was a hoax "created by and for the Chinese in order to make U.S. manufacturing non-competitive." 
But fast forward to mid-December -- a little over a month after his CNBC interview -- and Musk had joined Trump's "strategic and policy forum," a group meant to give advice on job creation and the economy. Other members include Blackstone (BX) - Get Blackstone Group Inc. Class A Report CEO Stephen Schwarzman, Walt Disney (DIS) - Get Walt Disney Company Report CEO Bob Iger, IBM (IBM) - Get International Business Machines (IBM) Report CEO Ginni Rometty and PepsiCo (PEP) - Get PepsiCo, Inc. Report CEO Indra Nooyi.
A few days after that, Musk was one of the 15 tech executives that joined Trump for a two-hour long, exclusive meeting about everything from jobs to immigration. And after the group meeting, Musk even stayed to have a private meeting with Trump.  
A number of analysts and investors believe that this apparent flip flop in relations is a result of Trump and Musk realizing they have one big interest in common: creating jobs in the U.S. 
Elon Musk now seems all in on Trump
A Tesla factory
"Personality-wise they don't have a lot in common," T. Rowe Price vice president Joel Grant told TheStreet. "I don't think they would be friends otherwise, but after spending time together they realized they can help each other out a lot." 
Grant speculates that Musk's close relationship with Trump-supporter and adviser Peter Thiel may have had an effect on his relationship with the President. "I think [Musk] may have gone to Thiel and said, 'What should my relationship with Trump be like?'"Grant said. 
Tesla currently employs 25,000 people in the U.S. and that number is expected to increase dramatically as it completes the construction of the remaining two-thirds of its Nevada-based battery-making Gigafactory, which will be the largest factory in the world when it is completed. 
"Tesla is one of the few businesses investing in the U.S. as opposed to Mexico, and Musk has met with Trump two to three times, which is a lot for any business leader," Grant claimed, noting that this blossoming relationship should be a positive for Tesla and SolarCity shareholders. 
Morgan Stanley also believes Trump and Musk's job creation bond is important for investors. "As a highly visible and fast-growing US jobs creator with a strong emphasis on domestic manufacturing in value-added sectors, an objective the Trump administration has publicly prioritized, we believe the relationship is significant," the firm wrote in a note released Friday morning. 
People gawk outside a Tesla dealership
The alignment of some of Musk's objectives with Trump is a trend that "really seemed to sneak up on people," the firm wrote in a separate note last week. The firm said that Musk has an "important line of communication" as part of Trump's business advisory team, but that it cannot put a monetary value on the relationship. However, Morgan Stanley does see this relationship leading to "greater strategic value" than it had under the Obama administration. 
Musk himself affirmed that he was on the same page as Trump in regards to jobs, saying they both have "a strong emphasis" on U.S. manufacturing during a Q&A session that Morgan Stanley participated in after a tour of the Gigafactory. 
The two leaders even seem to be finding common ground in regards to climate policy, with Musk tweeting out this week that he thinks ExxonMobil (XOM) - Get Exxon Mobil Corporation Report CEO and Trump administration pick Rex Tillerson has the potential to be "an excellent Sec. of State." Tillerson has said in the past that he is in favor of a carbon tax and "there is no better person to push for that to become a reality than Tillerson," Musk pointed out to Gizmodo after receiving backlash for supporting the top oil executive. 
Musk also gave Gizmodo some insight into why he can suddenly be found having private chats with the president in Trump Tower and the White House, saying "the more voices of reason that the President hears, the better." Trump has never "bowed" to protests or attacks from the media, he added.
"Better that there are open channels of communication," said Musk.