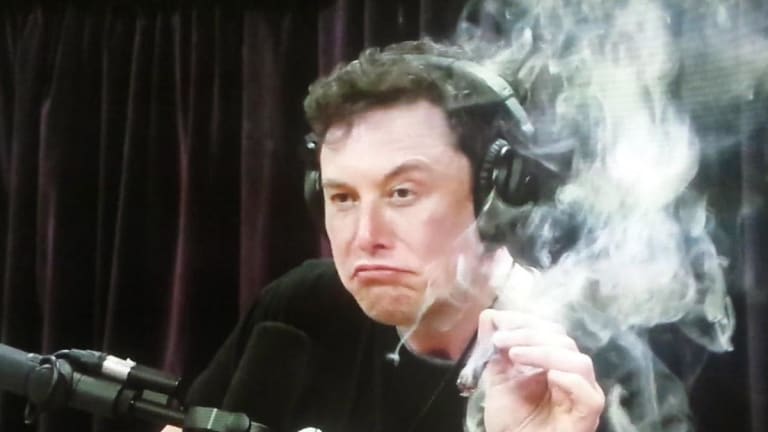 Elon Musk May Have Blown His Federal Security Clearance by Taking That Puff
The Pentagon is reportedly reviewing the SpaceX CEO's security clearance following an appearance on a popular podcast.
Elon Musk is reportedly in hot water with the Feds as the Pentagon reviews his federal security clearance following his appearance on the Joe Rogan Experience podcast last year where he appeared to smoke marijuana on camera.
Bloomberg reports that Musk has refiled his SF-86 security form, which requires the person submitting the form to reveal whether they have used any illegal drugs over the past seven years. 
Musk has a secret-level clearance thanks to his role as founder and CEO of Space Exploration Technologies, which is certified to launch military spy satellites. An unnamed SpaceX executive told Bloomberg that the review hasn't had any impact on the company's operations as day-to-day tasks are handled by SpaceX Chief Operating Officer Gwynne Shotwell. 
Musk has been the subject of ire from the Securities and Exchange Commission, which recently asked a federal court to hold Musk in contempt, after previously forcing him to step down as chairman of electric vehicle maker Tesla (TSLA) - Get Tesla Inc Report . 
Musk settled with the regulatory agency last year after the SEC said that he illegally manipulated his company's stock price when he tweeted that he had secured enough funding to take the company private when he had, in fact, not. 
Last month, the SEC said that Musk violated the terms of his deal with the agency by tweeting out incorrect information about Tesla's 2019 delivery guidance. The terms of the  settlement prohibited Musk from sharing company information without it being vetted by legal counsel.