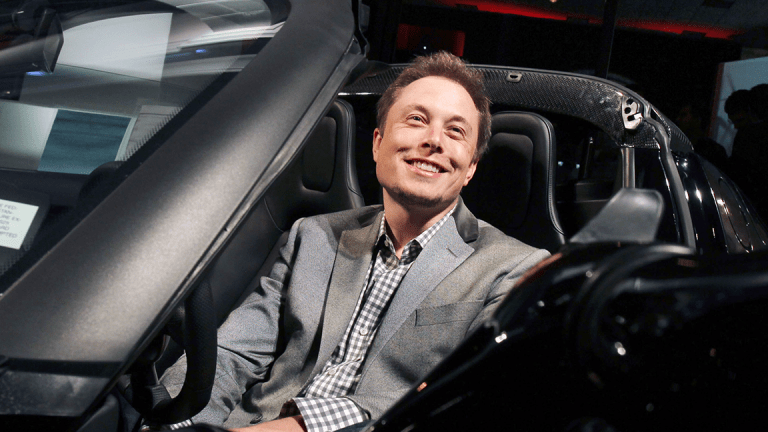 Publish date:
Elon Musk Is Having a Really Great Week
A new deal at The Boring Company, more Tesla stock and a big supercharger milestone - what was that about TGIF?
A new deal at The Boring Company, more Tesla stock and a big supercharger milestone - what was that about TGIF?
It's a really great week to be Elon Musk.
Even without taking stock of the Tesla Inc. (TSLA) - Get Report CEO's $20.8 billion net worth and 22 million Twitter followers, June has been coming up roses for Musk. Here's why.
He Inked a Deal With Chicago
On Wednesday, June 13, Musk's infrastructure and tunnel construction company, The Boring Company, signed onto a deal with Chicago to build high-speed transit tunnels that would connect the city's Loop with Chicago O'Hare International Airport.
According to the Chicago Tribune, The Boring Company was chosen as the winner from a pool of four competing bids. Chicago Mayor Rahm Emanuel said it's too early to provide any sort of timeline or cost estimate, but The Boring Company will pay for the entire project, which is expected to cost less than $1 billion.
The high-speed loop will feature 16-passenger vehicles that travel back and forth at speeds of more than 100 mph, getting riders from the city's central business district to the airport in about 12 minutes. The rides are expected to cost about $20 to $25.
He Bought More Shares
How can you expect Wall Street to bet on you if you don't bet on yourself?
A filing Wednesday with the Securities and Exchange Commission showed Musk bought 72,500 additional shares of Tesla, worth about $25 million. With this week's addition, Musk now holds 33,737,921 shares of Tesla stock, valued at about $11.6 billion after Wednesday's close.
Although Tesla stock is lower about 8% in the last year, spring has been kind to Tesla shareholders. The stock has pushed higher more than 21% in the last month and more than 9% in the last five trading sessions.
Earlier this week, Musk announced plans to slash 9% of Tesla's workforce in a bid to reduce costs and become profitable after 15 years in the red. Wall Street took to the news well, sending Tesla stock higher 3.21% on Tuesday.
On Thursday morning, Tesla stock inched higher 1.07% to $348.48 ahead of the opening bell.
He Hit the 10,000th Supercharger
A new location in Belleville, Ontario, brought the tally of Tesla supercharger stations to 10,000 earlier this week, Musk announced on Twitter.
That means Tesla has added nearly 3,000 new supercharger stalls since the last time it shared the stall count in the third quarter of 2017. For what it's worth, that translates to about 14 new stalls per day over the last seven months.
How to Play Today's Risky Markets. Click here and register for free to watch what top experts from Bank of America, Fisher Investments, Invesco and Wells Fargo say smart investors should do now.