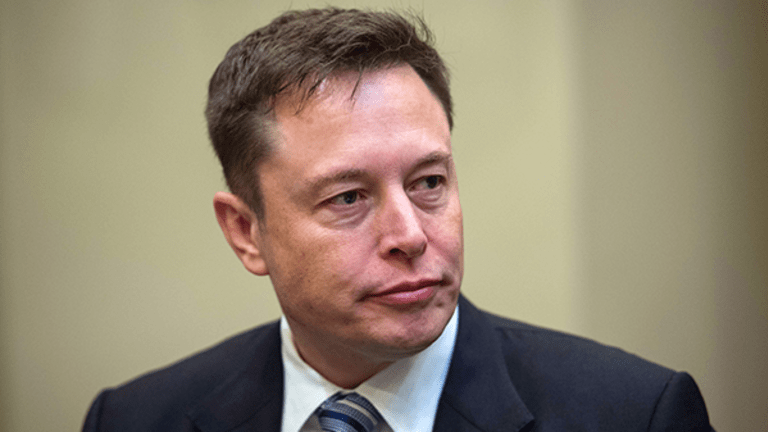 Elon Musk Defends Tesla Working Conditions Amidst Complaints of Fainting Spells, Long Hours
Ambulances were called to tend to Tesla workers hundreds of times since 2014, according to the Guardian.
Tesla (TSLA) - Get Free Report  CEO Elon Musk is well known for being a workaholic, and he evidently expects the same from his factory workers, according to a new eye-opening report from the Guardian about working conditions at the Tesla car factory in Fremont, Calif. 
The factory that employs about 10,000 workers has called ambulances more than 100 times in the past three years to treat workers for fainting spells, dizziness, seizures, abnormal breathing and chest pains, the Guardian reported. In addition, hundreds more ambulances were called for other issues obtained by harsh working conditions. 
"I've seen people pass out, hit the floor like a pancake and smash their face open," Tesla production technician Jonathan Galescu told the publication. "They just send us to work around him while he's still lying on the floor."
When asked about the conditions at his prized factory, 45-year-old Musk admitted that his workers had been "having a hard time," and claimed he slept on the floor of the factory in early 2016 because he believes a manager should always work harder than their employees. For curiosity's sake, Musk said in a Reddit AMA (ask me anything) session that he slept "almost exactly 6 hours on average."
Musk also noted that his employees work tirelessly because they're working on something that they believe strongly in: a clean future. "We're doing this because we believe in a sustainable energy future, trying to accelerate the advent of clean transport and clean energy production, not because we think this is a way to get rich," he claimed. 
While the conditions need improvement, Tesla noted that the number of incidents reported had actually gone down in recent months. In late 2016, the incident rate was slightly above the industry average. However, in the past few months of 2017, Tesla's incident rate has improved to 32% above average. 
Tesla told the Guardian it was determined to further improve its safety standards. "While some amount of injuries is inevitable, our goal at Tesla is to have as close to zero injuries as possible and to become the safest factory in the auto industry worldwide," a company spokesperson told the Guardian.
Tesla's stock didn't react strongly to the news on Thursday, closing up slightly to $313.06. Tesla's stock has a history of not reacting strongly to negative news. Earlier this year Tesla's stock failed to react accurately to its announcement that vehicle deliveries for 2016 were below the company's target. In response, TheStreet's Jim Cramer said the company seemed to be "charmed" in that bad news seems to bounce off of it. "It should be called Teflon Motors because I don't think this will matter," he said. 
Musk also said that Tesla's market cap was too high and that it shouldn't be compared to other big U.S. vehicle manufacturers considering it produces just 1% of what General Motors (GM) - Get Free Report produces. "I do believe this market cap is higher than we have any right to deserve," he said.
His comments on Tesla's market cap come the month after the company's market cap hit $51 billion, making it more valuable than both General Motors and Ford (F) - Get Free Report , despite the fact that Tesla is still a "money-losing company," to put it in Musk's own words.