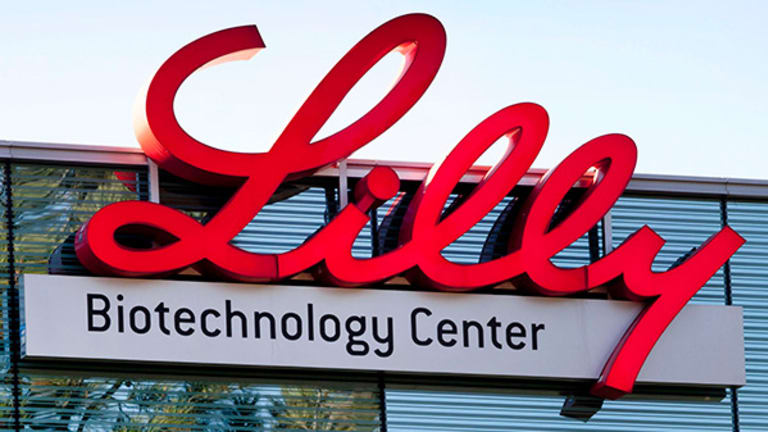 Eli Lilly's 2017 Guidance Pleases Investors as Shares Soar
Eli Lilly posts better-than-expected guidance for 2017, sending its share price soaring in premarket trading.
For the first time in three years, Eli Lilly's (LLY) - Get Report guidance for next year has topped Wall Street's consensus estimates.
The pharmaceutical company said Thursday it expects revenue for 2017 to fall somewhere between $21.8 billion and $22.3 billion, as compared with consensus estimates of roughly $21.7 billion. The company also guided earnings per share above consensus, expecting somewhere between $4.05 and $4.15 a share, compared with analysts' expectations of $3.96. 
The company's shares bounced 3.74% on the news, hitting $70.20 in premarket trading on Thursday. The stock fell Wednesday by 1.4%. 
"Investors were generally nervous going into this guide given LLY's decision to move the call up from the standard time ... as well as the fact that LLY historically has tended to guide conservatively, so this guide appears to be above expectations," Evercore ISI analyst John Scott wrote via email.
Lilly traditionally guides during the first week of January, but moved it up in light of results from its decision to change endpoints for its Alzheimer's drug, solanezumab.
The guidance follows Lilly's announcement on Tuesday that it has partnered with Express Scripts (ESRX) to lower the cost of insulin for patients who were paying the most.
The drugs included in the program are Humalog, Humulin and Basaglar, but others could be added eventually. Patients can see prices like $500 for one carton of Humalog kwikpens, which are meant to last a few months, according to GoodRx. Prices are similarly high for Humulin and Basaglar.
This move was likely an attempt to get ahead of criticism by patients with diabetes, who were starting to make noise similar to the noise those with anaphylaxis were making over Mylan's (MYL) - Get Report price hikes of EpiPen earlier this year.
Lilly is hosting a conference call at 10 a.m. EST Thursday to further discuss guidance.