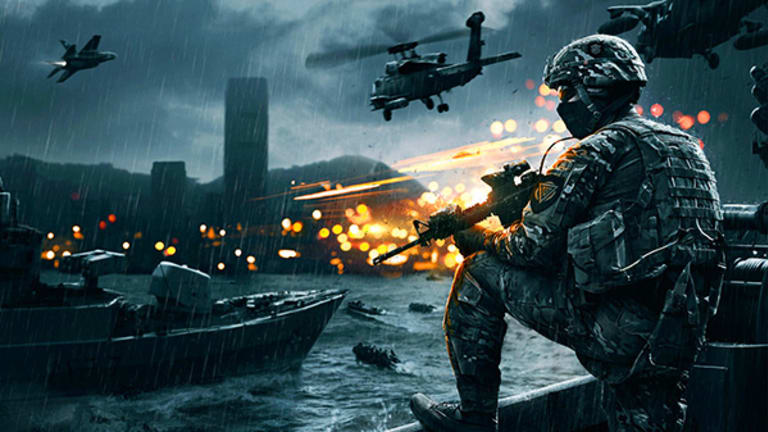 Here's the $34 Billion Video Game Maker That Is Taking Giant Leaps
It's now a major player in digital.
By any reasonable measure, things are pretty good at video game maker Electronic Arts (EA) - Get Electronic Arts Inc. Report these days. Last month, the company's stock topped $100 for the first time and now trades at close to $110 a share, putting its market cap at just over $34 billion. And this week, it hosted 15,000 fans at its EA Play event -- an independent fan fair being held at the same time as (but a good distance from) E3, the industry's annual trade show.
The story was very different four years ago, however.
In 2013, then-CEO John Riccitiello resigned, citing his "accountability for the shortcomings in our financial results". Hundreds of employees were laid off in two cost-cutting rounds. Internal studios were closed. And the publisher had been named "the worst company in America" by The Consumerist for the second consecutive year for its unfriendly business practices.
Months after Riccitiello's departure, Andrew Wilson, a long-time EA veteran was named CEO. Since that time, shares have increased by 500%.
EA's turnaround can be credited to a few key moves, but Wilson says they all fall under the same umbrella of putting players first, a mantra he has been evangelizing since he took over the top office.
"I feel like when this new team came together in 2013, we were kind of standing back from the ledge," he said. "Over the past few years, I think what you've seen from us is we've taken the leap." Specifically, Wilson said EA has taken the leap into digital, live services, subscriptions and eSports.
"It's like gravity. If you leap off of a tall enough building, you continue to accelerate. And I think what you're seeing now is an acceleration," Wilson said.
Some of the building blocks of EA's resurgence got their start with Riccitiello. In particular, he saw digital sales becoming a more important part of the industry and began to shift EA in that direction before his departure. 
In fiscal 2018, the company expects overall digital revenues to hit $3.375 billion, or about two-thirds of its expected total revenues for the year of $5.1 billion.  
Another area of expected growth is eSports. In 2015, the company launched a division dedicated to competitive gaming, which has subsequently further engaged its most loyal customers (especially fans of the FIFA or Madden franchises). Game industry analysis firm Newzoo estimates that industry-wide eSports revenues will reach $696 million this year and grow to $1.5 billion by 2020.
"There are number of core motivations when we create a game: Inspiration, escape, creation, self-improvement, social connection and competition," Wilson said. "There's a reason eSports and competitive gaming is growing at such a rapid rate - and it's because it takes into account many of those inspirations."
Changes like that, which boost the time players spend with games, have impressed both analysts and investors.
"Certainly from an investor point of view, [EA has] done a wonderful job of turning the company around," says Ben Schachter of Macquarie Capital. "The question for them and [other publishers] is what to do now? The old model of 'let's sell a disc for $60 and multiply it by a number of units' is long dead. ... Part of the success EA has had has been increasing ARPU [average revenue per user]. The question among investors is where will that number go? Have we reached the peak already or has it just gotten started?"
You can probably guess Wilson's answer to that. But to ensure the numbers, which EA doesn't break out, continue to rise, he and his team of 8,500 are already looking for what's next in game development. Among the ideas being explored is integrating data from player's lives via Internet of Things connected devices, and using artificial intelligence to help tell stories in games. 
However, Wilson said, he has been hearing the larger question of "can the company sustain growth" throughout his tenure as CEO.
"At a fundamental level, more people are playing more games on more platforms in more geographies than ever before," Wilson said. "We as a company ... accelerate that. And the digital transformation will continue to be a tailwind for us."
Visit here for the latest business headlines.