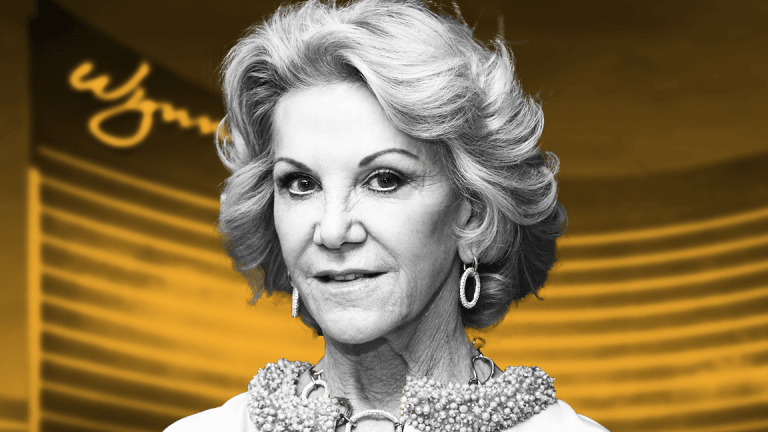 Elaine Wynn's Boardroom Battle Effort Could Drive Wynn Resorts Sale or Breakup
Wynn's ex-wife, Elaine, a 9.25% shareholder who co-founded Wynn Resorts with Steve, is seeking to shake up the casino giant's board.
After casino mogul Steve Wynn stepped down in February from his position of chief executive at Wynn Resorts Ltd. (WYNN) - Get Wynn Resorts Limited Report  - in the wake of sexual harassment allegations - questions have emerged about the future of the $18 billion luxury hotel empire that bears his name.
Now the plot thickens as Wynn's ex-wife, Elaine, a 9.25% shareholder who co-founded Wynn Resorts with Steve, is seeking to shake up the casino giant's board in a move that at analysts believe will result in a sale or break up of the company.
Elaine Wynn, late Tuesday asked the Wynn Resorts board to reopen the window for shareholders to nominate directors so she could consider nominating a change-of-control slate of director candidates, which would not include her or anyone close to her or Steve Wynn personally or professionally. In an activist 13D securities filing, Elaine said that the board should be reconstituted before any material decisions about transactions are made, including the resort, Wynn Boston Harbor.
Wynn Resorts and MGM  (MGM) - Get MGM Resorts International Report are reportedly in discussions about a possible sale of Wynn Boston Harbor.
In a note Wednesday, Jefferies analysts said that the possible proxy fight endeavors to position the company for "maximizing value" and that they believe the ultimate result is a "sale of the company in whole or in parts."
They added that prospects for a new board and changes could take time, but that the "trophy quality" of the assets suggest the market value exceeds their operating value.
Wynn Resorts didn't respond to a request for comment.
TheStreet's sister publication, The Deal, had reported in March that a move by Steve Wynn to sell some or all of his take could embolden an activist investor to step in and seek to break up the chain of resorts. Steve Wynn last month liquidated his 11.8% position in the company, which left Elaine as the largest shareholder. 
However, a few big institutional investors have significant stakes, including Vanguard Group and Northern Cross, which have 8.46% and 6.89% respectively, according to FactSet.
The deadline for nominating directors for Wynn Resorts 2018 annual meeting, expected in April or May, was Jan. 21.
Activists often seek to divide up undervalued businesses to extract share-price value, and that might be a serious possibility at Wynn Resorts, which has plummeted from about $200 a share to as low as $163 a share on the news, before recovering somewhat to trade recently at about $190.65 a share.
In a note, Jefferies analysts argued that Wynn's value to the company is "unarguably profound as its chief visionary and diplomat." With him gone, the chain could become vulnerable to an activist seeking to break up the business.
It is possible that the Wynn resorts could be sold in pieces, in part, because a hotel and casino operator might want to pay more to get into one of the Wynn markets-Boston, Nevada or its Chinese unit, Macau-but not all.
Nevertheless, Wynn Resorts CEO Matt Maddox on March 9, pushed back on assertions that the resort chain will be broken up or auctioned off in the wake of Wynn stepping down. "What I can tell you is we're not for sale," Maddox said on CNBC. "There's been talk about breaking up the company. That also makes no sense. To pursue strategic alternatives in a time when the narrative is not about the business is a mistake."
However, a move by Elaine Wynn to take control of the board could result in Maddox's ouster and a possible sale down the road.
Jefferies analyst David Katz notes that a wholesale liquidation is unlikely in the immediate term and the outcome will play out in the coming weeks.
"We believe the determination of future growth prospects compared with the current market value of the assets remains the core issue to be resolved," Katz said. "In the interim, we expect the operating trends to remain positive domestically, and in Macau, while the opportunity for the Boston property remains the most compelling new property opening in the near term, all of which provide downside support for the shares as the current uncertainty is resolved."
Elaine Wynn in 2015 lost a director fight seeking a seat for herself on the Wynn Resorts board. At the time she was the company's third-largest shareholder. She initiated a proxy fight for a seat she had had on the board, after the board declined to renominate her, citing an alleged conflict of interest caused by a pending legal dispute with Steve Wynn.