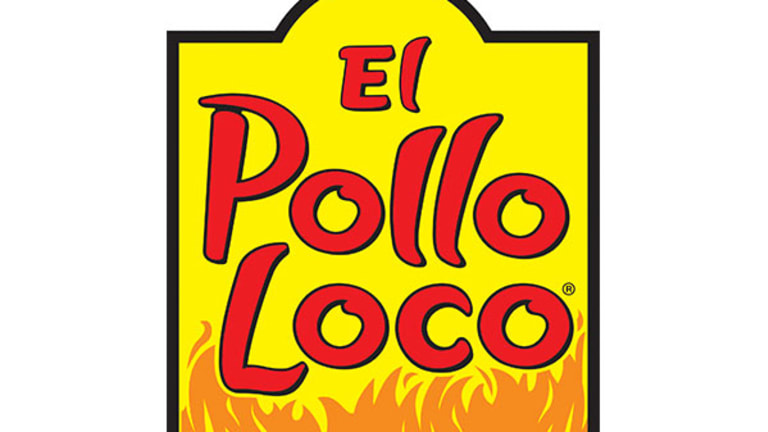 El Pollo Loco Stock Surges 60% on IPO, But Is It a Buy?
El Pollo Loco surged 60% on its first day of trading. The fast-casual chicken chain raised $107 million from pricing 7.14 million shares at $15 a share.
This story has been updated from 3:38 pm ET with closing stock price.
NEW YORK (TheStreet) -- El Pollo Loco (LOCO) - Get Free Report shares surged 60% to $24.03 on its first day of trading following its IPO. The fast-casual chicken chain, which raised $107 million after pricing 7.14 million shares late Thursday at $15 a share. The stock opened on the Nasdaq at $19.
The price was at the upper end of the $13 to $15 a share range given in its Securities and Exchange Commissionregistration filing.

WATCH: More market update videos on TheStreet TV
Headquartered in Costa Mesa, Calif., El Pollo Loco, Spanish for "The Crazy Chicken," plans to use net proceeds from the offering to repay debt. Jefferies, Morgan Stanley and Baird are all acting as joint book-runners. William Blair and Stifel are acting as co-managers in the offering.
A healthier play on Yum! Brands' (YUM) - Get Free Report Taco Bell-and-KFC combination restaurants, El Pollo Loco has 400 stores split between company-owned stores and franchised locations. The chain is known for its fire-grilled chicken and Mexican-themed menu items.
"The consumer is demanding higher quality products, but also demanding healthier products. People are trading up from the QSRs [quick-service restaurants] to fast casual," CEO Steve Sather said in an interview with TheStreet on Friday. "We call our positioning QSR-plus," referring to higher quality menu items at the "speed, convenience and value that you get at the QSR segment."
That said, El Pollo Loco's prices are about 10% higher than typical fast-food chains but roughly 15% lower than Chipotle (CMG) - Get Free Report or Panera (PNRA) .
"We think we're right on where consumers want to be in our QSR-plus position," Sather said.
El Pollo Loco is targeting 2,300 U.S. restaurants for the long term. It plans to grow the number of restaurants by 8% to 10% annually, at first by adding company-owned stores, but also by developing franchisee relationships, according to the filing. It has hopes of becoming a national brand one day but for now will stick to a targeted expansion plan within the Southwest, Sather adds.
Last year revenue from El Pollo Loco's company-owned restaurants totaled $294.3 million, while system-wide sales from franchisees totaled $172 million. However El Pollo Loco ended 2013 with a net loss of $16.9 million. El Pollo Loco estimates that preliminary revenue for the 13 weeks ended June 26 to be between $86.4 million and $86.9 million compared to $81.7 million for the year-earlier period. Income for the period will be in the range of $12.4 million to $12.9 million, compared to $12.2 million last year. Restaurant comp growth was between 4.9% and 5% compared to 6.9% growth last year, the filing said.
"El Pollo Loco has a steady and reliable customer base and is a healthier alternative to the fried chicken component in this category. Their ability to 'make it' in their home market of Southern California speaks to good cost controls and internal systems. Key for them is to maintain quality and cleanliness in some older stores," wrote Tom Kelley, a restaurant consultant and president of AccessPoint Group in an email to TheStreet.
El Pollo Loco is the latest fast-casual restaurant to sell shares in the public markets. Other restaurant chains to go public recently include Potbelly (PBPB) - Get Free Report and Papa Murphy's (FRSH) - Get Free Report, both of which have recently seen shares trade below their IPO prices of $14 and $11, respectively. Noodles (NDLS) - Get Free Report shares while trading above its IPO price of $18, are down about 35% over the past year. The one exception in recent restaurant IPOs is Mediterranean food chain, Zoe's Kitchen (ZOES) . Shares have more than doubled since its IPO.
"Except for Papa Murphy's, these IPOs have been well received by investors, pricing an average of 18% above the proposed range and trading up an average of 72% on the first day of trading," Kathleen Smith, Principal of IPO ETF manager Renaissance Capital, wrote in an email. "However the follow through after the first day is the big question and only Zoe's has produced positive aftermarket returns. We are impressed by [El Pollo Loco's] strong comps (+5% 1Q14) and experienced management team; however, the business is concentrated in California and unit growth may be challenging given its history of flat unit growth for the last few years."
"We believe we are well-positioned to take advantage of significant growth opportunities because of our differentiated QSR+ positioning, signature fire-grilled chicken, disciplined business model and strong unit economics," the company said in its SEC filing. "We plan to continue to expand our business and drive restaurant sales growth, improve margins and enhance our competitive positioning."
--Written by Laurie Kulikowski in New York.
Disclosure: TheStreet's editorial policy prohibits staff editors, reporters and analysts from holding positions in any individual stocks.