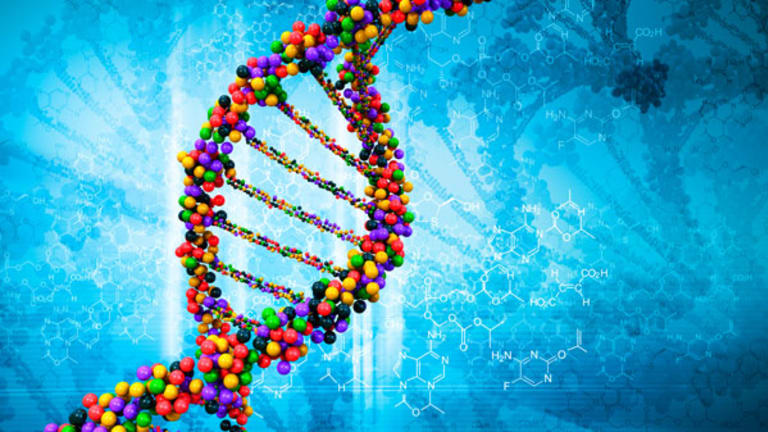 Publish date:
Ebola Stocks May Be Overpriced as Fundamentals Outweigh Fear
Ebola stocks have soared in recent weeks but a closer look at fundamentals may serve as a reality check for investors playing the story.
Ebola stocks have soared in recent weeks but a closer look at fundamentals may serve as a reality check for investors playing the story.
NEWARK, Del. (TheStreet) -- The end of quarantine for most people who came into contact with U.S. Ebola victim Thomas Eric Duncan is a confidence boost to public health officials who've been struggling to assure Americans that the deadly virus isn't easy to spread. The news might also be a reality check for investors trading Ebola stocks to all-time highs.
iBio (IBIO) - Get iBio, Inc. Report , for example, has jumped almost seven-fold since early September on speculation that the tktk-based company's plant-based antibody manufacturing technology would play a big part in ramping up production of ZMapp, the experimental Ebola drug used to treat several infected patients already before supplies ran out. The truth is more sobering: iBio is a tangential player in one of several ZMapp manufacturing plans under consideration. The odds of iBio generating meaningful revenue from ZMapp are small relative to the company's almost $200 million market value. 
The U.S. government has not yet awarded contracts to stockpile ZMapp or any other experimental drug for Ebola, making projections about potential revenue mere guesswork. But even an overly generous ZMapp stockpiling scenario doesn't provide iBio with much revenue. Before walk through the numbers, here's some important background on iBio's involvement in the manufacturing of an Ebola drug.
iBio possesses technology which genetically alters plants so they produce humanized antibodies used to make drugs like ZMapp. In 2013, iBio licensed technology to Caliber Biotherapeutics, which was already building its own plant-based antibody manufacturing facility. In exchange for the technology license, Caliber agreed to pay sales royalties to iBio if products arising from the partnership were developed successfully. The easiest way to understand this relationship to think of Caliber as the drug manufacturer and iBio as a subcontractor.
How much of ZMapp can the U.S. government be expected to stockpile? No one knows -- but let's assume $500 million. Analysts who cover companies developing potential Ebola treatments have been throwing around stockpiling orders in the range of $300 million to $500 million, so we'll go big.
ZMapp is owned by privately held Mapp Biopharmaceutical, so the U.S. government's $500 million check for a stockpiling order would go to them. 
Mapp already has a manufacturing partner for ZMapp -- Kentucky BioProcessing, a unit of the diversified industrial, Reynolds American (RAI) . Let's assume that Mapp and Kentucky BioProcessing part ways and instead, Caliber is hired as the ZMapp manufacturer. Let's further assume that the ZMapp cost of goods flowing to the manufacturing partner is 20%. This means that on the $500 million Ebola stockpiling contract, $100 million would flow from Mapp to Caliber to pay for the manufacturing of ZMapp. 
How much of this $100 million would Caliber owe iBio? The two companies have not disclosed the specific royalty rate, but let's assume 10%. That's a generous royalty rate, particularly given the Caliber-iBio contract was drawn up in February 2013, well before Ebola was on the map. iBio's plant-based antibody manufacturing technology has also yet to produce a successful product, so Caliber probably didn't need to pay much for the license. 
If Caliber offered a generous 10% royalty, iBio's share of the $500 million ZMapp stockpiling contract would be $10 million. Whatever reasonable multiple you want to put on a $10 million royalty payment, it falls short of the $225 million in market cap gains for iBio since the middle of August, when Ebola wasn't a thing.
Worse for iBio, my assumptions are unrealistically generous. We know the U.S. government has requested ZMapp production plans from three different joint ventures, one of which is Caliber. The government could decide to have ZMapp made by more than one supplier. MAPP is also working independently to ramp up ZMapp production with its current supplier. Other companies, including Amgen (AMGN) - Get Amgen Inc. Report , most recently, have offered to pitch in help. 
iBio shares fell 32% to $2.19 on Monday on news that the Duncan-related quarantines were ending on a positive note. Other Ebola stocks like Lakeland Industries (LAKE) - Get Lakeland Industries, Inc. Report and Tekmira Pharmaceuticals (TKMR)  also fell. When traders' fascination with Ebola speculation wanes, fundamentals become harder to ignore. Even under the best Ebola stockpiling scenario, iBio will find it difficult to maintain its current lofty market valuation.
Adam Feuerstein writes regularly for TheStreet. In keeping with company editorial policy, he doesn't own or short individual stocks, although he owns stock in TheStreet. He also doesn't invest in hedge funds or other private investment partnerships. Feuerstein appreciates your feedback;
to send him an email.