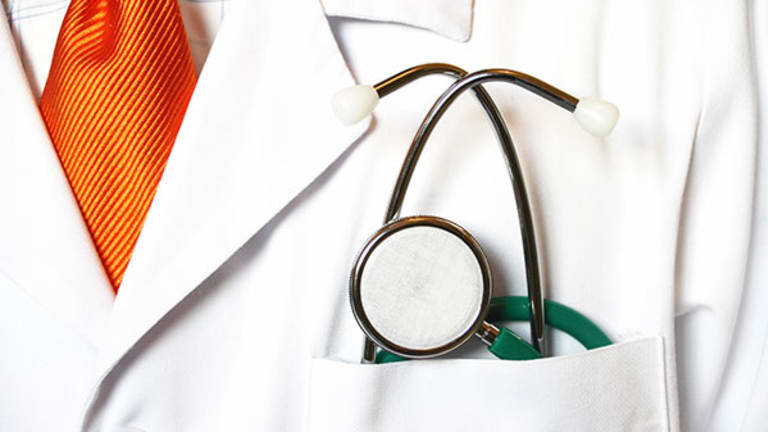 Updated from 12:30 p.m. with additional information
CLEVELAND (TheStreet) -- Two days after Ebola patient Thomas Eric Duncan died in Dallas, Amber Joy Vinson flew to Cleveland to visit family in Tallmadge, near Akron. Vinson is a nurse at Texas Health Presbyterian Hospital and had treated Duncan. She was going on a trip to Akron to get ready for her upcoming marriage.
As she'd find out officially on Oct. 14, Vinson was already infected with Ebola. Although she is in treatment at the Emory University Hospital in Atlanta now, people in Northeast Ohio are worried. Here's what we know about where Vinson went and what she did in Cleveland and Akron.
Ebola patients may have to go without experimental drugs in trial, watch the video below for details:
According to the Associated Press, Vinson was treating Duncan on Sept. 30, the day he tested positive for Ebola. She wore protective gear but she was dealing with Duncan's highly infectious bodily fluids, drawing blood, inserting a catheter and cleaning up Duncan's watery diarrhea. She was also with him on Oct. 7, the night before he died. Somehow she contracted the virus, although she was unaware.
According to the Centers for Disease Control, Vinson traveled from Dallas-Fort Worth to Cleveland Hopkins International Airport via Frontier Airlines flight 1142 on Oct. 10 (although the Ohio Department of Health gives a date of Oct. 8).
Vinson visited her family in Tallmadge, Ohio, just northeast of Akron. Tallmadge straddles the line between Summit and Portage counties.
The home on Stonegate Trail where Vinson stayed is now cordoned off by police. Vinson spent three days at the home.
Tallmadge Police Spokesman Ron Williams told the Cleveland Plain Dealer, "We want to stress that no one here is ill." He added, "This is being done as a precautionary measure."
At least one of Vinson's relatives is among the seven people currently under voluntary quarantine. Five of those quarantined live in Summit County, and two in Cuyahoga County (which includes Cleveland).
Three Kent State University employees had direct contact with Vinson, and at least one of them went to the campus after contact, Kent State spokesman Eric Mansfield said in a news conference Wednesday. The three employees will be on paid leave for 21 days, the maximum incubation period of the virus. The names of the employees on leave were not given at the conference. Vinson did not visit the campus herself, Mansfield said.
Calls to the CDC about Vinson's whereabouts were not immediately returned.
Cleveland Department of Public Health Director Toinette Parrilla told reporters that Vinson was in town to prepare for her wedding.
Calls to Coming Attractions, a bridal salon in Akron, were not returned. The salon has, however, admitted that Vinson came to the shop over the weekend. The store is now closed, and it's not clear when it will reopen. 
Calls to the Cleveland Department of Public Health were not immediately returned.
Tallmadge Mayor David Kline spoke to reporters Wednesday night, saying anyone who felt they had any contact with Vinson should call the hotline at (330) 926-3939.
Vinson is a graduate of Firestone High School in Akron. Akron, known as "Rubber City," was the home of many tire companies, including Firestone (now owned by Bridgestoneundefined ) and Goodyear (GT) - Get Goodyear Tire & Rubber Company Report . Goodyear's headquarters remains in Akron.
Vinson also attended Kent State University in nearby Kent, Ohio.
Cleveland Hopkins International Airport is sterilizing areas where Vinson may have gone, scrubbing down checkpoints and a section of the A concourse.
Some Cleveland-area schools have closed buildings as a precaution.
Solon City Schools canceled classes in two buildings because a staff member may have flown on the same plane -- but not the same flight -- as Vinson. Solon Middle School and Parkside Elementary School, where the buildings were closed, are in suburban Cleveland, less than 45 minutes away from Akron.
A teacher in the Cleveland Metropolitan School District is also staying at home from John F. Kennedy High School after possible contact with a person infected with Ebola. The school's Cranwood building, which houses two freshman academies, was cleaned. A CMSD press release said that the steps were precautionary, but that "overnight, the school was thoroughly cleaned with a bleach-based cleaning solution, according to guidelines provided by the Center for Disease Control." The release also said, "The teacher suspected of having contact with an affected person is at home and will remain at home until cleared by health officials to return to work."
On the Oct. 10 flight from Dallas to Cleveland, the passengers included 13 other nurses with the Cleveland Clinic and MetroHealth Medical Center plus five nurses with Aultman Hospital in nearby Canton. A joint statement from the Cleveland Clinic and MetroHealth hospitals said, "Both health systems have put all of our employees who were on that flight on paid leave while we will monitor their health daily."
Vinson returned to Dallas from Cleveland-Hopkins on Oct. 13 via Frontier Airlines flight 1143. All passengers from the flight have been asked to contact the CDC at (800) CDC-INFO (800-232-4636). The plane itself was being cleaned on "a remote runway," WOIO-Cleveland reporter Paul Orlousky Tweeted Wednesday. 
CBS News has reported that Vinson called the CDC several times before getting on the flight, as she was running a fever of 99.5 degrees. The CDC did not tell her not to fly.
Vinson was hospitalized the next day. She is now in Atlanta at the Emory University Hospital after taking a special CDC flight from Dallas-Love Field to Atlanta-Peachtree DeKalb Airport.
Nora Morrison is an editor, writer and researcher on music, popular culture and business. She is an associate editor at
TheStreet
, and is on Twitter at
.