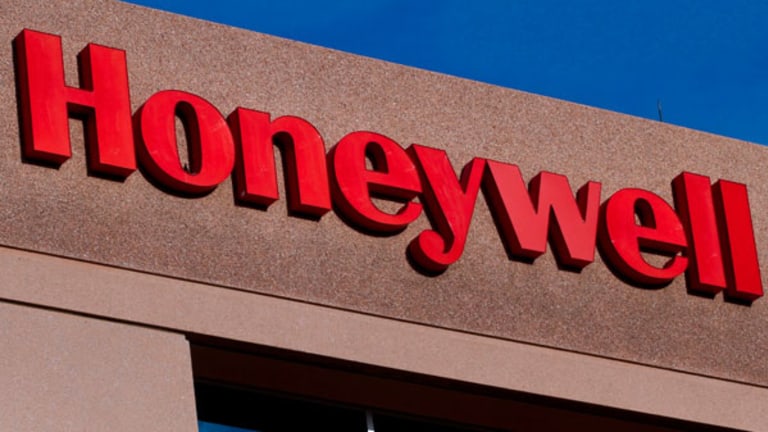 Eaton vs. Honeywell: Which Industrial Stock Should You Buy?
It's a David and Goliath matchup as these two industrial goods stocks go head to head. Which one is the better bet for investors right now?
Investors feeling bullish about the economy are loading up on shares of the country's top industrial goods manufacturers. The only problem is deciding which contender to pick. There are two stocks in the ring, both packed with potential, and it's a real David and Goliath matchup.
With over $20 billion in trailing 12-month (TTM) sales, power management enterprise Eaton (ETN) is absolutely a solid pick in this category. Eaton offers energy-efficient solutions that help customers effectively manage power.
In the diversified machinery space, Eaton goes toe-to-toe with Parker Hannifin, ITT, and Johnson Controls.
But Honeywell (HON) , which has realized $39.11 billion in TTM sales, also offers a great profit-making opportunity.
This Fortune 100 diversified technology and manufacturing leader operates across 70 countries. Its portfolio includes aerospace products and services, control technologies, and many others.
Besides several overlapping competitors with Eaton, Honeywell's principal rivals areUnited Technologies and BorgWarner.
But is bigger always better? Or can nimble Eaton win this match?
Let's get ready to rumble:
Round 1: Earnings
For fiscal 2016, Eaton's sales are anticipated to shrink by 4.3%, with earnings-per-share (EPS) growth staying flat.
However, in five years, Eaton is expected to clock 8.12% EPS annual growth. Although this is lower than the industry average of 11.68%, it's still a major improvement over the 1.51% run-rate Eaton saw in the previous half-decade.
Remember that the $11.8 billion acquisition of Cooper Industries in 2012 was hugely instrumental in making Eaton the power management firm it is today.
Honeywell is expected to do slightly better when it comes to earnings growth. Sales are projected to rise by 4.5% this year, to $40.30 billion, accompanied by 9.3% EPS growth. Over the next five years, Honeywell should grow EPS by 9.23% annually, as per analysts' estimates.
Winner: Honeywell
Round 2: Valuations
Based on current valuations, Eaton is trading at a price-to-earnings (P/E) ratio of 16.7 times versus the industry average of 22.7 times. The S&P 500 trades at 20 times. On a forward valuation basis, Eaton trades at 15.7 times versus S&P 500's 19.2 times.
Honeywell is at 18.5 times P/E (current valuations), compared to its five-year average of 19.8 times and the industry average of 22.7 times.
Honeywell's shares also trade at a discount to the S&P 500 based on forward earnings (P/E of 17.5 times).
Eaton is clearly cheaper than Honeywell. However, as financials will show us, there's a reason why Eaton is at a bargain number.
Winner: Eaton
Round 3: Financials
Honeywell's cash chest is healthy, at $6.95 billion, but it carries a debt of $14.01 billion. This makes it a net debt company of about $7 billion.
Its levered free cash flow (the amount of cash a company has left after paying all financial obligations) is $4.21 billion. Eaton has relatively little cash ($470 million) and a debt pile of $8.43 billion.
On a net debt basis, it's not as good as Honeywell, which is twice its size in all other aspects. Eaton carries a lower levered cash flow of $2.57 billion (TTM).
Honeywell is also better positioned when it comes to profit margins (12.6%) and return on assets (RoA) (9%) and equity (RoE) (26.27%).
Eaton fares poorly here, with a profit margin of 9.29%, RoA of 4.45% and RoE of 11.26%, underlining its inferior management efficiency.
Winner: Honeywell
Round 4: Dividends
Eaton has a sharper dividend yield at 3.37% backed by six years of rising dividends. Its payout ratio at 53.3% is better than Honeywell's 35.6% (the levels are never alarming unless they cross 75%).
Honeywell's yield of 2.03% is inferior, and its five years of dividend growth is also a tad lower than Eaton's.
Winner: Eaton
Our Verdict
The contenders are currently neck-and-neck, so let's break this tie.
Eaton is navigating through slowing industrial demands, execution challenges, and a dip in its hydraulics business.
For Honeywell, exposure to the oil and gas space, as well as aerospace issues, is a massive challenge. Add to that Brexit- and EU-related headaches.
However, if you like the comfort of slightly faster earnings growth and a sturdier balance sheet, we'd recommend you go with Honeywell.
---
85% Accurate Trader gives his Personal Guarantee: "Give Me 9 Minutes a Week and I Guarantee You $67,548 a Year." As you can see, Apple remains a great play for investors. But what if I told you I know a way you can see a $67,548 per year - or more - in profitable trades just by following this simple step-by-step process? The trader who is sharing this secret has been right more than 8 out of 10 times, turning $5,000 into more than $5 million for himself. Click here to see how easy it is to follow his lead and collect thousands of dollars in "Free Money" every month.
This article is commentary by an independent contributor. At the time of publication, the author held no positions in the stocks mentioned.