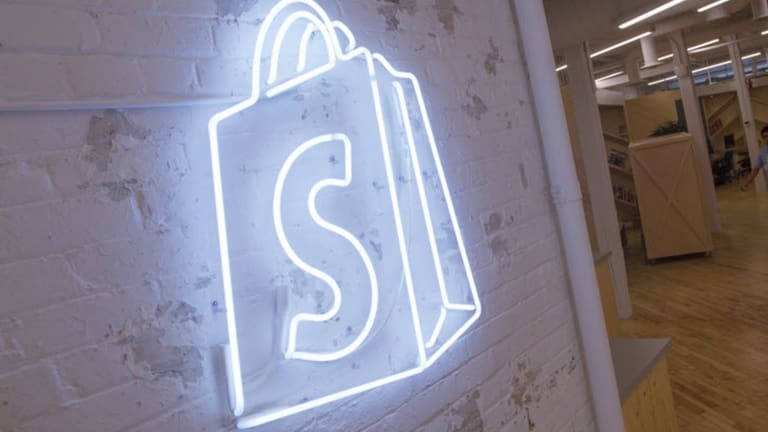 E-commerce Company Shopify Is Ready to Soar
More than 300,000 retail merchants use the Canadian company to market their goods and services; Shopify has little debt and excellent growth potential.
If you are bullish about e-commerce but are looking for a smaller stock with more growth potential than behemoth Amazon, at a whopping $840 per share, consider Shopify (SHOP) - Get Free Report .
This under-the-radar Canadian company develops computer software for online stores and retail point-of-sale systems. It has solid, long-term earnings potential, carries almost no debt, is approaching EBITDA breakeven, and is a "buy" OR "outperform" among 13 investment analysts.
Shopify is different from other internet businesses in many aspects. It's not a website that sells products; it's more of an enabler. More than 300,000 merchants use Shopify today as a platform to market their goods and services.
Investors with a medium- to long-term outlook stand to profit from this great business. It is a good alternative to niche payment systems like Square.
Shopify is the go-to platform for businesses and individuals attempting to build an e-commerce presence. It has grown revenues at a fast pace without incurring huge, negative free cash flows. This is unlike other e-commerce companies that spend a lot of money and require frequent outside capital infusions to survive.
Shopify can do for online merchants what Salesforce.com has done for customer relationship management via the cloud. But there's a big difference: Salesforce.com has had difficulty making a profit from the get-go. That's not been a problem for Shopify.
Think of Shopify as a software company that enables online e-commerce growth. According to CNN Money, earnings growth for the next five years could be around 25%. This is built on Shopify's advantages.
Over the years, Shopify's multichannel commerce platform (online stores, retail stores, wholesale, pop-up shops, social networks, and mobile apps) targeted at the small and mid-size business (SMB) market has become a preferred solution in a rapidly evolving retail environment. It leverages the rapidly growing SaaS (software as a service) and success-based business models. The company has admittedly decided to forgo short-term revenue opportunities. In fact, Shopify says it does not chase revenue as the primary driver of business.
Shopify has benefited from industry developments. In 2015, Amazon decided to close its own selling platform and joined up with Shopify to give merchant services to Amazon's third-party vendors.
When eBay shut down ProStores at the end of 2014, the sheer ease of integrating Shopify stores with Amazon, eBay, and other e-commerce sites helped Shopify reach a wider audience. This has also helped the company grow its subscription solutions revenue and increase its potential for recurring sales.
Additionally, by introducing Shopify Payments, the company's gross merchandise volume was $3.4 billion in the second quarter, a 106% increase over the same period last year. 
Revenues in the most recent quarter grew by 92.9% year over year, to $86.6 million, and earnings per share (EPS) came in at -$0.04, beating expectations.
Shopify may not grow revenues by more than 90% every quarter. However, what it will do is bring in solid recurring revenues, as more mature software companies like Adobe and SAP do.
Shopify's stock has already gained close to 70% year to date. But at about $44 per share, Shopify is not fully valued, especially if you look at its prospects and execution capabilities.
Shopify is a great stock for investors who don't want to own a direct e-commerce play but want to profit from the online theme. Shopify is truly one of the best ways to invest in e-commerce growth.
---
85% Accurate Trader gives his Personal Guarantee: "Give Me 9 Minutes a Week and I Guarantee You $67,548 a Year." What if I told you I know a way you can see a $67,548 per year - or more - in profitable trades just by following this simple step-by-step process? The trader who is sharing this secret has been right more than 8 out of 10 times, turning $5,000 into more than $5 million for himself. Click here to see how easy it is to follow his lead and collect thousands of dollars in "Free Money" every month.
The author is an independent contributor who at the time of publication owned none of the stocks mentioned.