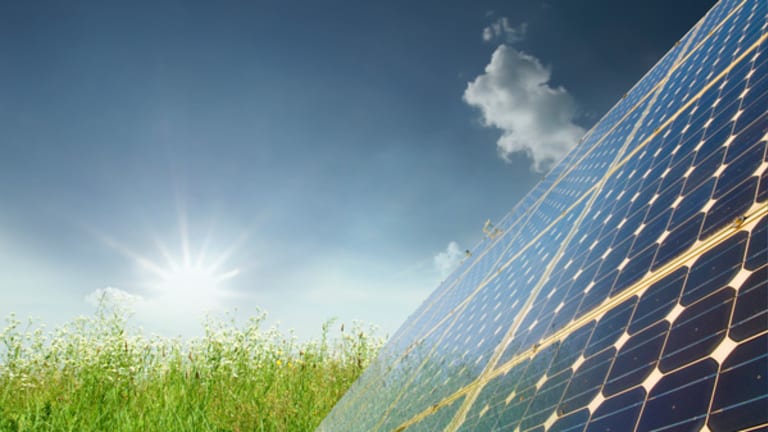 Publish date:
Dynegy: Pump Up the Volume
Dynegy saw heavy volume again Tuesday on more reports of a possible acquisition by NRG Energy
Dynegy saw heavy volume again Tuesday on more reports of a possible acquisition by NRG Energy
(
Updated with CreditSights quotes, fresh volume and share price moves
.)
HOUSTON (
) --
Dynegy
(DYN)
was once again trading higher on heavy volume following a report the company is a likely acquisition target for
NRG Energy
(NRG) - Get Report
.
The Financial Times
and
MergerMarket
reported Tuesday that two industry sources said NRG Energy is seeking a large-scale acquisition within the next 12 months and has Dynegy in its crosshairs.
Dynegy is high on NRG's target list and will likely make a move within the next year, but only when the time is right, one source told
MergerMarket
. NRG will likely make a move once Dynegy becomes a smaller, leaner company by shedding assets and paying down debt, the source added.
Lately, Dynegy shares were rising by 17 cents, or 7.1%, to $2.56. At 2:30 p.m. EDT Tuesday, more than 34.8 million shares changed hands, compared to the stock's three-month average daily volume of 14.3 million, according to Yahoo! Finance.
On Thursday,
Dynegy
saw 44.4 million shares change hands, more than three times normal volume, amid early market chatter of a NRG-for-Dynegy deal.
NRG appears to have turned into an acquirer in the space after
Exelon
(EXC) - Get Report
dropped its $14-billion hostile bid for the company. NRG's shareholders voted in July against adding Exelon nominees to its board of directors.
Dynegy has an 840.2 million-share float with a short interest float of 2.8% as of Sept. 10, according to Yahoo! Finance. NRG, on the other hand, has a float of 264 million and a short interest float of 6.2%. NRG has a market cap of $7.4 billion, compared to Dynegy's $2 billion market cap.
In addition to Dynegy, sources told
MergerMarket
that NRG would probably consider acquiring
Mirant
(MIR)
and
Calpine
(CPN)
.
Independent research group CreditSights said Tuesday that the odds are slim that NRG will make a bid for Dynegy, mainly due to valuation and dilution reasons. The only benefits CreditSights sees to a deal would be "complementary geographic areas that wouldn't be subject to forced plant sales" and Dynegy's cash bonds, "which don't have change in control triggers."
CreditSights argues that the biggest obstacle to the deal is valuation. Dynegy shares trade at about 12.5 times enterprise value/expected 2010 earnings before interest, tax, depreciation and amortization (EBITDA). On the other hand, NRG trades at only 5.6 times enterprise value/EBITDA.
"Dynegy's substantial EBITDA premium would make it almost impossible for NRG to make an accretive bid for Dynegy and we don't see NRG CEO David Crane diluting shareholders substantially," CreditSights said in an alert email. "Should NRG go after assets, we think private assets would be more logical but those also have significant refinancing risk."
Last week, investor posts on Internet message boards argued that any takeover of Dynegy would see shares fetch a price between $4 and $5. Dynegy shares have a 52-week high of $4.30.
-- Written by Robert Holmes in New York
.