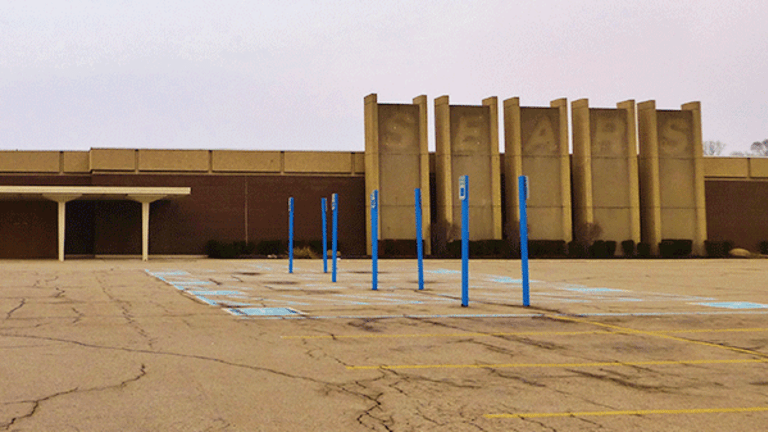 Dying Sears Canada Saw Its Stock Skyrocket 189% on Friday Out of Nowhere -- What We Know
The latest.
With a Nasdaq delisting scheduled for Monday, July 3, Sears Canada's (SRSC) stock jumped then slid on Friday, June 30. What's up?
"I wouldn't count an acquisition out," Joshua Rodriguez, founder and CEO of CNA Finance told TheStreet in an email on Friday, June 30. "I've seen this quite a bit in the market. A company struggles to find footing after years of upset, files for bankruptcy, then is scooped up by a big player in its industry for pennies on the dollar. We know that retail acquisitions are the hot ticket right now, think about the recent Amazon.com Inc. (AMZN) - Get Report , Whole Foods Market Inc. (WFM) deal. Sears Canada may be the next big acquisition news."
He added: "We have a company that filed bankruptcy back on June 22 under the Companies' Creditors Arrangement Act in Canada. However, the company also said it wasn't planning to liquidate all assets. Nonetheless, while Sears Canada is clinging to life, something big may be happening."
Sears Canada told TheStreet in an email Friday that the Canadian retailer won't appeal the Nasdaq delisting decision. According to a press realease from Sears Canada, the delisting will take place at the start of business on Monday.
The stock began Friday at 57 cents, jumped as high at $1.75 at 11:40 a.m. and then dipped to $1.65 at 11:58 a.m. By Friday's close, it was at 80 cents.
Sears Canada, which sought bankruptcy protection, was granted approval on Thursday, June 22, from the Ontario Superior Court of Justice for an initial period of 30 days. The initial order also authorizes a stay of proceedings for 30 days, subject to an extension, according to a press release on the company's website. Sears Canada Group will obtain debtor-in-possession financing in the aggregate principal amount of C$450 million with the company's existing ABL lenders, with Wells Fargo Capital Finance Corporation (WF) acting as administrative agent, and the loan lenders, with GACP Finance Co. acting as administrative agent.
A Sears [U.S.] representative said that Sears Canada is a separate publicly traded company that was spun off from Sears Holdings Corp. (SHLD) in 2012. Sears Holdings has approximately a 12% stake in Sears Canada.
Sears Canada plans to close 59 more stores, including 20 mainline, 15 Sears Home and 10 outlet locations and eliminate 2,900 positions through its bankruptcy process.
Visit  here for the latest business headlines.
Read More Trending Articles:
Nike Officially Arrives on Amazon, but Then Adidas' Stock Does Something Bizarre
Apple Has Dropped Another Beta Product That No One Is Talking About -- Here Are Its Top 5 Features
Editors' pick: Originally published June 30.