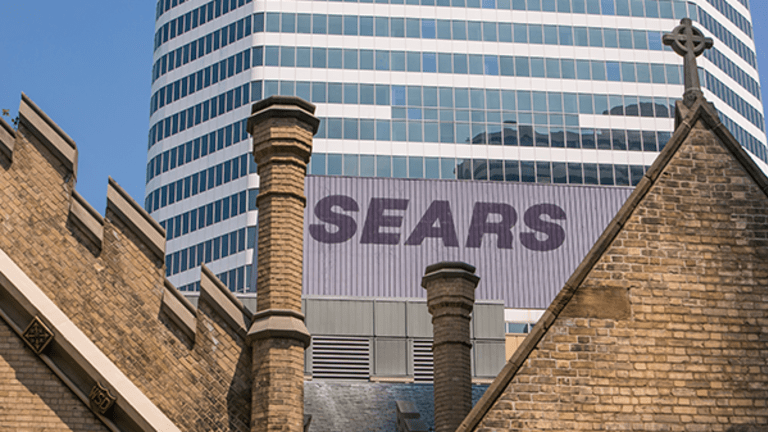 Dying Sears Canada Plans to Slash 2,900 Jobs, Close 59 Stores Amid Bankruptcy
Sears Canada is in bad shape.
Sears Canada (SRSC) is said to be planning to cut a massive amount of jobs as it faces insolvency in Ontario.
Sears Canada spokesman Joel Shaffer emailed a notice to TheStreet that stated that the company plans to eliminate 2,900 positions and close 59 stores, including 20 mainline, 15 Sears Home and 10 outlet locations through its bankruptcy process.
The retailer, operating as a separate entity from its U.S. founder, the dying Sears Holdings Corp. (SHLD) , announced that it was seeking creditors protection in the Ontario Court of Justice on Thursday, June 22.
Although separate, Sears Holdings owns 11.7% of the bankrupt Canadian company's shares and its CEO Eddie Lampert owns 45.3%.
Shares of Sears Canada were halted from trading on the NASDAQ on Thursday. On June 13, the company received notice from the NASDAQ that its shares were at risk of being delisted by Dec. 11 after failing to reach a price above the minimum $1 for 30 straight days.
On June 13, too, Sears Canada sent a letter to shareholders announcing its doubt that it could continue as a going concern.
"The company continues to face a very challenging environment with recurring operating losses and negative cash flows from operating activities," Sears Canada said on June 13. "The ability of the company to continue as a going concern is dependent on the company's ability to obtain additional sources of liquidity in order to implement its business plan."
Visit here for the latest business headlines.