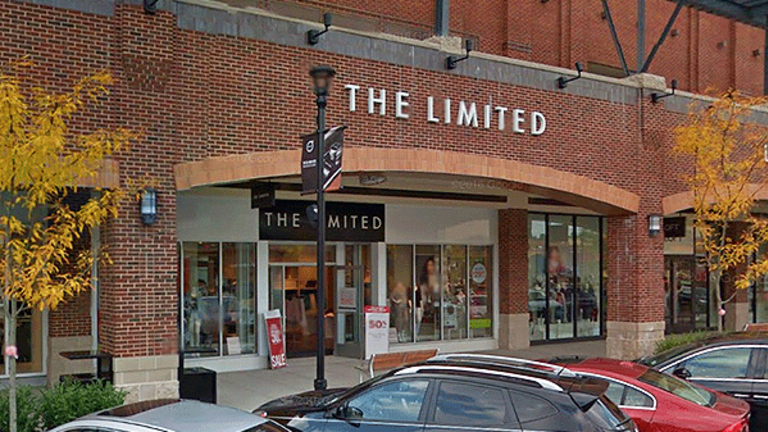 Dying Limited Stores May Not Be Only Struggling Retailer to Liquidate in 2017
Things look pretty bleak for two well-known mall-based retailers.
Struggling icons of your local mall may be about to close up shop next year. 
First up on the chopping block could be one-time hot 1980s brand Limited Stores. The chain is planning to file bankruptcy within weeks and most likely liquidate its business, according to a Bloombergreport. It has retained Kirkland & Ellis as its legal adviser and Guggenheim Securities and RAS Management Advisors to assist in a debt restructuring and any asset sales. 
Limited Stores, Kirkland & Ellis and RAS Management Advisors didn't return requests for comment. Guggenheim Securities declined comment.
The now roughly 240-store women's apparel chain was spun off from L Brands (LB) - Get Report in 2007 in a leveraged buyout by private equity firm Sun Capital Partners. The brand has struggled mightily over the past 10 years as female shoppers shifted apparel purchases back to department stores such as Macy's (M) - Get Report from specialty retailers. Fast-fashion houses such as H&M and Zara bursting onto the scene hawking cheap stylish clothes for women -- and even Target (TGT) - Get Report doing the same -- hasn't helped Limited Stores' attempt under Sun Capital Partners to regain a semblance of its former glory. 
Now what looks to be a lackluster holiday season for Limited Stores could finally seal its fate.
Claire's Stores could be in the same position as Limited Stores is reportedly in right now later in 2017.
The Apollo Global-backed (APO) - Get Report company has racked up three straight years of losses, and another $33 million so far this year, due to its business of selling cheap fashion accessories feeling heat from online competitors and the likes of H&M. As a result, Claire's total liquidity stood at a worrying $40 million at the end of the third quarter, according to Bloomberg data, which is bad news as $76 million in debt is coming due in 2017. Given Claire's precarious financial position, it may not be able to refinance that debt.
In September, Claire's did manage to relieve itself of $396 million in debt -- and $24 million in interest expense -- through a debt swap with Apollo. Even after the deal, Claire's still had $2.14 billion in debt outstanding.
S&P said the company's capital structure is still unsustainable in light of the debt swap and that residual indebtedness may result in a liquidity crunch very soon. Claire's is listed by Fitch Ratings as one of the retailers most at risk of a default within the next 12 to 24 months.
Claire's finally going under would be more of a headline grabber than Limited Stores, as it operates over 2,800 standalone retail locations and hundreds of concession shops inside retailers such as Toys R' Us.