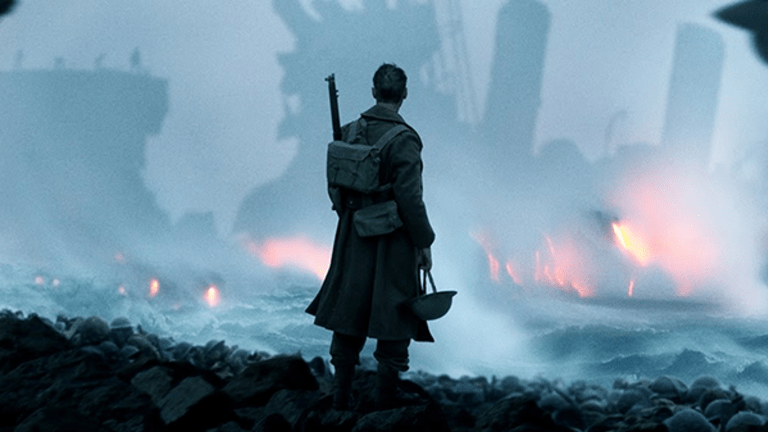 'Dunkirk' to Dominate Over 'Emoji Movie' This Weekend
Charlize Theron action flick 'Atomic Blonde' will also hope to capture audiences' attention.
Two new wide releases open in theaters on Friday, but it's unlikely that either will have what it takes to unseat last weekend's No. 1 film "Dunkirk."
The Christopher Nolan war film from Warner Bros. (TWX)  will look to make it two in a row on the strength of rapturous reviews and word-of-mouth. Sony's  (SNE) - Get Sony Corp. Report  "The Emoji Movie" could claim the No. 1 spot if families come out in force, but it seems unlikely given the film's much-derided premise. Also in play are "Atomic Blonde," from NBCUniversal's (CMCSA) - Get Comcast Corporation Class A Report  Focus Features, and last weekend's popular comedy "Girls Trip." Overall, the Top 12 films at the box office should gross roughly $135 million, down 23% from last weekend and 25% from the same frame last year.
The box office hasn't seen a film repeat at No. 1 since "Wonder Woman" (also from Warner Bros.) back in early June, but "Dunkirk" should break the trend. Christopher Nolan's films typically hold well after their debut weekend--his last film "Interstellar," for instance, dropped 40% in its second weekend, and 2010's "Inception" fell only 32% from its opening frame. Given the strong reception to "Dunkirk," with some even forecasting Oscar glory, it seems reasonable to expect that "Dunkirk" will also see a sub-50% decline in its second weekend. The WWII thriller will retain all of its large-format screens and doesn't have to face off against a major blockbuster, a nice change of pace in a summer that has been chock-full of franchise fare. Expect "Dunkirk" to drop roughly 44% this weekend to make between $27 and $29 million, good for a cumulative total just over $100 million.
"The Emoji Movie" will probably be the runner-up at the box office this weekend, though many moviegoers are likely to decide that they have enough emojis in their life as it is. Indeed, this project has inspired its fair share of ridicule from the online community since it was announced by Sony, which is likely part of the reason why the studio limited the production budget to $50 million (animated films often cost between $75 and $150 million). Unfortunately, the trailers for the film do not inspire much confidence, as the narrative follows an emoji who is upset that he has more than one facial expression. The animation looks as cheap as the budget would suggest, and with a critical embargo still in place a day before the film's release, it would seem as though Sony is sitting on a stinker. On a related subject, the poop emoji in the film is played by Sir Patrick Stewart. "The Emoji Movie" should make $22 and $23 million from 4,069 theaters this weekend.
The weekend's other newcomer should be close behind "The Emoji Movie," as Focus Features's "Atomic Blonde" has steadily been building buzz since it debuted at South by Southwest back in March. The R-rated thriller stars Charlize Theron, who showed some serious action chops back in 2015 playing Furiosa in "Mad Max: Fury Road." Theron has been sold as one of the main attractions in the film's marketing, as has one of the film's action setpieces, an extended fight sequence that takes place in a cramped stairwell. The scene got such a positive reception out of SXSW that an entire poster has been dedicated to promoting it.
The success of "Baby Driver" (approaching $100 million domestically) has proven that there is demand in the market for original thrillers, so audiences should respond to the marketing campaign. Given the positive reviews that "Atomic Blonde" has received (77% on Rotten Tomatoes) and its similarity to Scarlett Johansson's  "Lucy"--which grossed $43.9 million over this weekend in July 2014--a $20+ million opening would look to be in store. Expect "Atomic Blonde" to gross between $21 and $22 million from roughly 3,300 theaters in its debut frame.
The Top 5 will be rounded out by two warmly-received holdovers, "Girls Trip" and "Spider-Man: Homecoming." After opening to $31.2 million and an A+ CinemaScore last weekend, "Girls Trip" shouldn't lose too much of its audience in its second frame. The R-rated comedy should drop around 45% for a $17 million weekend and a cume approaching $65 million. "Spider-Man: Homecoming" will likely benefit from family audiences that don't care to spend 90 minutes with emojis and should also hold well this weekend. Expect the superhero film to drop around 42% for a $13 million weekend and nearly $280 million to date domestically.