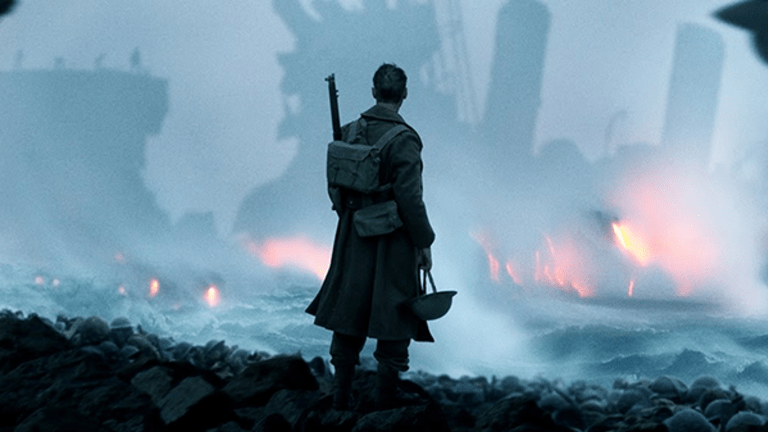 'Dunkirk' Soars in Box Office Debut
The WWII thriller is set to play well throughout the rest of the summer. Meanwhile, "Girls Trip" laughed its way to the No. 2 spot and big-budget "Valerian" got crushed.
Christopher Nolan's $150 million war film "Dunkirk" was moviegoers' first choice this weekend, marking a win for distributor Warner Bros.  (TWX)  and cementing Nolan's status as one of the most bankable names in the industry. The film's $50.5 million debut was ahead of studio expectations but right in line with TheStreet's projection, as were the openings of fellow newcomers "Girls Trip" and "Valerian and the City of a Thousand Planets." Altogether, the Top 12 films at the domestic box office scored $174.2 million, up 10% from last weekend. That figure was down 5% from the same frame last year, though, as 2017 has now fallen behind 2016 in box office receipts to date.
In a disappointing summer for box office receipts overall, "Dunkirk" was a bright spot, standing out amid a market full of franchise fare. In fact, "Dunkirk" is the first non-franchise movie to nab the No. 1 spot this summer, though original films like "Baby Driver" and "The Big Sick" have done well. War movies are often tough sells at the box office, but "Dunkirk" was sold more like a Nolan thriller than a straightforward WWII film. That proved to be a smart move on Warner Bros.'s part, as Nolan has developed a reputation for delivering movies that are both highbrow and mass-appeal. Despite sporting some big stars like Tom Hardy and Harry Styles (of One Direction fame), the advertising for "Dunkirk" mainly emphasized the fact that it was another big-budget spectacle from Nolan, and that turned out to be enough to drive a $50+ million debut. 
Unsurprisingly, the film catered mostly to older men, with the over-25 male crowd making up nearly half of the audience for "Dunkirk" this weekend. The film is expected to play more evenly across demographics in the coming weeks as word-of-mouth spreads on this early Oscar contender. The film earned an A- CinemaScore and is among the best-reviewed films of the year so far. And like many of Nolan's films, "Dunkirk" has already developed a reputation for being a must-see on the big screen, as the ambitious spectacle was shot largely on IMAX (IMAX) - Get IMAX Corporation Report  70mm cameras. The film's 402 IMAX screens accounted for $11.7 million (or 23%) of the film's opening weekend performance, an impressive result for the premium format. In comparison to Nolan's other films, the IMAX market share was larger than both "Inception" (11%) and "The Dark Knight Rises" (15%), though slightly behind "Interstellar" (28%).
In addition to playing well on large-format screens, Nolan's films have a reputation for displaying strong multiples after their opening weekends. "Interstellar" churned a 4X multiple after its opening weekend, and "Inception" neared a 5X multiple after opening on the same weekend as "Dunkirk" in 2010. The rest of the summer schedule looks fairly weak, so Nolan's latest will almost certainly continue the pattern. With only light competition next weekend, "Dunkirk" is likely to cling to the No. 1 spot. And August is such a dead zone this summer that it wouldn't be surprising to see the WWII film still topping the box office on the weekends leading up to Labor Day. "Dunkirk" ultimately looks primed to shoot past the $200 million mark at the domestic box office, the first war movie to do so since "Saving Private Ryan" nearly two decades ago.
"Dunkirk" also stormed much of the international box office this weekend with a $55.4 million weekend from 46 territories. Given the film's British cast and director, it was unsurprising that the U.K. drove the overseas business for "Dunkirk" with a $12.4 million opening (Nolan's third-biggest in the territory behind his final two Batman movies). South Korea also performed well with a $10.3 million weekend, as Nolan tends to be popular in Asian markets. Unfortunately, a blackout period for Hollywood fare in China means that "Dunkirk" won't open in the Middle Kingdom until September, which may depress box office grosses slightly.
However, Warner Bros. executives have nothing to complain about this weekend as "Dunkirk" seems primed to dominate in the weeks to come, even without the help of China. Though the studio had an early-summer misfire with its $175 million gamble "King Arthur: Legend of the Sword" ($140.8 million worldwide), it has regained its footing since with the knockout success of "Wonder Woman" ($779.4 million and counting) and now "Dunkirk." With a strong fall slate, including a Wonder Woman-led "Justice League" in November, Warner Bros. will have several more No. 1 films before the year is out.
Speaking of "Wonder Woman," the film achieved a major milestone this weekend in passing "Guardians of the Galaxy, vol. 2" at the domestic box office to become the highest-grossing film of the summer in the U.S. The DC film added another $4.6 million this weekend to bring its domestic cume to $389 million, overtaking the Marvel sequel ($387.2 million) to assume the mantle of the biggest summer movie. "Wonder Woman" is now the second-biggest movie of the year behind only Disney's  (DIS) - Get Walt Disney Company Report  "Beauty and the Beast," which currently sits at $504 million domestically. Notably, both films feature female protagonists and were fueled largely by female audiences at the box office, which bodes well for gender representation in film going forward.
Female audiences also carried the day for the No. 2 movie at the box office this weekend, Universal's  (CMCSA) - Get Comcast Corporation Class A Report  "Girls Trip." The R-rated comedy pulled in $30.4 million from an audience that was overwhelmingly female (79%) and also largely African-American (51%). Universal has always been one of the best studios in creating content for diverse audiences, with "Get Out" ($175.5 million domestic), "The Fate of the Furious" ($225.8 million domestic), and now "Girls Trip" being recent examples that prove the wisdom of this strategy. African-American audiences have been under-served this summer with only "Baywatch" and "All Eyez on Me" featuring black protagonists.
That led to pent-up demand for "Girls Trip," as did the fact that there has yet to be a breakthrough comedy this summer. In fact, the opening for "Girls Trip" represents the first $30+ million debut for an R-rated comedy since last summer's "Sausage Party." June's raunchy laffers "Rough Night" ($21.8 million) and "The House" ($24 million) both missed the mark, and "Girls Trip" will have exceeded their combined total by this time next week.
Indeed, the Universal feature will continue to be excellent counter-programming to "Dunkirk" in the weeks to come, especially given the dearth of competition and strong word-of-mouth ("Girls Trip" scored a coveted A+ CinemaScore). The $19 million comedy will surpass $100 million domestic before too long, and may even hold well enough to become producer Will Packer's highest-grossing feature ahead of "Ride Along," which grossed $134.9 million.
Third place belonged to "Spider-Man: Homecoming" this weekend, as the Sony (SNE) - Get Sony Corp. Report /Marvel feature added another $22 million to its box office tally. That represented a 50% decline from last weekend as "Spider-Man" continues to fall off more quickly than other superhero films like "Guardians of the Galaxy, vol. 2" and "Wonder Woman." No matter: the film is still a success, with $251.7 million in the bank domestically and $571.7 million worldwide. "Homecoming" will surpass the $262 million domestic total of 2012's "The Amazing Spider-Man" next weekend, and will pass the $300 million domestic mark sometime in August.
In fourth place was last weekend's No. 1 film "War for the Planet of the Apes," which suffered a precipitous 64% decline. That led to a $20.4 million weekend as the 20th Century Fox (FOXA) - Get Fox Corporation Class A Report  sequel continues to lag behind its predecessor (which scored $36.3 million in its second weekend). "War for the Planet of the Apes" has made $97.8 million through ten days of release and should stabilize in the coming weeks as the competition becomes less formidable.
Finally, Luc Besson's expensive sci-fi movie "Valerian and the City of a Thousand Planets" rounded out the Top 5 this weekend with an underwhelming $17 million debut. The film, which has been reported to cost anywhere between $150 million and $210 million, was a risky venture considering the big budget and the obscurity of the French graphic novel upon which it is based. Besson mitigated the risk somewhat by producing the film through his own French film production company, EuropaCorp, and raising much of the movie's budget through foreign presales. The savvy director also covered some of the cost through equity spending and tax subsidies, leaving EuropaCorp's exposure on the film below $100 million.
Still, EuropaCorp paid for the bulk of the $60 million domestic marketing campaign for the film, and "Valerian" will likely fall short of that number. The sci-fi movie was hurt by competition from "Dunkirk" and probably needed to be a bigger crowdpleaser to break out. The film received a disappointing B CinemaScore, and will struggle to hold its own against fellow sci-fi actioner "The Dark Tower" in two weeks. The film will have to hope that international audiences are kinder if it hopes to avoid being one of the year's biggest misfires. "Valerian" opens in France next week and is still awaiting a release date in China.
Next weekend sees the release of two new offerings, Sony's "The Emoji Movie" and "Atomic Blonde" from Focus Features. The second weekend of "Dunkirk," however, may prove difficult to beat. Check back on Thursday for weekend predictions.