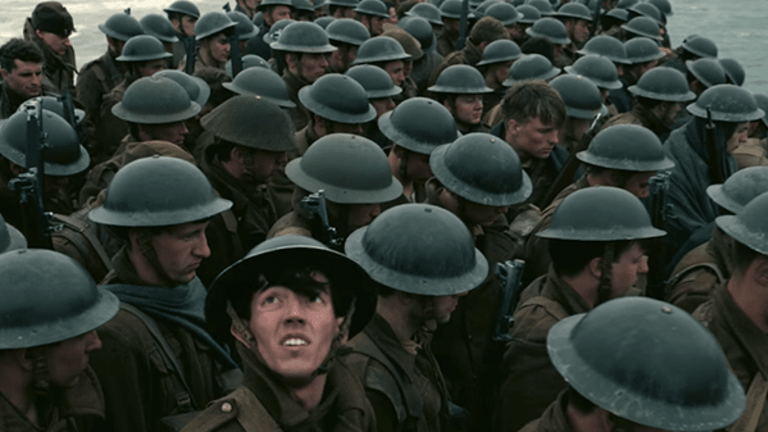 'Dunkirk' Prevails Over 'Emoji Movie' in Box Office Battle
'Atomic Blonde' also put up respectable numbers, though it couldn't catch up to "Girls Trip."
Warner Bros.'s  (TWX)  "Dunkirk" landed in the No. 1 spot again this weekend, though it was a closer race than some analysts expected. After Sony's  (SNE) - Get Sony Corp. Report  "The Emoji Movie" beat "Dunkirk" by over $2 million on Friday, many predicted it would upset "Dunkirk" for the weekend win. However, a Saturday surge from Christopher Nolan's WWII thriller sent Sony's critically lambasted animated film down to second place.
"Girls Trip" continued to reel in female audiences in the No. 3 slot, and "Atomic Blonde," the Charlize Theron action flick, opened slightly below expectations in fourth. Overall, the Top 12 films at the box office grossed $142.7 million, down 19% from last weekend and 21% from the same frame last year.
"Dunkirk" achieved a solid sophomore session with $28.1 million, right in line with TheStreet's prediction. Though the 44% decline in grosses for "Dunkirk" was steeper than the second-weekend drops of Nolan's "Inception" (-32%) and "Interstellar" (-40%), it was still a good hold in a summer that has seen nearly every No. 1 film lose over half its audience in its second weekend (the only other exception is "Wonder Woman," also a Warner Bros. picture). "Dunkirk" was undoubtedly helped by its status as an original film, as well as one that has been glowingly reviewed--the film sits at 93% on Rotten Tomatoes and received an A- CinemaScore from audiences. "Dunkirk" has grossed $102.8 million domestically through ten days, and could very well double that number by Labor Day given a weak upcoming schedule for new releases.
"The Emoji Movie" put up a fight but ultimately had to put on a  frowny face in the No. 2 slot. The animated feature from Sony made $25.7 million this weekend, or about half of its $50 million budget. As far as animated launches in July go, it stacked up well against "Ice Age: Collision Course" ($21.4 million) and "Turbo" ($21.3 million). However, "The Emoji Movie" was way behind similar films like "The Angry Birds Movie" ($38.2 million) and "The Lego Movie" ($69.1 million), and "The Emoji Movie" is unlikely to catch up given its 8% Rotten Tomatoes rating and competition from "The Nut Job 2" in a couple weeks. Ultimately, Sony's animated film will probably top out around $75 to $80 million domestically, which will probably be enough to make a small profit once foreign grosses are factored in.
"Girls Trip" kept the good times rolling in its second weekend with $20.1 million, a light 36% from last weekend. The R-rated comedy has picked up $65.5 million so far and is currently trending 29% of last summer's sleeper hit "Bad Moms," which ultimately finished its domestic run with $113.3 million. "Girls Trip" should fly past that total in a couple of weeks and could even be looking at a $150 million stateside gross, which would be a huge win for Universal's ( (CMCSA) - Get Comcast Corporation Class A Report ) $19 million feature.
Universal also nabbed the No. 4 spot this weekend, as "Atomic Blonde," from its Focus Features division, grossed a solid $18.3 million. Most analyst had the $30 million film pegged at a $20+ million opening, but coming in slightly under that forecast is no disaster. "Atomic Blonde" has received positive reviews and could hold up well like David Leitch's previous film, "John Wick." That film only opened to $14.4 million and ultimately grossed $43 million domestically, paving the way for a sequel that was released this year and more than doubled that number with a $92 million domestic total. All of this is to say that "Atomic Blonde" is no home run for Universal, but is certainly a solid single.
Rounding out the Top 5 this weekend was Sony's "Spider-Man: Homecoming," which fell 39% from last weekend for $13.5 million. That represented the superhero film's best weekend-to-weekend hold yet, and it should continue to stabilize throughout August as well. "Spider-Man: Homecoming" has grossed $278.4 million domestically so far and should swing past the $300 million mark before too long.
Next weekend brings another Sony release, "The Dark Tower," into theaters. The film, which stars Idris Elba and Matthew McConaughey and which is based on a Stephen King book series, is expected to take the No. 1 spot ahead of "Dunkirk." Upstart distributors Annapurna and Avilon will also release "Detroit" and "Kidnap," respectively. Check back on Thursday for weekend predictions.