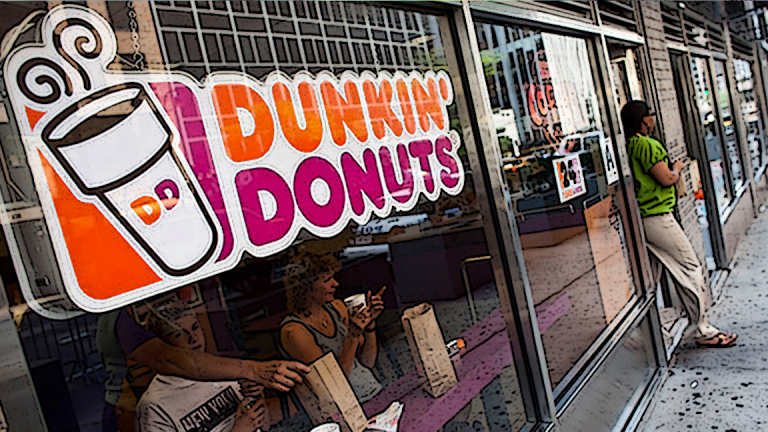 Dunkin' Debuts Store of the Future and It Doesn't Have 'Donuts' on Storefront
Dunkin' Donuts continues to press forward with a new concept that drops the word 'Donuts' from its name.
It's time to make the Dunkin'. 
Dunkin' Donuts (DNKN) - Get Report will open its second location today that just uses the word "Dunkin" on the storefront. The first such spot was opened last summer in Pasadena, CA. This new 2,200 square foot site will open for business on 588 Washington Street in Quincy, MA., the city where the first Dunkin' Donuts location was opened 68 years ago. 
"The launch of our next generation concept store marks one of the most important moments in Dunkin' Donuts' growth as an on-the-go, beverage-led brand," said Dave Hoffmann, President of Dunkin' Donuts U.S. and Canada.
While some hardcore fans of Dunkin' Donuts may have a tough time swallowing the removal of "Donuts" from the storefront, overall the location offers a glimpse into a brand looking for new ways to play in a mobile-ordering world. And increasingly, a world counting calories and living on caffeinated beverages seemingly around the clock. 
Here are several key attributes of the new store for investors to chew on. 
Take That, McDonald's
McDonald's (MCD) - Get Report may want to check this location out for inspiration. 
Dunkin' built a new mobile ordering drive-thru. If you belong to the chain's loyalty program, you can order ahead and drive right through into a special lane to pick up the order. 
Extra Cold Coffee
Playing off up and coming local, super  premium coffee spots, Dunkin' installed eight tap systems that pour out iced coffee, iced teas, cold brew coffee and nitro infused cold brew coffee. Calling all hipsters that spend $10 for an iced coffee from a tap...Dunkin' can get it to you way cheaper.
Kiosks
The restaurant industry continues to test kiosks in their restaurants amid rising wages and as a way to speed up lines. This Dunkin' will have kiosks inside this year, according to a press release. 
Subscribe to TheStreet on Youtube:
More of What's Trending on TheStreet: