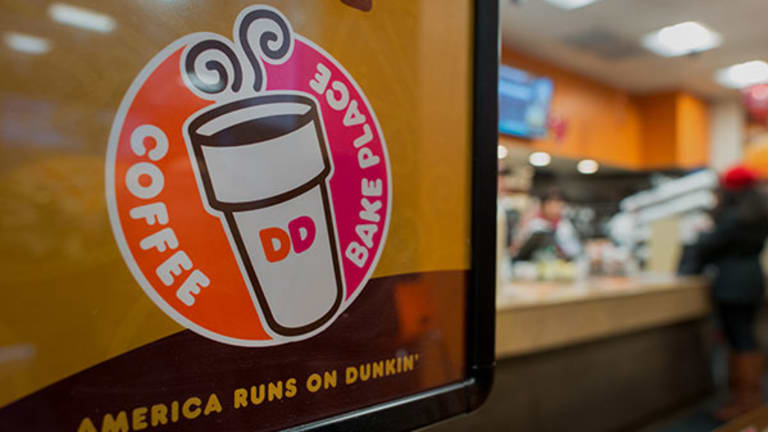 Dunkin' Donuts K-Cups Move Could Brew Up Big Profits Later This Year
The donut chain is finally bringing K-Cups to grocery stores. CEO Nigel Travis discusses the impact of the decision.
NEW YORK ( TheStreet) -- In a deal that took 15 months to consummate, Dunkin Brands (DNKN) on Thursday announced it's making its Dunkin K-Cup packs available at retail locations outside of its franchisees for the first time. 

The deal will expand the food chain's existing relationships with Keurig Green Mountain (GMCR) and J.M. Smucker (SJM) to make Dunkin' K-Cup packs available at grocery stores and retail outlets throughout the U.S. and Canada and online.
The move could brew up some big profits for Dunkin' Donuts this year and eat into the sales of K-cups by rival Starbucks (SBUX) at retail outlets. 
On Thursday afternoon, shares of Dunkin' were trading up 1.5% to $47.18. 
Dunkin' will share the net profits from the sale of K-Cups and packaged coffee from outside locations equally with qualified U.S. franchisees.
Until now, Dunkin's K-Cups were available for purchase only at franchisee-operated locations. The company's thinking since launching K-Cups in 2011 was to give franchisees an exclusive item that would drive traffic and increase the chance of someone buying an iced coffee, breakfast wrap or lunch sandwich.
"(Selling in other retail stores) will stop our customers from trying other brands of coffee," Dunkin' Donuts CEO Nigel Travis told TheStreet. "We expect it to start rolling out progressively to stores from midyear."
Dunkin' estimates that K-Cups could eventually be found in 67,000 U.S. retail outlets, as well on retailers' web stores in addition to being online at the Web sites of Dunkin Donuts, Keurig and Smuckers.


By tapping into grocery-store aisles beyond package coffee, Dunkin' Donuts is addressing a sore spot for its results -- weak sales of K-Cups. In the fourth quarter, Dunkin' Donuts' U.S. same-restaurant sales increased 1.4%, but would have improved by 2% if not for sluggish K-Cup sales.



Starbucks' experience selling K-Cups both in grocery stores and at its own retail locations offers clues on the potential financial benefit for Dunkin' Donuts. One possibility is that Dunkin Brands will top its full-year earnings estimate of $1.83 to $1.87 a share.
About 100 million Starbucks K-Cups were shipped in December. It was the Seattle-based coffee chain's biggest single shipping month for K-Cups and was 20% higher than a year earlier. Starbucks estimates that it held 18% market share in K-Cups as of December.
A Starbucks spokeswoman said the company will introduce sweetened iced coffee K-Cup packs and Tazo-sweetened iced tea K-Cup packs this spring. The company expects them to be available in March.
The market-share position for Starbucks, however, could soon be altered as it confronts Dunkin Donuts in the grocery aisles. The battle promises to heat up this year as Keurig introduces its new cold beverage system, which will deliver freshly prepared cold carbonated, sparkling and still beverages. The system could lead to further single-serve innovation from Starbucks and Dunkin' Donuts. 
Starbucks has already begun to add Fizzio-branded carbonated drinks to its menu.
Although Dunkin' Donuts is getting in the grocery business in a bigger way, with K-Cups joining packaged coffee, don't expect frozen breakfast sandwiches in the cooler aisle anytime soon.
"We view that as extremely unlikely, the reason being is we have a brand to protect, our franchisees do a great job of preparing sandwiches in their stores fresh and made to order," Travis said.

Dunkin's mobile app, which has seen 11 million downloads and 2.5 million people sign up for the "DD Perks" rewards program, will play a key role with K-Cups. "We think Perks does play a role here. One of the things that was attractive to franchisees was the ability to bounce people back to the stores from the retail outlets," Travis said.
Dunkin Donuts has just started work on this front given that the K-Cup grocery deal was only recently completed.
What could conceivably happen is that a person opens the Dunkin' Donuts mobile app on a smartphone in a grocery store, scans a K-Cup proof of purchase bar code and then unlocks an offer for a free drink or sandwich at a nearby franchisee location.
This article is commentary by an independent contributor. At the time of publication, the author held no positions in the stocks mentioned.