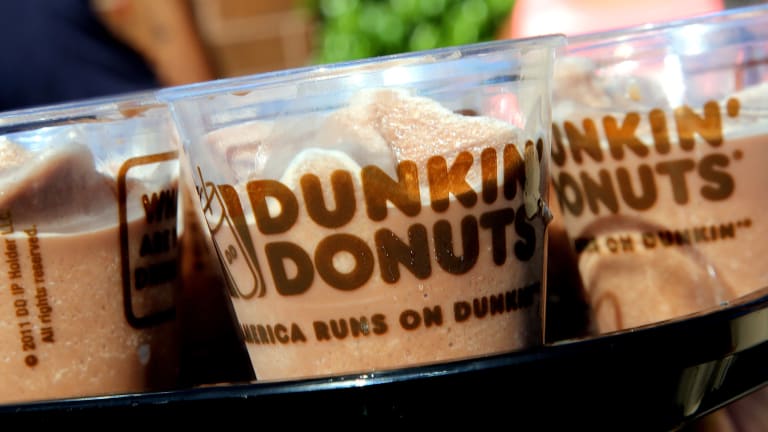 Dunkin' Brands' New 3-Year Blueprint Aims to Grow Sales, Overhaul Menu
Growing its U.S. footprint, increasing revenue and expanding operating income by 2020? All in a day's work for Dunkin' Brands.
Looks like Dunkin' Brands Group Inc. (DNKN) - Get Free Report won't be skipping its morning cup of coffee for the next three years.
One day after reporting a narrow fourth-quarter earnings beat, the Canton, Massachusetts-based company announced Thursday, Feb. 8, an ambitious three-year plan aimed at sustainable growth. Dunkin's new strategy aims to grow revenue by low- to mid-single digit percentages and to grow operating income by mid- to high-single digit percentages over the next three years.
"The company intends to achieve these targets by positioning its core Dunkin' Donuts U.S. brand to compete even more effectively in the coffee and beverage segment, driving profitable sales growth and further expanding westward across the country," Dunkin' said.
Part of that expansion includes growing its footprint at a 3% rate by adding 1,000 net new locations by the end of 2020, 90% of which will be outside the northeast U.S. In the new strategy, Dunkin' reaffirmed earlier plans to eventually have more than 18,000 Dunkin' Donuts restaurants in the U.S.
The Blueprint for Growth outline Thursday aims to position Dunkin' as the "most-loved beverage-led, on-the-go brand," said CEO Nigel Travis in a statement.
The plan focuses on five key areas that the company sees driving long-term profitability: "menu innovation; unparalleled convenience driven by digital leadership; broad accessibility to our brand through restaurant growth and new channels for our branded packaged goods; restaurant excellence; and brand evolution," Dunkin' said.
Dunkin' will continue to focus on growing both morning and afternoon sales opportunities with an updated menu featuring new drinks, new breakfast sandwiches, new donuts and new deals. Dunkin' also will test delivery and catering services in key markets and ensure about 75% of its locations have drive-thru lanes.
Dunkin's strategy extends to its Baskin-Robbins stores as well, where the company plans to unveil a new store image in late-2018. Baskin-Robbins will also launch an improved app and online ordering system this year.
By 2020, Dunkin' expects comparable-store sales growth accelerating to upward of 3% from an expected 1% in 2018. The company wants to add approximately 1,000 NextGen restaurants per year over the next three, expanding on the success of the first NextGen store launched this year in Quincy, Mass.
"The continued execution of our Blueprint combined with our key value drivers - a tremendous asset-light model with low capital intensity; a history of returning capital to shareholders; and an ability to significantly expand our Dunkin' Donuts U.S. footprint - should fuel strong growth and shareholder value creation for Dunkin' Brands for many years to come," Travis said.
Dunkin' stock fell 1.4% with the broader market by the closing bell Wednesday to $58.86. Over the last year, shares have gained 8.7%.