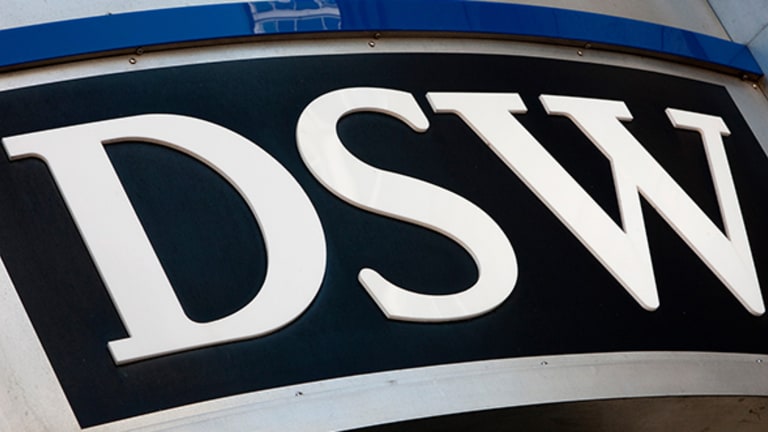 DSW Stock Gains, 'Buy' Rating at Mizuho
Mizuho is confident that the footwear retailer can expand its top line and earnings despite traffic headwinds.
Shares of DSW (DSW) rose 2.13% to $24.90 in pre-market trading on Thursday after Mizuho Securities initiated coverage of the stock with a "buy" rating and $29 price target.
The rating "reflects our confidence in its ability to expand topline and earnings despite traffic headwinds," the firm wrote in a note late yesterday.
In addition to easy comparisons and several product drivers, there are meaningful opportunities within kids, a potential gross margin inflection point, cost savings and improving omni-channel capabilities, according to Mizuho.
Expectations remain low with easy comparisons into 2017 for the Columbus, OH-based footwear retailer, and colder weather may help drive seasonal demand. Athletics remains strong, and fashion and brand shifts may continue to benefit the category, while private label partnership could help supplement the assortment and drive incremental sales in a previously struggling category, the firm said.
Additionally, Wall Street has given DSW little to no credit for the rollout of the kids business this year, which could help sales, Mizuho noted.
"We believe DSW now boasts one of the more advanced omni-channel offerings in our coverage universe with seamless inventory and ability for customers to buy, ship, and return via their preferred channel. With 70% of the U.S. population with 20 miles of a DSW store, it's a key competitive advantage," the firm added.
Inventory was down 3.5% per square foot at the end of the third quarter at core DSW stores. The firm believes management prudently reduced inventory risk entering the fourth quarter.
"The company continues to look for further opportunities to reduce costs particularly within sourcing, the eCommerce channel by improving shipping costs, buying and allocation, and further reducing inventory," Mizuho said.
The firm also initiated coverage of Finish Line (FINL) with a "buy" rating, and Boot Barn (BOOT) and Shoe Carnival (SCVL) with "neutral" ratings.
"We are launching coverage on footwear retailers and, despite a few sector headwinds, we are positive on the ~$76bn U.S. footwear market," the firm said.
"The market is expected to grow at a 4% CAGR to $93bn through 2020, which we believe will be influenced by: strength in athletics/fitness supported by emerging 'casual/retro' trends; further expansion of eCommerce with retailers adapting via omni-channel; and cyclical fashion trends supported by pricing integrity of strong brands," Mizuho added.