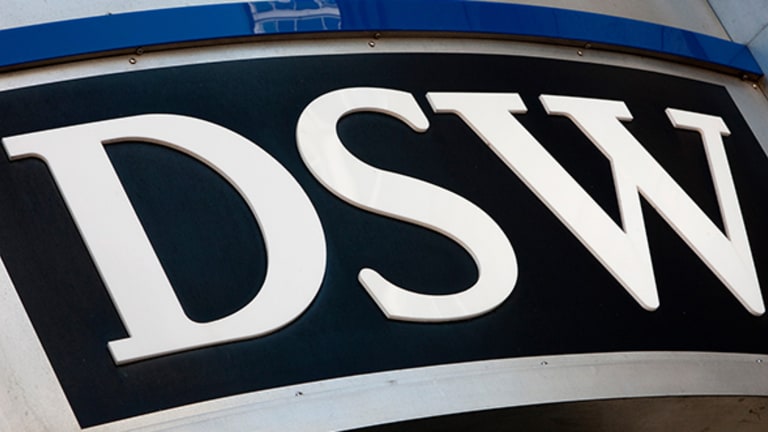 DSW Gets Thrown Away by Wall Street Like a Dirty Shoe -- Should You Buy?
Shares of this footwear retailer slipped 10.9% after reporting quarterly earnings. Investors weren't impressed even though the company beat Wall Street expectations. Is the stock a value play or toxic?
Wall Street threw shares of speciality branded footwear retailer DSW (DSW) - Get Free Report out on Tuesday after the company reported second quarter results that beat expectations on both the top and bottom line. Shares of the shoe company fell 10.91%, bringing the stocks year-to-date return to a negative 2.2%.
Like many retailers this year, DSW is struggling to post growing same-store-sales figures, but the real reason Wall Street hammered the stock on Tuesday may be another reason all together. Could DSW be a hidden value in an overbought market, or is the punishment warranted?
DSW reported revenue of $658.9 million for the second quarter, above the $658.7 million Wall Street was expecting and well above the $627.21 million the company reported for the same quarter last year. On the earnings front, Wall Street was expecting $0.30 earnings-per-share (EPS) and DSW posted $0.35 per share earnings. However, that figure was well off the $0.42 per share reported for the second quarter of 2015.
Same-store-sales also came in lower than last year, down 1.2% year-over-year and well off the 1.8% increase DSW reported in 2015. The company also saw gross profit fall form 30.5% a year ago to 28.4% for the quarter. Management said this decline was due to a lower initial markup, higher markdowns and the addition of Ebuys.
The lower markup and higher mark downs is a clear sign that the competition is getting tougher for the company. Investors need to remember that while DSW does sell some accessories, its main bread and butter business is built on selling shoes and that is a little scary. If you think about it, everyone sells shoes. Large department stores like Macy's, Nordstrom, J.C Penney's, even Walmart and Target, down to the smaller fashion retailers like American Eagle Outfitters, Abercrombie & Fitch, The Gap, and Urban Outfitters, and not to mention something like Foot Locker or privately owned Payless Shoes. The list of who sells shoes can go on and on, and one thing most of the other companies that sell shoes have going for themselves that DSW doesn't, they can cut margins on shoes and make it up with other clothing merchandise.
But despite the weak same-store-sales number and falling margins, management still feels confident it will post earnings per share within the $1.32 to $1.42 range for fiscal 2016. The reason DSW will still be able to hit EPS estimates is largely due to new store openings and its Ebuys unit, which it acquired last year. DSW plans to open 21 new stores this fall alone, adding to its current 482 locations nationwide.
By adding new stores, the company can keep revenue from falling, despite same-store-sales declining. But that is not the only little financial trick DSW is playing. As we'll further explain, DSW is a dangerous stock and there are better places to invest your money.
When the company reported second quarter earnings in 2015 it had 89.6 million shares outstanding. In its earnings report for the second quarter 2016, the company reported only 82.6 million shares outstanding. The 7 million share reduction helped DSW post better earnings per share figure than it would have if it still had 89.6 million shares outstanding. DSW spent $180 million in 2015 alone to buy-back its own stock, which is a lot considering its net income was only $25 million in the second quarter.
Management also told investors that it believes it can save $25 million in expenses over the next few quarters, $7 million of which will be saved in 2016. While that figure sounds great on paper, investors should be more concerned about the money being thrown away on share-repurchases. A falling stock price while a company is spending millions buying back its own stock is the definition of value-destruction.
---
A crisis is coming. When it hits, weak companies and their investors will be washed away. Don't let that happen to you! I've found seven companies you should own no matter what the economy is doing. Each one of these powerful yet overlooked companies barely notices when the market tumbles. And they'll skyrocket when it rebounds. You can pick all seven up for pennies on the dollar right now. But that'll change the instant average investors catch wind of just how bad things really are. Get their names here before it's too late.
This article is commentary by an independent contributor. At the time of publication, the author held no positions in the stocks mentioned.